About a month ago, before I headed off to Florence, I did a Google search for Italian villages that have nativity celebrations. The Wise Men relied on a star to guide them. I rely on SEO keywords.
My search led me to the ancient Tuscan village of Anghiari, perched on a hilltop overlooking the Upper Tiber valley. Anghiari is famous both for the battle fought there in 1440, in which the Florentines triumphed over the Milanese, and for Leonardo da Vinci's depiction of the victory in an uncompleted and "lost" fresco at Florence's Palazzo Vecchio entitled "The Battle of Anghiari" (that art detectives currently are searching for).
I read that every year, on the evening of December 10, a religious procession in honor of the Madonna of Loreto takes place in Anghiari as residents pose in "living paintings" of stories from the Bible, on elaborately staged sets along the village streets. The article noted that scenes of the nativity are featured.
I went to Trip Advisor and booked a room at an inn called Il Cardo, just outside the village. The innkeeper is a lovely woman named Maria Pia, whose response was welcoming and whose directions delightfully defied MapQuest: Following the curves of the ring road at the top of the town, turn left at the crossing toward Castello di Sorci and after 800 meters turn right on a country road, in correspondence with a little Lady Chapel on the corner. Go down the road, among the oak trees and corn fields, until the entrance to Il Cardo. (Cardo means "thistle.")
From my little red Fiat, I caught my first glimpse of the inn, in the wintry mist of late afternoon. As my little Fiat and I bounced along the dirt road, I was sure the ruts and bumps dated back to Etruscan times. In the three days of my visit, during long chats over cups of tea with Maria Pia, I would learn that she restored the house from ancient ruins. "The first documentation of this house is a wedding contract from the 1400s," she told me.  It might well be the only 15th century farmhouse in Anghiari equipped with WiFi. Maria Pia is a modern Italian woman who likes to skype.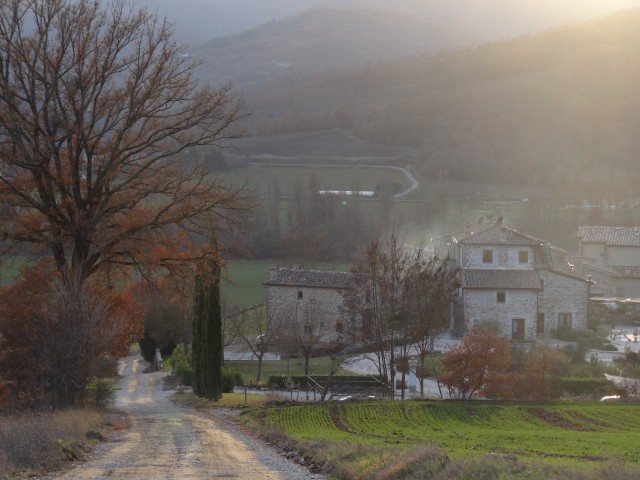 When I eagerly asked Maria Pia for details about the village pageant, she looked puzzled. "I've never heard of this pageant."
Oh no, I thought. I've traveled 6,000 miles on a bogus Wikipedia post.
Maria Pia called Anghiari's tourist office. When she got off the phone, she smiled reassuringly. "The procession starts between 6:30 and 7." And then she laughed. "The person at the tourist office said to me, 'You don't know about this?!'" She shook her head. "I've lived here for five years, and an American woman tells me about an important event in Anghiari."
On the day of the pageant, I wandered around the village, but saw no signs of preparations. The streets were empty. I heard only the clatter of dishes being washed up after lunch and the cooing of doves as a village napped.
But there were signs of Christmas at every turn.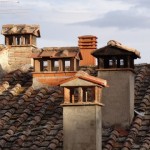 Given the tiny chimneys of Anghiari, Santa clearly has his challenges.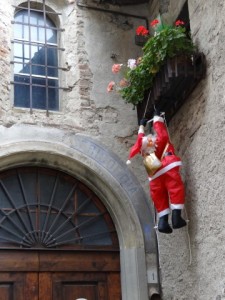 Just before 6 that evening, I entered Anghiari's main piazza, lit by a lovely Christmas tree. The shops were open. The pizzeria was doing a brisk business. Still, I saw no preparations for the evening's procession.
I didn't go looking for the tourist office. No, no. I decided to channel the spirit of pilgrims before me and went looking for a sign…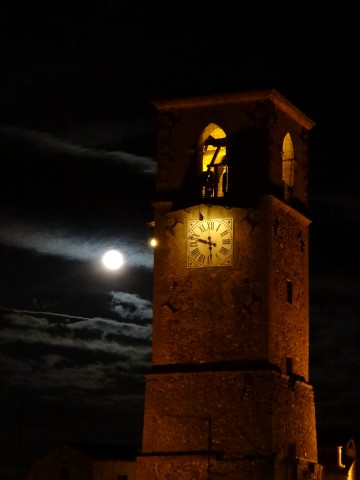 A luminous full moon hovered over the village clock tower.
I headed up the main street from the piazza and took a right – the same route I had taken on my afternoon walk.
And lo…a black curtain strung across an archway blocked my path. I smiled.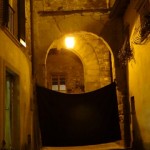 I sneaked a peek…and saw the back of a throne and what looked to be the elbow of an angel.
I didn't want to barge onto the set, so I headed back toward the piazza and took another street, toward the clock tower.
I followed the sound of laughing children, up a steep stone staircase to a narrow street called Via Taglieschi. A group of exuberant tweens were gathered outside No. 13, which clearly was the nerve center of this operation. The door swung open and I saw a rack of costumes and frantic stage mothers attending to hair and makeup.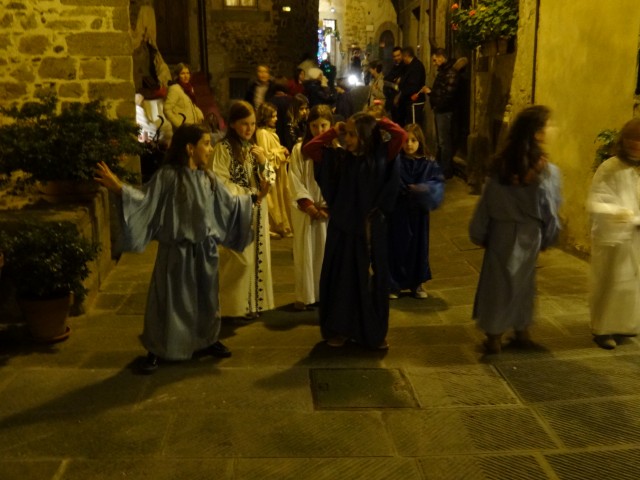 Outside No. 13, young girls donned full-length robes that didn't quite conceal their sneakers. A young boy emerged from Wardrobe and Makeup, looking like he'd gotten too close to the back end of a donkey. When he took his place on a set up the street, I realized he was portraying the robbery victim rescued by the Good Samaritan.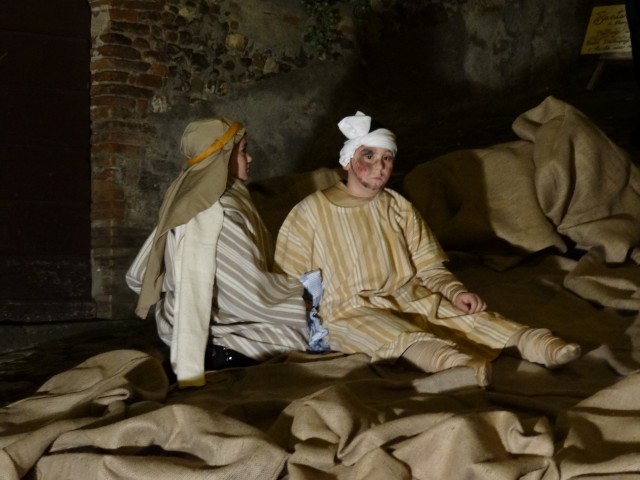 Adorable little ones emerged from No. 13, wide-eyed by the spectacle that was unfolding. The littlest one of all – a baby dressed in white – was the center of attention, for good reason.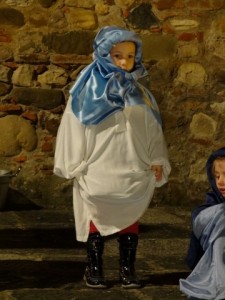 Shortly before 7 o'clock, the prayerful song of a choir of male voices floated in the air. Bells chimed. The actors took their places and practiced standing motionless – a daunting task for a few trying to stifle nervous giggles. Suddenly, spotlights illuminated the sets. It was SHOWTIME.
A lovely young woman took her place on the throne in front of the black curtain. I watched as the baby-in-white was put in her arms.
The baby's family and fans cooed, "Martina! Martina!"
It was then that I realized that baby Jesus was a GIRL! (A progressive moment for Italy, I thought.)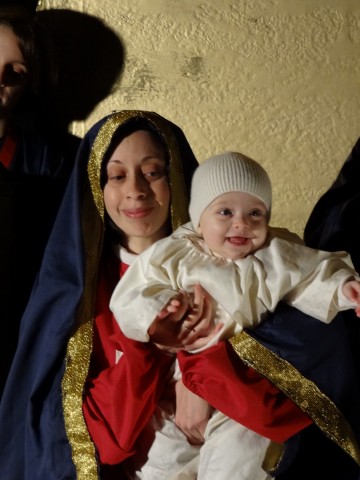 Martina smiled and flapped her arms and contentedly sucked her tiny fingers.
In that moment, I experienced Christmas in a way I had never known – as a guided traveler in a distant land in search of the true spirit of Christmas.
I turned to see the procession, led by Medieval-looking men in black, followed by priests in white under a canopy of gold. Villagers with lit candles walked solemnly behind. Maria Pia was among them. 😉
I followed, too. And before I returned to the inn that night, I sat for a spell in a church lit with candles, with a song in my heart:
Silent night, holy night…all is calm, all is bright…round yon virgin mother and child…holy infant so tender and mild…sleep in heavenly peace…sleep in heavenly peace.
My peaceful sleep at the old inn that night was heavenly indeed.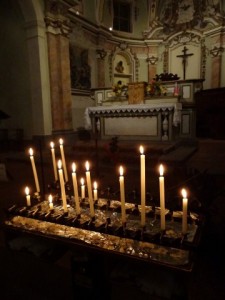 BUON NATALE.