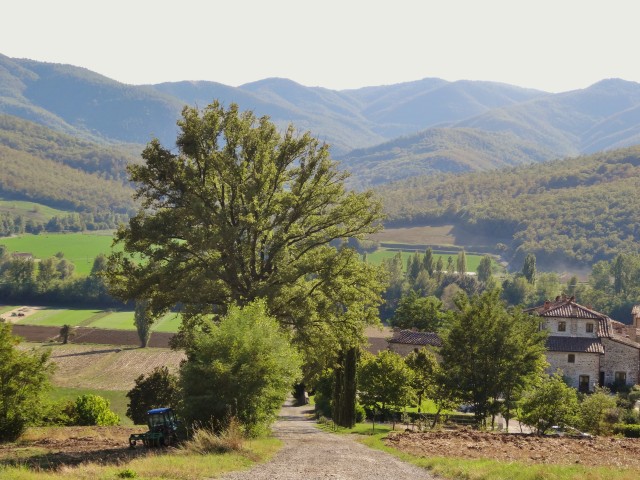 For the past couple of weeks, I've been traveling around eastern Tuscany, scouting locations for the tours I'm planning with a lovely Italian woman named Maria Pia, who owns a B&B near the ancient hill town of Anghiari.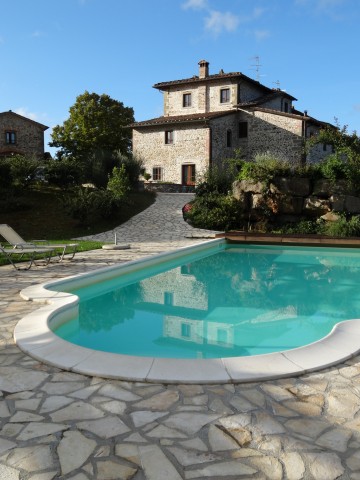 We met last December when I booked a room at her B&B – a beautifully restored 14th-century farmhouse – called Il Cardo Resort. I still remember the directions she gave me: follow the curves of the ring road, go left at the crossing toward the castle, and after 800 meters turn right on a country road by the little Lady Chapel.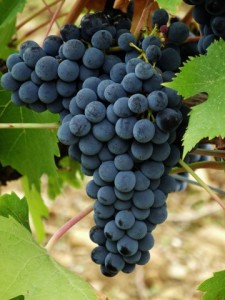 There's a point, just after you turn onto that country road, where the pavement ends and, as Maria Pia will tell you, "a place of magic" begins. The rough and rutted road descends into the peaceful Sovara Valley. In autumn, the grapes hang heavy on the vines along that road. On the day of my arrival last December, a mist shrouded the farmhouse. I can't wait to see Il Cardo in summer – it's surrounded by sunflower fields.
Maria Pia's partner in life and at Il Cardo is a charming gentleman named Franco, an architect from nearby Sansepolcro who has lent his talents to the renovations at Il Cardo and tends its organic garden. The vegetables – especially Franco's tasty tomatoes – flavor many of the dishes that Maria Pia creates in her spacious kitchen where she conducts cooking classes for her guests.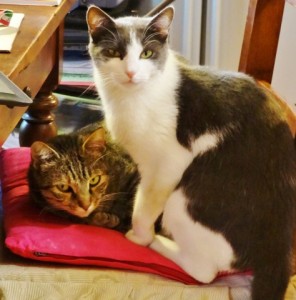 On any given day, especially during afternoon riposo, you'll find their two cats napping in the kitchen – or sitting together at Maria Pia's desk, checking e-mails.
In a word, life at Il Cardo is idyllic…idillico.
Together, Maria Pia and I are exploring ways to share this special place with women who would like to experience their Under the Tuscan Sun fantasy. Our idea is to customize tours to personal interests: painting, photography, cooking, hiking, biking, writing, art history, ceramics, textiles, or shopping for everything Italian.
We can arrange for expert tour guides to show you what most tourists don't see. If you'd like instruction for special-interest workshops, we're happy to arrange that, too. We can plan day trips and provide access to the studios of regional artisans. There's even a wine merchant – a lovely British-Italian woman named Stephanie – who will come to Il Cardo for tastings or arrange private winery tours. And for times of riposo, you can soak up the Tuscan sun by the pool or indulge in a hot-stone massage (Il Cardo offers a variety of spa treatments).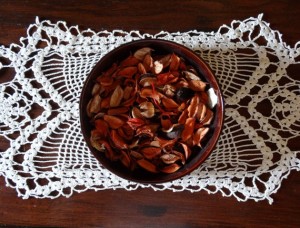 In the coming weeks, I'll be writing about my recent visits to the workshops and studios of Anghiari's artisans who are keeping alive the Old World traditions of linen and lace making, sculpting, marquetry and basket weaving. They are eager to meet those among you who have imagined this journey…to an idyllic corner of Tuscany, where you'll feel you've slipped back in time.
Maria Pia and I are organizing these visits around your schedule and preferences. Just tell us when you'd like to visit, how many will be in your group and what your interests are, and we'll provide you with a proposal that will include activities and costs. So spread the word to your painting group, your book group, your friends who like to travel (this could be a fun high school/college reunion trip), or the women in your family you like hanging out with.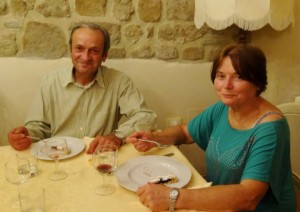 Contact me at rb@rebeccabricker.com – I look forward to helping you plan this trip.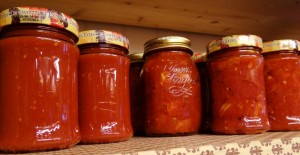 Franco and Maria Pia