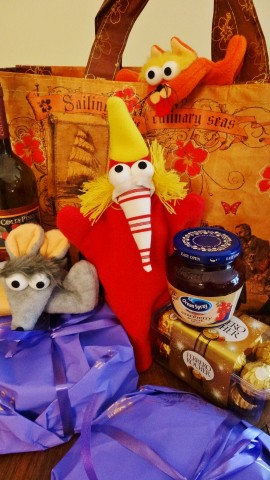 Yesterday my Italian puppets and I packed a bag (a Trader Joe's bag, you'll note) with goodies – lemon and blueberry tortes from the neighborhood bakery, wine and chocolates, and my big find – Ocean Spray cranberry sauce. We had been invited to a very special Thanksgiving at a house on a mountain, high above the Tuscan village of Reggello.
It was a wonderful gathering – about 25 in all. Italians mostly, with interesting stories and talents. Musicians, writers, photographers, owners of a pizzeria, a French puppeteer, a clown, and a South American woman who poses as a living statue near the Duomo in Florence.
For some, it was their first taste of American Thanksgiving dishes. "I'm 55 years old and this is my first Thanksgiving," said one enthusiastic Italian man as he tucked his fork into cranberries and stuffing.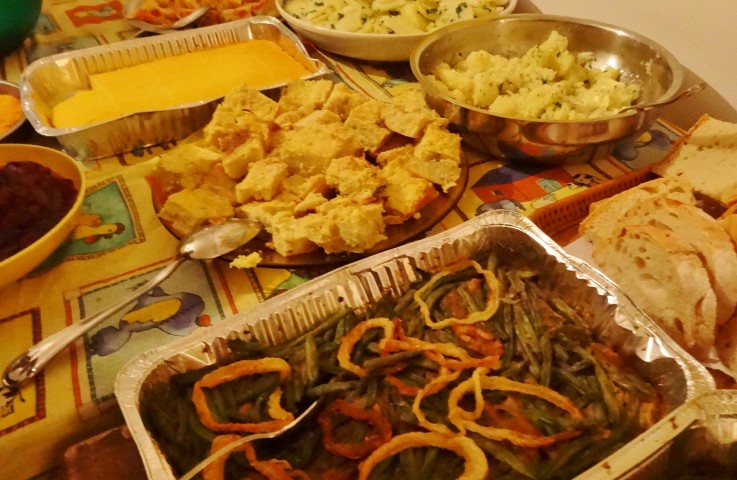 The head "chef" – my American friend Jean who has lived in Florence for 40 years – cooked for two days. She made her stuffing from dried Tuscan bread, adding herbs and apples. She baked Southern-style cornbread and served up green bean/mushroom casserole. Jean's onion dip – made with packets of soup mix she buys when she's in the U.S. – was a big hit. (There's no sour cream here, so she improvised with Greek yogurt.)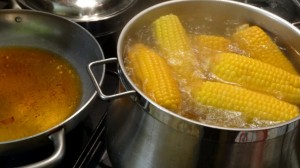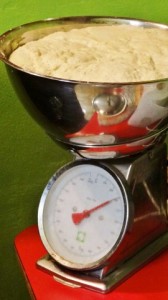 Cobs of corn boiled on the stove…
and a bowl of biscuit dough tipped the scale.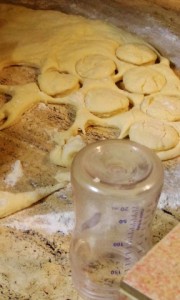 A team of kitchen helpers shaped the biscuits with a glass jar.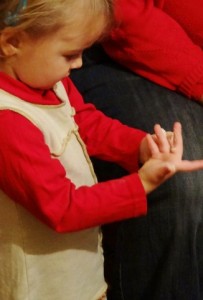 Jean's precious granddaughter, Olivia, gave one little biscuit some extra kneading. >>>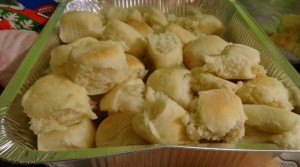 And in the middle of it all, Maya, a very sweet dog, warmed herself by the oven.
Turkeys are scarce here, so Jean special ordered hers through a butcher at Florence's Sant'Ambrogio Market. She tells the story, from her early years in Italy, of taking a tape measure to the butcher's stall to make sure the bird would fit in her oven. Italian ovens tend to be small – a six-kilogram (13-pound) turkey is pushing the limit.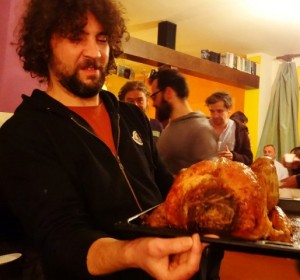 Yesterday's 6.3 kg tacchino was presented with great fanfare by Jean's son Mike, to applause and Ooooo's and Ahhhhh's.
The feasting went on for hours. A few in the crowd were holding their bellies and groaning by night's end. One guy was fast asleep on a sofa. (The aftermath of the Pilgrim's first debaucherous Thanksgiving is a sad tale we Yanks know. 😉 )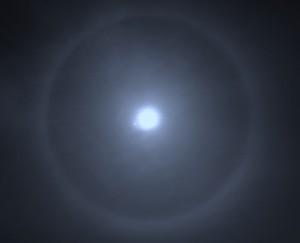 As we walked out into the cold night air to start our journey home – back through the woods and over the Arno – we looked down at the valley below us, partially blanketed with fog. The twinkling lights of Reggello were outshone by a sky full of stars – and an amazing ring around the moon caused by ice particles in the stratosphere.
A night I'll never forget: my first Italian Thanksgiving.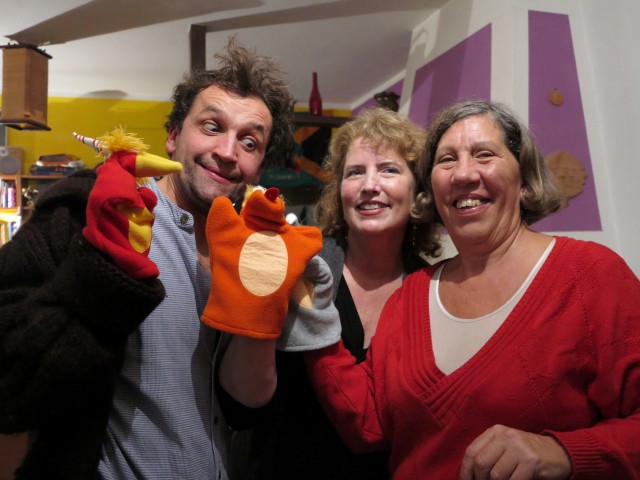 The puppets with Fred (the French puppeteer), Jean and me >>>
(photo by Florentine photographer Vieri Leidi Gardi)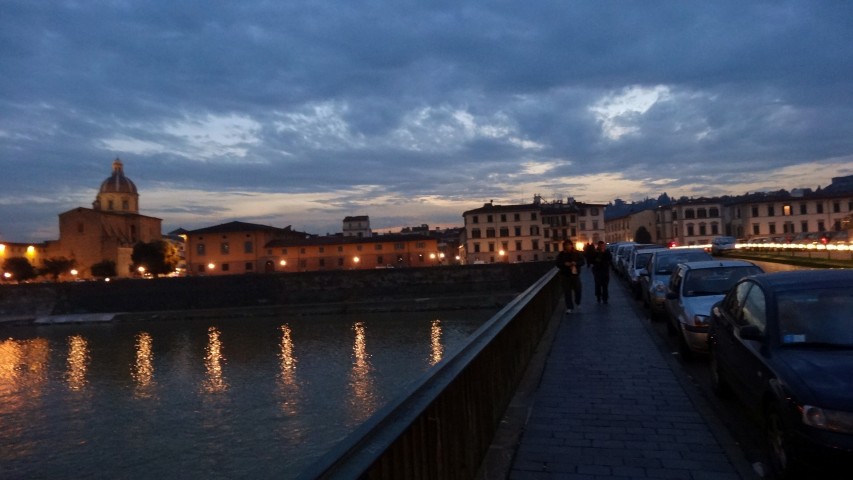 <<< A view of the Arno on Thanksgiving night