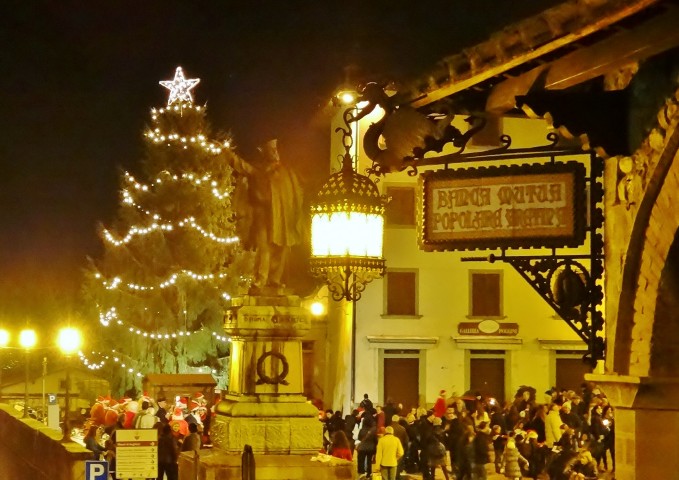 Last December, I set out for the ancient Tuscan village of Anghiari to experience an Italian nativity celebration, with Trip Advisor as my guiding light.
But what was waiting for me in Anghiari was so much more than I ever could have planned for or imagined.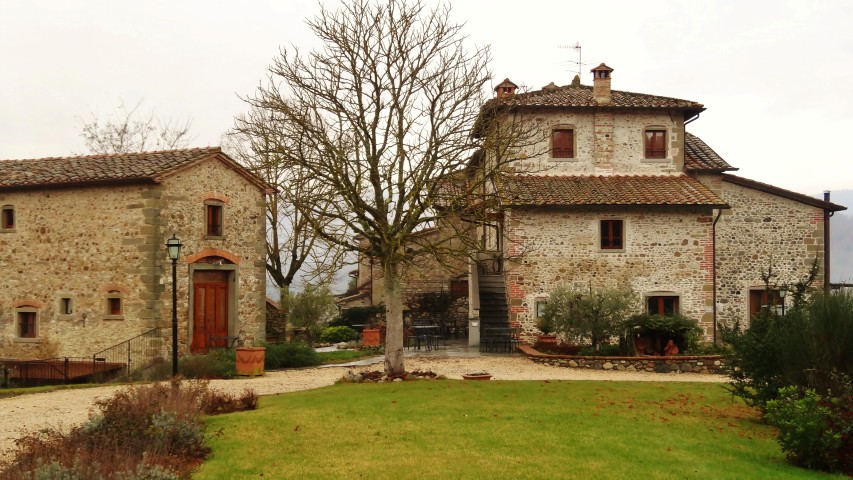 I wrote about that visit on this blog a year ago. And over the course of this past year, a delightful friendship has grown between me and Maria Pia, who owns Il Cardo Resort – a luxury B&B housed in a 14th-century farmhouse and its adjacent mulino (mill), at the bottom of a bumpy country road in the bucolic Sovara Valley, about a mile from the village.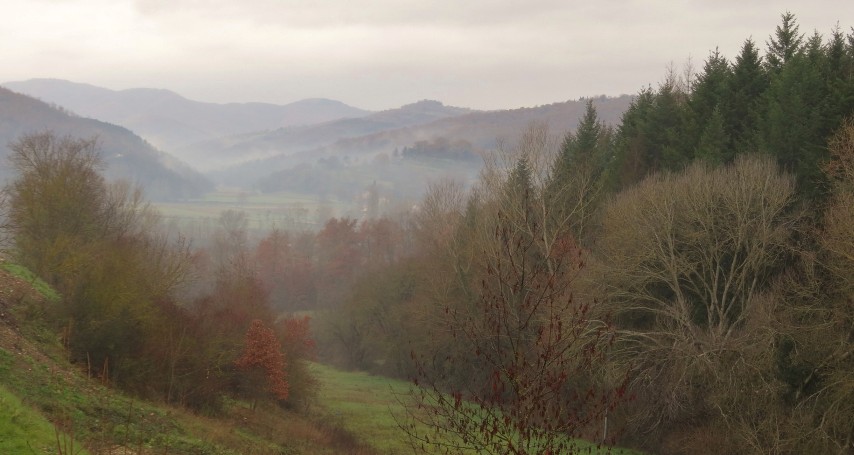 During my stay with Maria Pia last December, we got to know each other over afternoon cups of tea, at her long dining table. (The stone wall of the dining room dates back 1,000 years, to the early days of the settlement that formed on that country road.) By the end of my stay, our chats happened over lunch in her Tuscan kitchen (fully equipped for cooking lessons), where jars of tomato sauce sit on a shelf and seem to hold a few rays of the summer sun even in winter.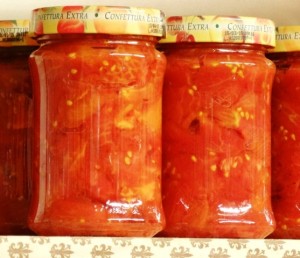 Now a year later, Maria Pia and I are planning customized Tuscan tours for women. We've created a "menu" of itinerary/activity options that include painting landscapes that inspired Leonardo da Vinci, hiking/biking through the pristine countryside, preparing Tuscan dishes in Maria Pia's kitchen (she's a wonderful cooking instructor), shopping for Italian antiques, art objects and handcrafts – or relaxing by Il Cardo's gorgeous pool with friends and a bottle of fabulous wine.
I had no idea, a year ago, that I would be coming back to Italy to start this exciting new venture with Maria Pia.
It just proves that you never know what wonderful opportunities await you, if only you open the shutters a bit and let in the light.
As I stepped off the bus in Anghiari last week, late in the afternoon of Christmas Eve, I felt like I had stepped into a beam of light. In one of the many serendipitous moments I've experienced on my avventura italiana, Maria Pia's close friend Marcella from Milan, who also was traveling to Il Cardo for Christmas, had been on the same bus. We met moments after we boarded in Arezzo, when Marcella called Maria Pia to say she was on the last leg of her journey. I was sitting two rows behind Marcella and smiled when I heard her exclaim into her phone, "Maria Pia!"
Later that night, Maria Pia, Marcella and I took a Christmas Eve stroll through the village. The church doors were open, candles lit. The mangers were empty, awaiting the night's big event.
Meanwhile, the children of the village were in the piazza where many of the dads were dressed as Babbo Natale. I love the funny Babbo (wearing glasses) who's giving me the eye.
As we walked back to the car, one cool Babbo on hog-of-a-motorcycle – decorated with tinsel and lights – did a U-turn in the road and pulled up alongside us…and gave us lots of candy. He must have known we've been VERY good girls. 😉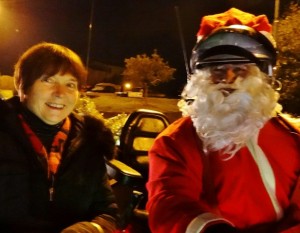 I had a heavenly sleep that night in my room in the mulino. I was the last one up Christmas morning. When I appeared in the kitchen – the center of activity at Il Cardo – Maria Pia and Marcella had begun preparations for a lunch that went on all afternoon, as is the Italian custom on Christmas Day.
In the kitchen that morning, Maria Pia's dear Franco was sewing a fabric liner for a basket he intended to carry wood in. But Lulu, the cat, had other ideas…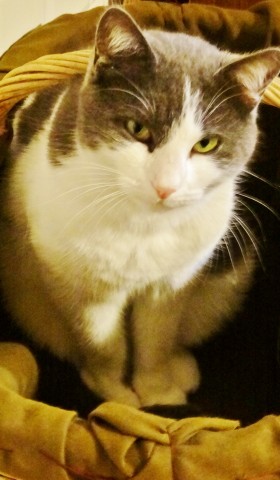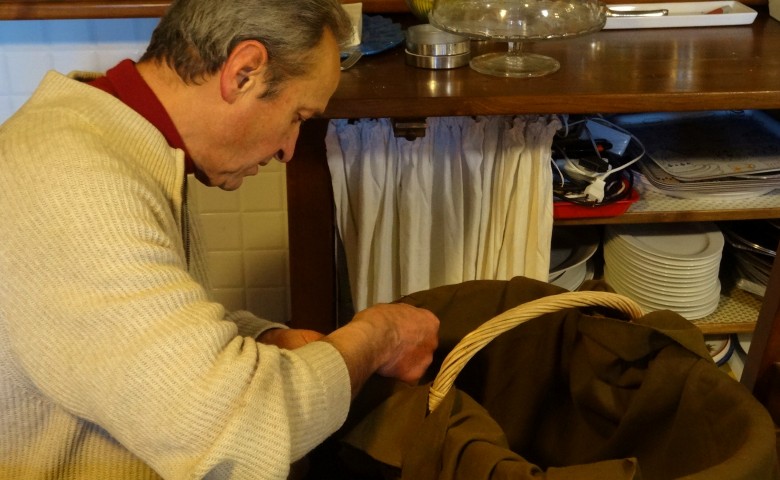 Franco is an architect whose talents as a designer and "handyman" (uomo tuttofare, per Maria Pia) are evident everywhere at Il Cardo. He recently built a little stable for baby Gesù, Maria and Giuseppe – terracotta figures made by local artisan Mastro Santi – for Il Cardo's presepio (crèche).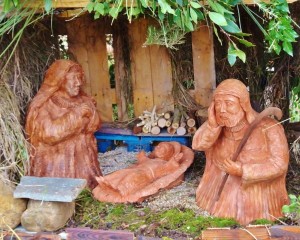 "Is Giuseppe on his cell phone?" I asked Maria Pia. I was a bit puzzled by why he had his hand to his ear.
"He's showing his surprise at the birth of the baby," she said.
"I think he's calling God and saying: Dio mio, the baby's crying – now what do we do? And Maria is telling him: Talk faster, Giuseppe. There's only three minutes left on the phone card."
Maria Pia laughed. "Maybe you're right – he's a modern Giuseppe."
On Christmas night, we went to the nearby village of Le Ville, which stages an elaborate nativity show called Presepe Vivente. Local residents spend three months building sets in the village and along a half-mile path through the surrounding forest. Candles and torches light the way for a journey back in time, through the streets of ancient Jerusalem and medieval Tuscany, where modern day pilgrims witness villagers portraying centurions, slave traders, the court of King Herod and Old World artisans at work.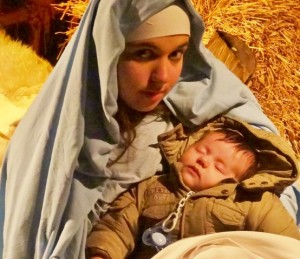 The trail ultimately leads to Bethlehem. From a distance, you can see a blue light on the hillside above the village, shining down on the presepio. There, a very modern young couple and their beautiful two-month-old son – who was blissfully oblivious to the pageantry around him – gave me pause. I was a time traveler, standing in a forest on a mild winter's night in Tuscany, under the spell of an unseasonably warm wind from Africa.
I've never experienced such a magical Christmas.
Maria Pia stood with Marcella and me at the Anghiari bus stop on the morning of our departure. She hugged us both and asked if we would come back next Christmas. She squeezed my hand and said to me, "You have a new family – an Italian family."
Wonderful things, beyond imagination, happen when you step into a beam of light that's meant for you.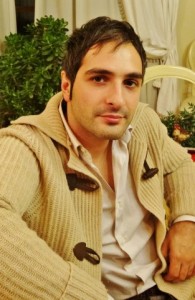 A footnote to this story of serendipity: During my Christmas stay at Il Cardo, I discovered that Franco's son, Giulio, had a small role in the film Under the Tuscan Sun. He plays Pawel's opponent in the flag-throwing competition. In fact, Giulio is an expert flag thrower and was the actor's coach in that scene. I suggested to Maria Pia that Giulio could make guest appearances at our tour events. To his relief, I assured him he wouldn't have to wear tights. 😉
To travel adventures in the new year and moments of serendipity. (Open the shutters and see what happens.) Happy 2013!