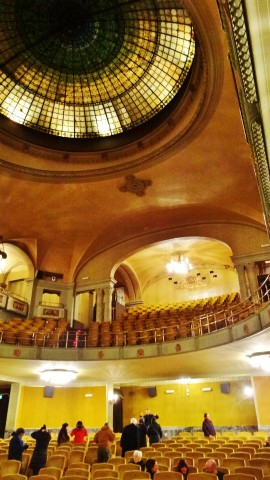 During Oscar season, my favorite place to hang out in Florence is the Odeon Cinema – the most amazing movie theater I've ever seen.
It's tucked inside Palazzo Strozzi, a jewel of the Renaissance built in 1462 (30 years before Columbus set sail). The Odeon, however, is an Art Deco gem, designed by Italian architect Marcello Piacentini during a renovation of a portion of the palace in the early twentieth century. It opened in 1922 as a cinema-theater and became a popular venue for entertainers from around the world. The enormous movie screen hangs above a stage where Ella Fitzgerald and Louis Armstrong once performed.
I love to sit back in the Odeon's cushy, velvety seats and look up at the stained-glass cupola. The Odeon's decorative ornaments, lighting fixtures, statues and tapestries are all Art Deco originals.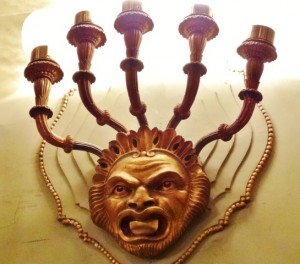 The Odeon shows English-language movies in English (with Italian sub-titles) most of the year. But during Oscar season, the schedule is chocked full of nominated and critically acclaimed films. This year's 'programme' includes: Lincoln, Argo, Les Miserables, Life of Pi, The Master, The Company You Keep, The Best Offer, The Hobbit, Hyde Park on Hudson, Quartet, Cloud Atlas, The Angels' Share, Promised Land, Django Unchained. Some films are shown only for a couple of days. I make note of the showtimes on my calendar so I don't miss out.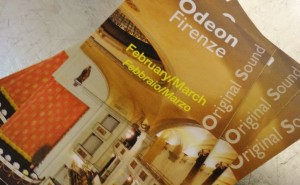 There are no previews of coming attractions at the Odeon, no reminders to refrain from talking or to turn off your cell phones. The lights go out and – boom – the movie starts. Once, I was in the ladies' room (next to the stage) when a film began. The sound was so loud, I nearly jumped off the toilet. By the time I got myself zipped up and back to my seat, I had missed the first lines of dialogue.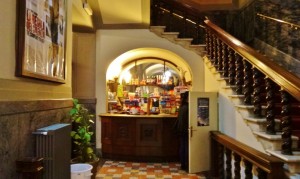 The snack bar at the Odeon is a delight. It offers M&Ms and Campari. So very civilized.
In L.A., you might pay $25 to see a movie in a recliner, with a pillow and blanket. But at the Odeon, you can see the same movie for $8 in a Renaissance palace, sitting on a velvety seat under a stained-glass cupola next to the ghosts of Ella and Louie. How grand is that?