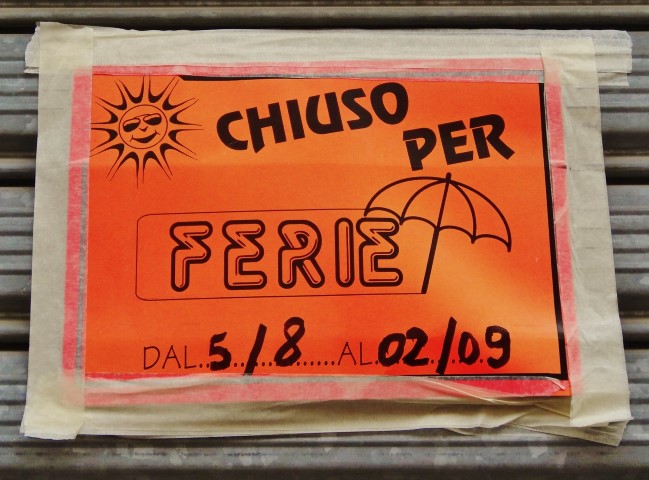 During the month of August, Florence turns into a ghost town as residents flee the summer inferno of Dante-land and head to the seaside or the mountains.
August 15 is a holiday called Ferragosto that comes from the Latin phrase Feriae Augusti = a festival introduced by Roman Emperor Caesar Augustus in 18 B.C. to celebrate the end of the harvest and to give field workers and beasts of burden a much needed rest.
Italians take this August holiday seriously – so much so that they start winding down in mid-July. My favorite movie theater here, the Odeon, closed its doors on July 27 – for almost five weeks! Forget summer movies. The Florentine newspaper put out its last issue for the summer in early July.  The pool I swim at closed in mid-July and won't re-open until early September. The pool!!!!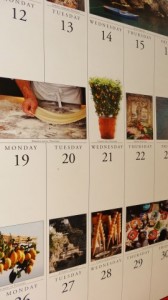 Many of my friends here have been part of the mass exodus. I sort of felt left behind. But how bad could it be, I asked myself. I'm in FLORENCE! How fun is that?! You'll note my August calendar was totally blank. >>>
August temps soared above 100 in Florence this summer. My air-conditioning bill will probably equal the cost of a beach vacation. I was doing fine, with daily runs to the neighborhood gelateria. The owner there gives me generous portions. 😉
But panic set in when I ventured out one afternoon, a few days before Ferragosto, only to discover that the gelateria staff had gone on holiday for 10 days. I jumped on a bus in search of gelato and came home with a big styrofoam tub, packed with Straciatella (chocolate chip), After Eight (mint-chocolate) and Bacio  (chocolate with hazelnuts) – from Gelateria Carraia, which has stayed open all through August (grazie mille!). I don't know how you could survive August in Florence without gelato.
Some of the  shops in my neighborhood closed for two or three weeks in August. I gave thanks every day to Ali, the Pakistani owner of an alimentari (grocery store) near my apartment. He didn't close his doors a single day in August – not even on Ferragosto. He later told me he had many customers that day – "so many people thanked me for being open," he said. Grazie mille, Ali!
I ventured out on August evenings…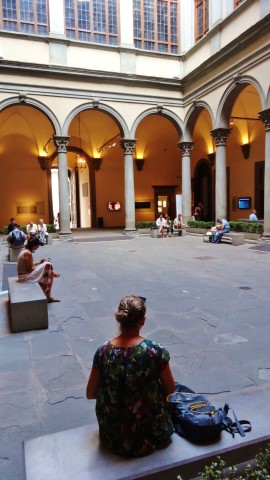 I enjoyed museum exhibits…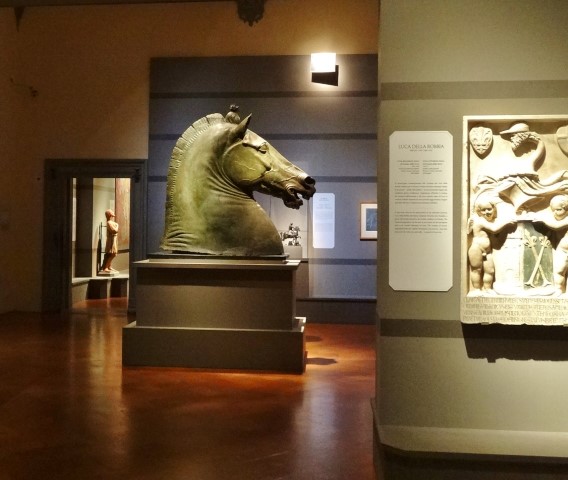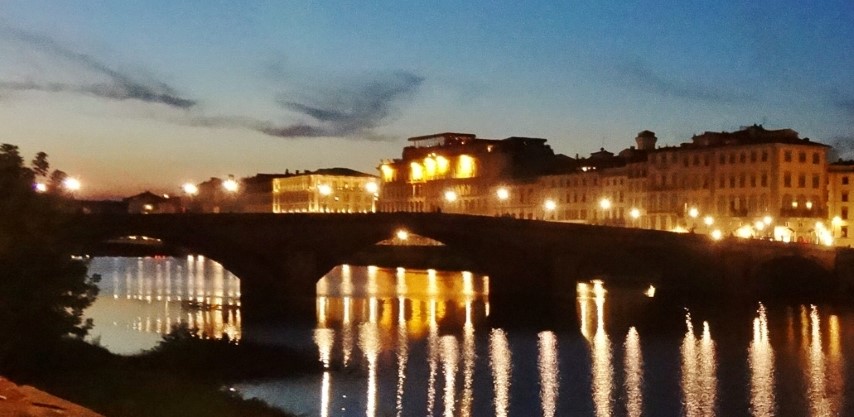 And strolls along the Arno…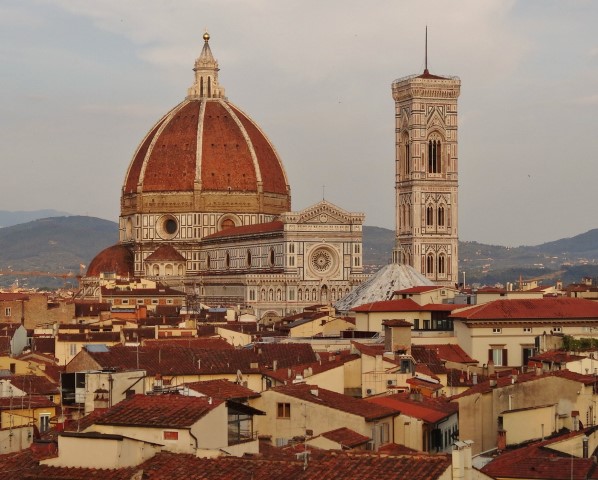 With those few friends still in town, I saw amazing views of Florence from hotel rooftop terraces that were part of a summer promotion called Terrazza con vista: a roof with a view. It was a wonderful way to see Florence from new heights and interesting angles, while enjoying an aperitivo at sunset.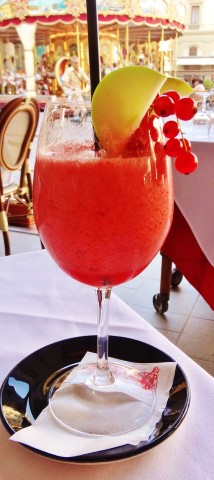 I lingered at my favorite place to write, Giubbe Rosse, where I filled a few journals this summer. I was cooled by fruit drinks and the stir of a breeze from the swirling carousel. >>>
I found a health club with a pool that was open most of August – and some days I had the pool to myself.
I will never forget this August in Florence for another reason: I finished writing a new book! A novel this time. I worked every day – for 30 days straight – bringing the story and its characters to life. What a joy it was, truly, to have this time, in a beautiful city that has been such an inspiration to me in recent years.
The manuscript sits on my dining table  – a few of the pages smudged with chocolate gelato. 😉
I share with you an August night's view from my terrace – the tower you see just below those clouds is part of a villa where Galileo once stayed. How could a writer not be inspired by this place? Even in August.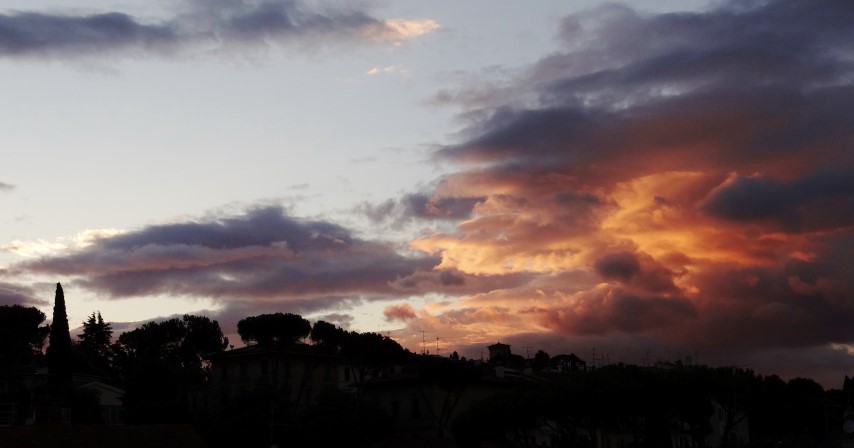 This was the BEST summer vacation I've had in a very long time.