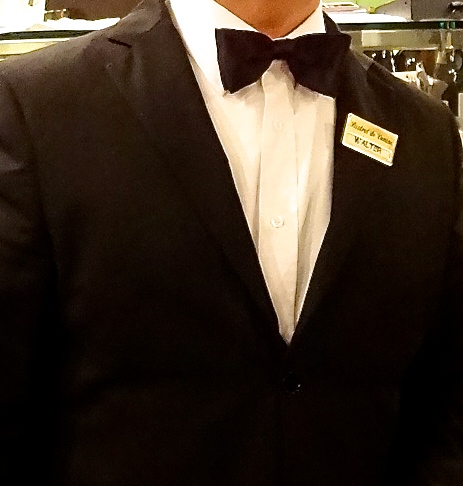 He slammed his hand against the wall, next to the table he had seated me at a few minutes earlier. "Your will is this hard," he said. He slammed the wall again. "This hard!"
Then his eyes smiled at me. "I like that in a woman."
It was the beginning of my tango with Walter, the head waiter at a chic bistro in Venice. Actually, the tango had begun a few days earlier when I chose this bistro for lunch because of the lobster salad with fried pumpkin blossoms that caught my eye on the posted menu.
From what you know already, Walter is not a warm, cuddly kind of guy – at least not at first.
When I ordered the lobster salad with fried pumpkin blossoms for lunch that first day, he said dismissively, "We don't have."
"But that's why I decided to have lunch here," I protested.
He shrugged. "We don't have. Signora, they don't deliver fish on Monday."
"What else don't you have?" I asked pointedly. Steam was rising between Walter and me.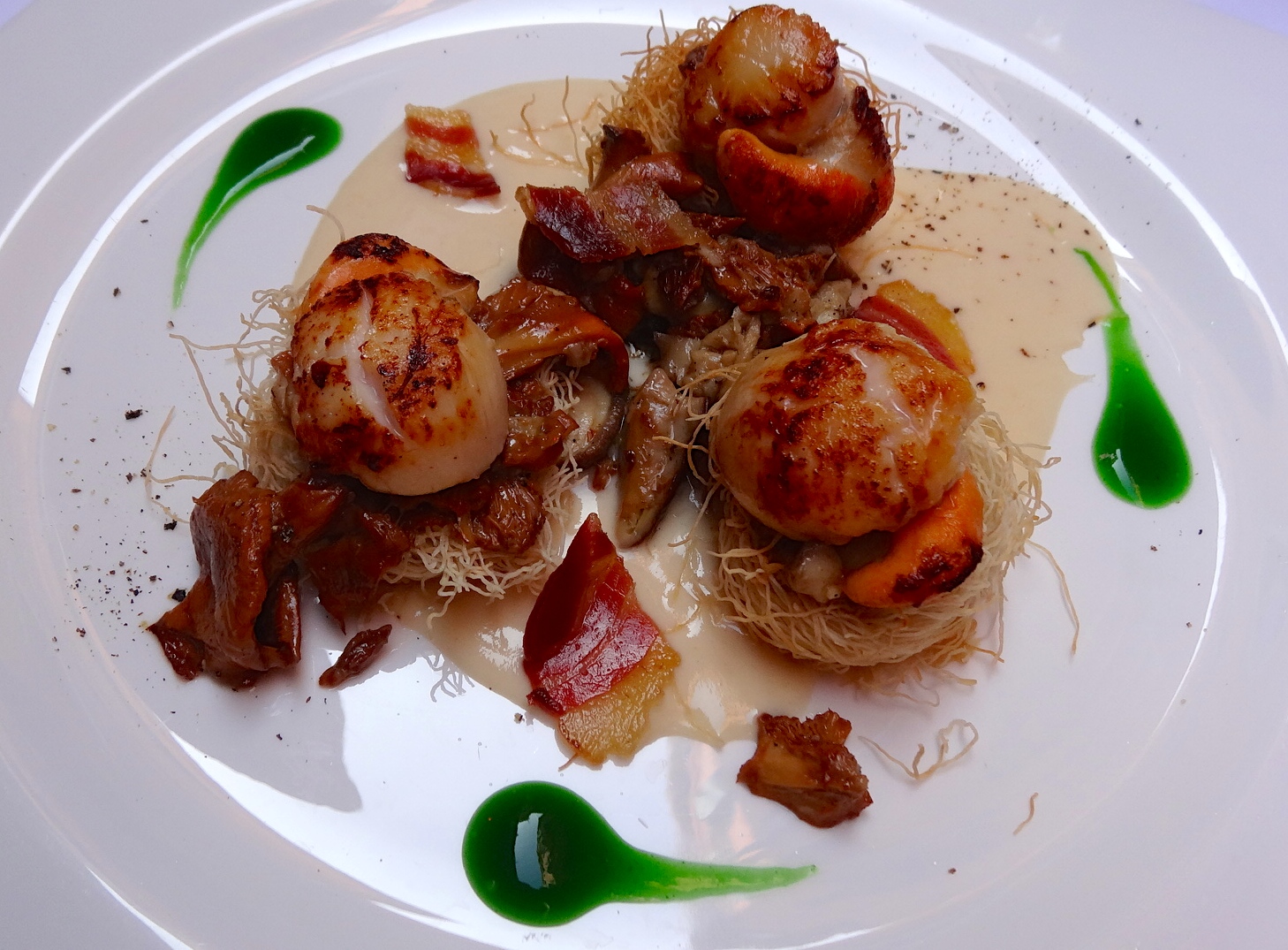 I ended up having a scallop-and-mushroom dish, which was good – but it wasn't lobster.
Each day during my stay in Venice, I passed by the bistro, just around the corner from my hotel. I'd linger at the menu board until Walter appeared, smartly dressed in his tuxedo and black bow tie.
"Do you have lobster today?" I'd ask.
He'd roll his eyes. "Not today, signora. Maybe tomorrow."
On the day before my departure, Walter had a glint in his eyes. "No lobster at the moment, signora, but I think tonight. You come tonight. You can sit at the same table…" He pointed to the table where I'd had lunch on Monday. "I will serve you lobster there, tonight."
When I arrived at 9:45 that evening (not late by Italian standards), Walter looked panicky.
"So, do you have lobster?" I asked him.
"I think so."
I gave him a withering look. "You said tonight."
He shrank an inch. "And if we don't have lobster, what will you do?" he asked.
"Well…" I paused for dramatic effect. "I guess I will have to order something else."
He smiled and gave me his arm. "Come, beautiful lady. I will take care of you."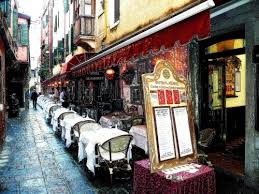 Walter seated me and presented the menu. That's when he started pounding the wall and ranting about my strong will: "I've never met a woman with a strong will like yours."
"Italian women are stronger-willed than I am," I said demurely.
He conceded a little ground and then said, "Look at the menu, signora, and I will ask about the lobster."
A few minutes later, he returned with a long face. I feared the worst, but then he said, "Signora, I just spoke with the chef – you may have ANYTHING you want on the menu."
"Lobster?"
"Si."
"Pumpkin blossoms?" (A sous-waiter, who had poured my prosecco moments earlier, had told me they had only zucchini blossoms – not pumpkin.)
"ANYTHING," Walter reiterated.
"I thought you were going to break my heart with bad news."
And then Walter started singing, in English, a song that had "broken heart" in the lyrics. "That song is from many years ago," he said. "You're too young to remember."
I laughed. "I'm not that young."
The sous-waiter served me a complimentary hors d'oeuvre – a little beef patty he called "hamburger of beef" in a saffron sauce.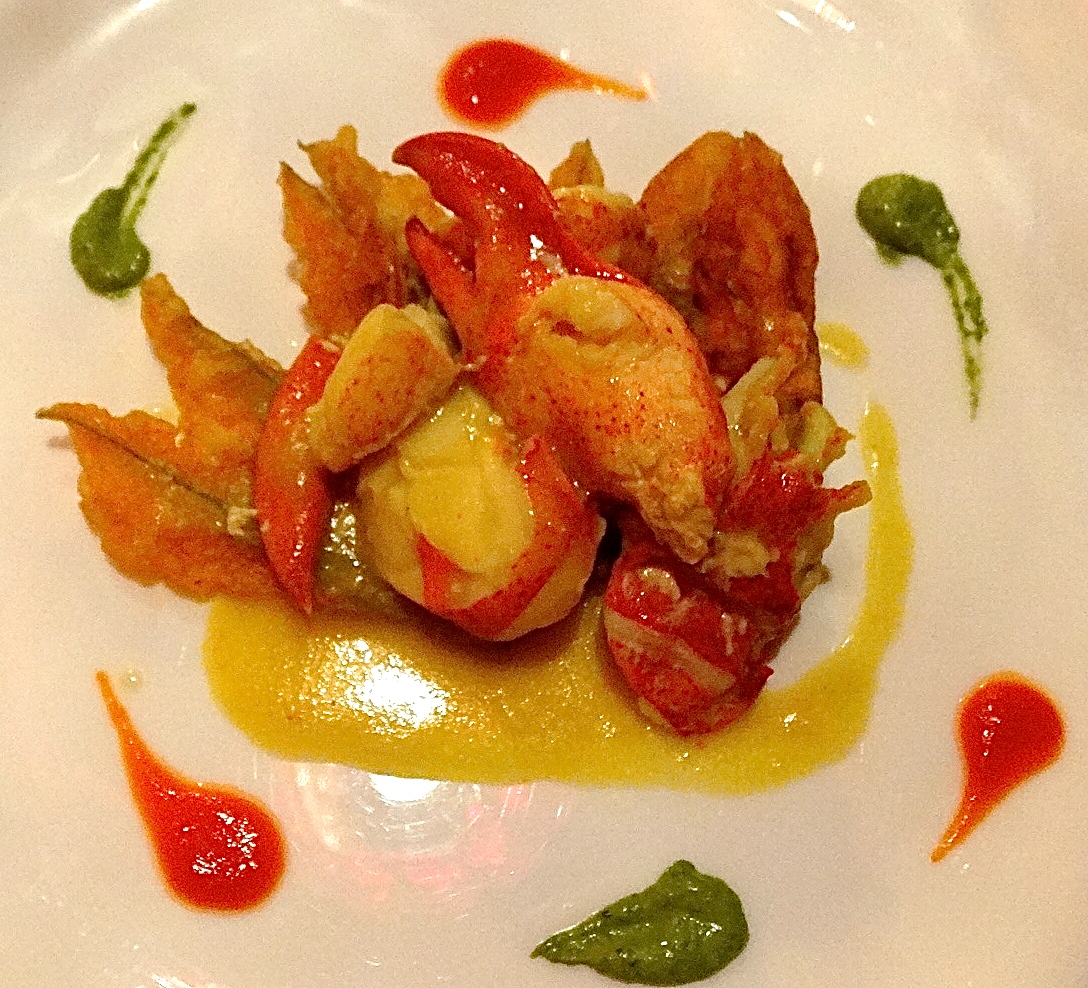 But Walter served the lobster and pumpkin blossoms, with great flourish. He held the platter in one hand and pretended to hold a trumpet in the other, as he fingered the imaginary keys and sang a fanfare.
Placing the lobster in front of me, he said, "You get everything in life you want, don't you?"
"Not everything." I smiled at him. "But tonight, I got lobster."
He smiled back. I could tell he thought I was worth all the aggravation.
After dinner, I was served "pre-dessert" by the sous-waiter – raspberry mousse with cinnamon apple topping. The real dessert was dark chocolate parfait with homemade lime sorbet in sweet smudges of "wild" strawberry sauce, garnished with fresh mint.
As I got up to leave, Walter appeared. I gave him my card, telling him I'm a writer and would like to tell this tale on my blog.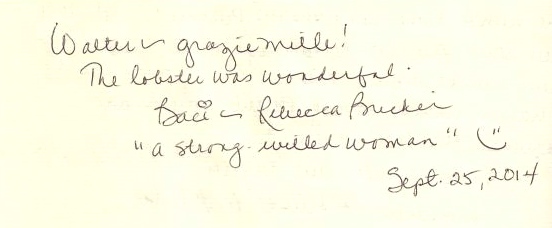 He immediately ordered the sous-waiter to bring a beautiful leather-bound guest book, announcing to all within earshot that I was a writer with a blog.
Walter wanted a photo and handed my camera to the sous-waiter. Walter put an arm around my shoulder, as I sat at the table with pen poised. The sous-waiter clicked off a few blurry shots of Walter and me in the vapory Venice night.
Then Walter winked at me and said, "You know…I love you."
😉 😉 😉