My apartment in Florence has lots of windows and I never tire of the views, especially of the courtyard behind my building. I've thought about writing an Italian remake of Hitchcock's Rear Window. But so far, nothing that dramatic has happened, except for the day when a wailing woman cried in despair over her lover/husband's transgressions. The entire courtyard got an earful that afternoon.
Italians are not a quiet breed. They shout about the weather. They yell into their phones. We have poor cell reception in our neighborhood, so everybody goes out on their balconies to yell even louder into their phones. (No secrets here.) When the boisterous woman across the courtyard calls home on Sundays, I want to tell her, "Bella, forget the phone. They can hear you in Rome without it."
Loud is okay sometimes. A guy on the construction crew that has been gutting an apartment on the courtyard for the past year (with no end in sight) starts the day with a song. Who needs an alarm when you can wake up to Volare, oh-oh, cantare, oh-oh-oh-oh. My downstairs neighbor is fond of belting out Italian arias — and sounds convincingly Italian even though he's Chinese. We also have the Tone-Deaf King of Karaoke, a young guy who sings pop songs off-key with blissful abandon. I like that we're a musical courtyard. Italy's favorite crooner Dean Martin and I do a great duet of That's Amore, with Mambo Italiano as an encore.
When I moved into my apartment two years ago, I was a surreptitious observer at first. But I didn't go unnoticed for long. I was out on my rooftop terrace watering my roses one weekend, when a young girl across the courtyard spied me. She was on her balcony blowing up balloons for her birthday party.
"Ciao!" she bellowed, waving wildly.
I waved wildly in return. Good to be neighborly.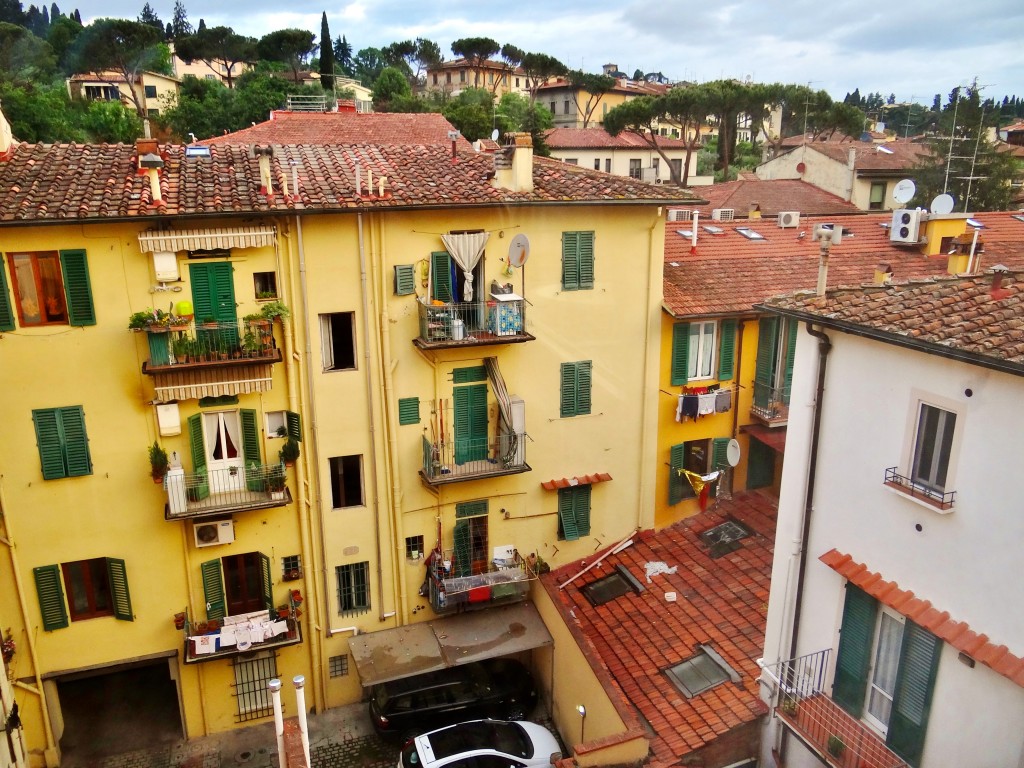 I came up with names for the courtyard residents and imagined their stories. Ciao's mom is a chain smoker, who can hang laundry, water her plants and wash windows all while puffing on a cigarette that seems permanently stuck under her upper lip. Her name would be Ciggy. With that cig under her lip, she's a disaster when it comes to blowing up party balloons.
In the apartment below Ciao and Ciggy, there's an older woman who exudes an air of mystery. She opens her balcony doors in the early morning and takes the summer sun, eyes closed, sitting just inside the doorway. At 9 a.m., the shutters close and she disappears for the day. I fantasize that she was an Italian film actress in her prime. I call her Garbo.
Next door to Garbo is Pearl, so named for her silvery hair (perfectly coiffed) and her strand of pearls. Pearl is meticulous in appearance and in the way she hangs her laundry, every corner and cuff neatly pegged. She'd also win the prize for the courtyard's loveliest hanging flower basket (though Ciggy is no slouch when it comes to balcony floral displays).
Then there's the courtyard's Peeping Tom — I call him Peeping Tomaso. He's married to Bella, but spends a lot of time watching me when I'm out on my terrace. I once caught him peering at me from behind his kitchen curtain — I waved at him and he waved back. Tomaso has no shame and a gold front tooth that glints in the sunshine. I'm sure he'll end up in a book I write someday.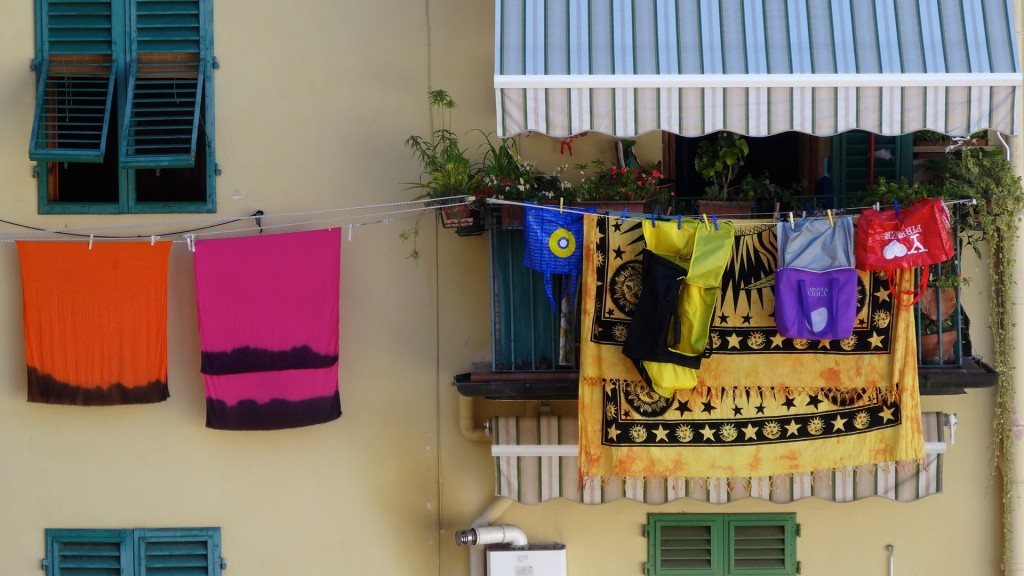 I've learned a lot about my neighbors from what's on the laundry lines strung along the balcony railings. Everything from boxer shorts to bedding is on display. The courtyard looks especially cheerful in summer as colorful beach towels and bikinis flap like flags in the breeze.
My favorite souvenir from my time in Italy is a painting by my artist friend Alessandra Puppo. It's called L'Abbaino, which means "garret" in Italian. In the painting, a woman stands on the balcony of her rooftop garret, soaking up the scene around her. Nothing escapes her roving eye.
I'm guessing she's a writer…and that guy smoking a pipe is secretly in love with the smiling signora who waits for him every day under the arch. 😉