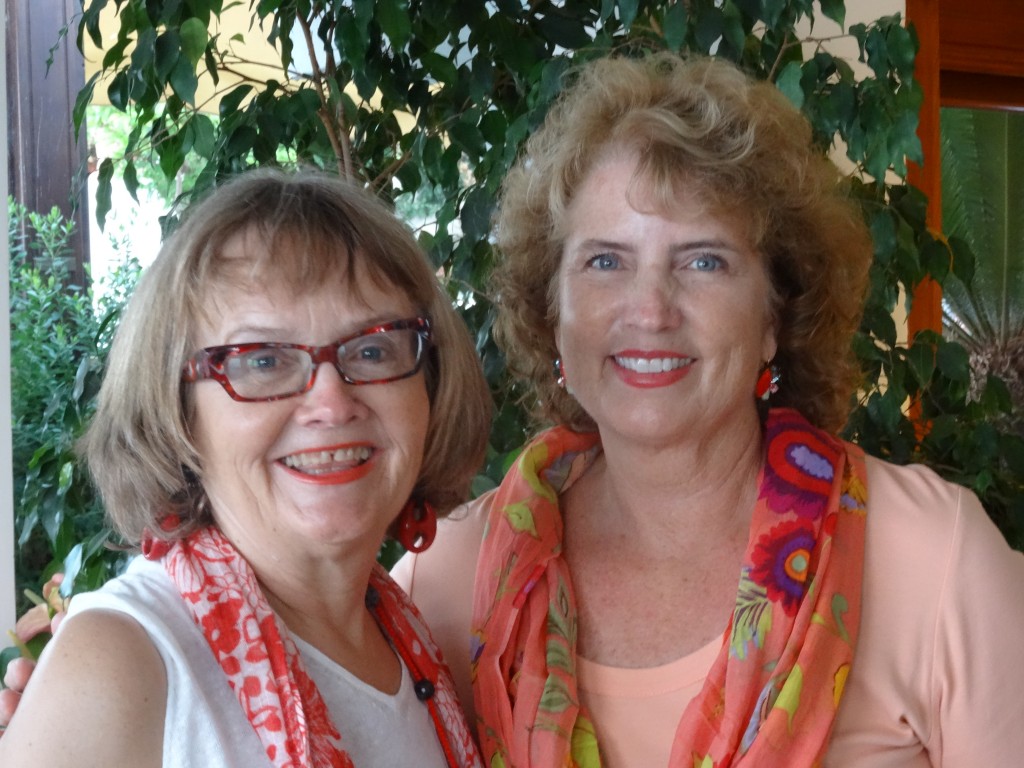 You met my wonderful Aussie travel mate, Sue Farrelly, last week on this blog. We've gotten a lot of fan mail in recent days, with groundswell support for a reality TV show, starring the two of us as we travel through Europe with our hats and fans.

Sue and I constantly hone our travel skills. We talk endlessly about packing methods and essential travel items. We're thinking about doing a YouTube video with us showing our fellow travel sisters how to pack a carry-on (as your only bag) for a week in Paris — or how to pack a Kashmir art rug inside a Senegalese market basket inside a Swiss Gear carry-on. This technique came in handy recently after I made a few impulse purchases at a market in Provence. (Sue suggests I use the phrase "spontaneous purchases" — she says it sounds less impulsive.)
I should note here that I like soft-sided luggage that bends to my will. I managed to zip up this bag (containing my Senegalese market basket) without using the suitcase's expansion pocket. I have a very strong will when it comes to luggage. 😉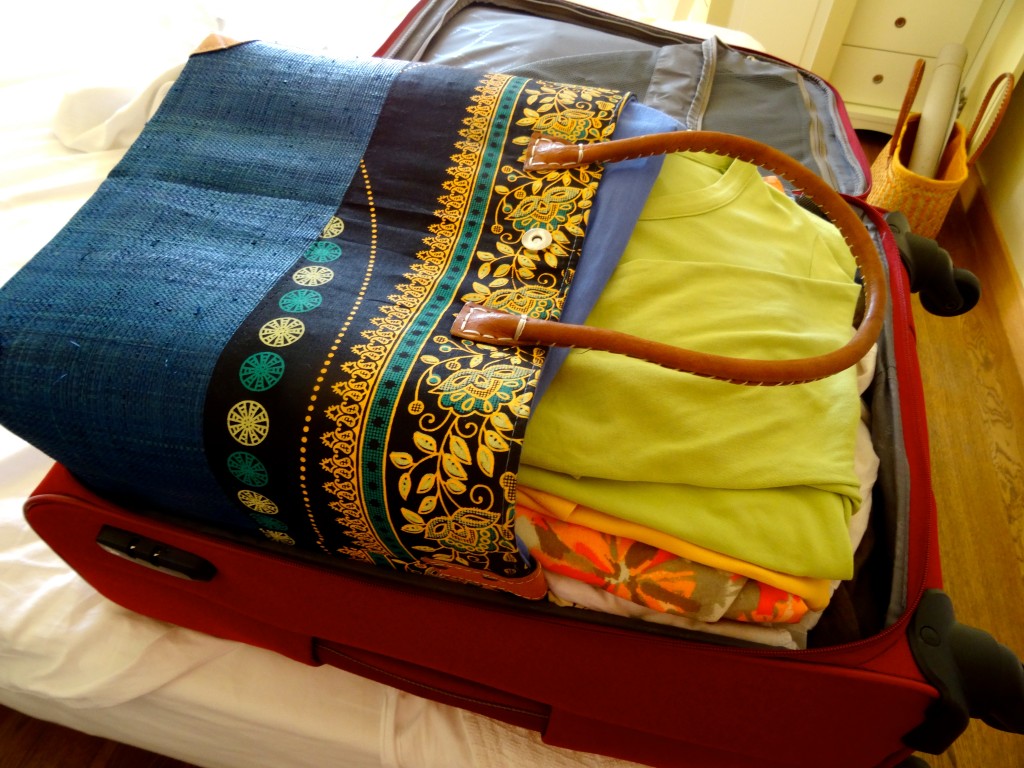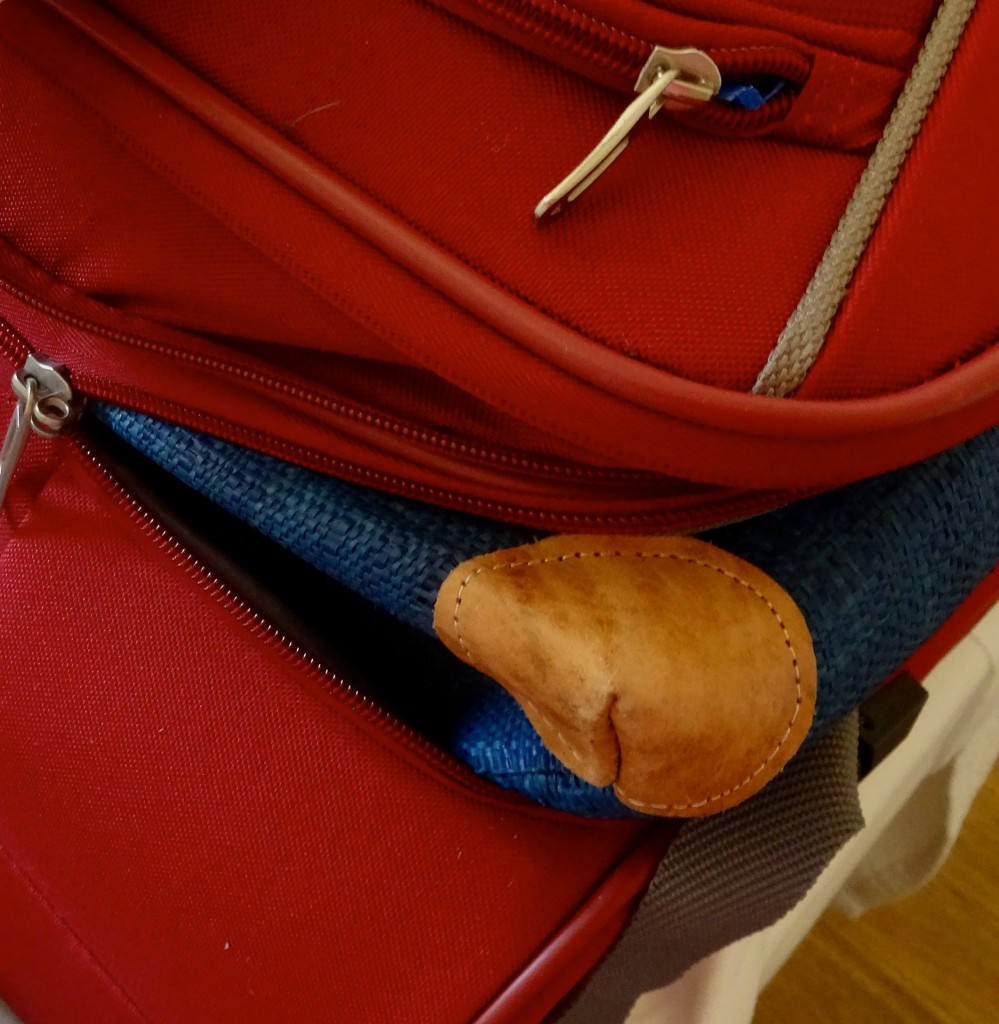 During our recent travels to Provence, Sardinia and Ischia, Sue and I refined our List of Travel Essentials. Feel free to bookmark this page.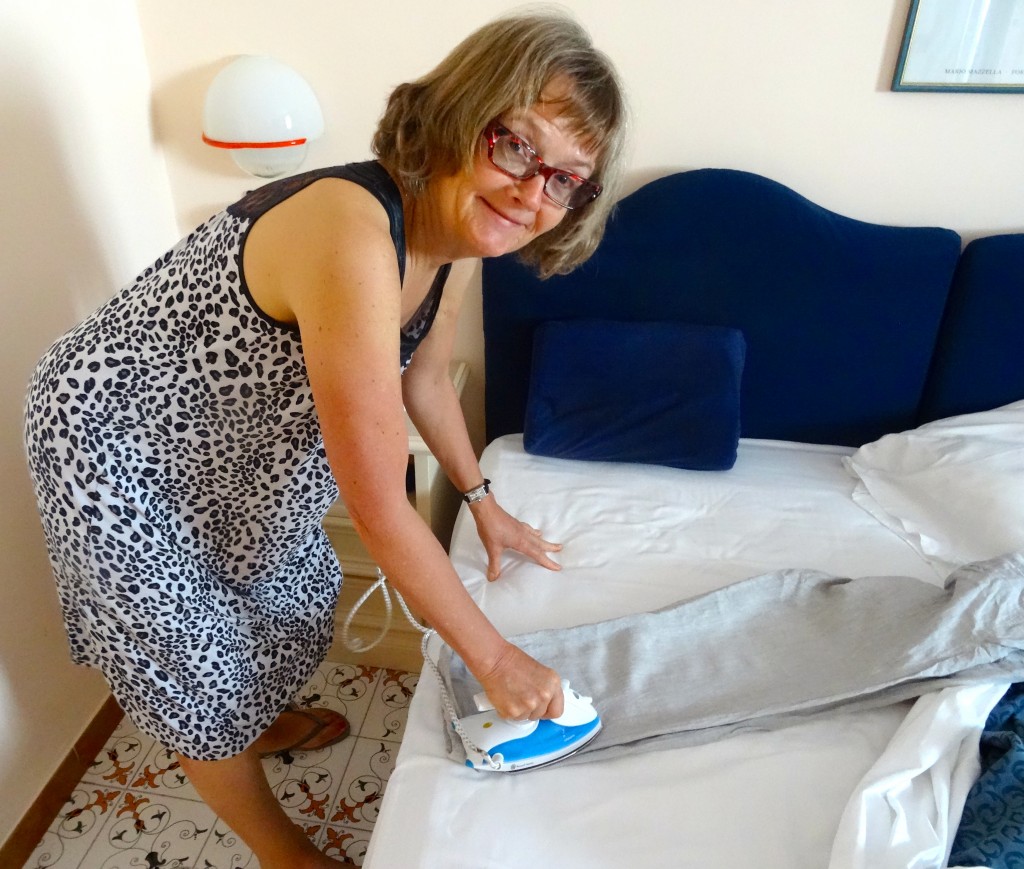 As you learned here last week, Sue is a compulsive laundress (fondly known in Australia as Dame Washalot), whose kit includes a travel iron. She likes wearing linen. I'm a wash-and-wear kind of gal. But we both extoll the virtues of a sturdy clothesline and always pack clothespins, a few plastic hangers, stain remover and a sink stopper.
Sue, seen here, in her animal-print nightie, ironing a pair of linen pants on her bed. >>>
When it comes to packing a bag, I'm the meticulous one — Felix to her Oscar, as Sue says. My gadget cords are wrapped in lovely figure-8s, secured with rubber bands and neatly stowed in my gadget cord/adapter pouch. Sue also has a gadget cord/adapter pouch. But her cords are a tangled mess (as seen below). During a long ride to an airport in Sardinia recently, I showed her how to wrap her cords. I then repacked the cords and adapters flat in her pouch, allowing room for a pack of tissues.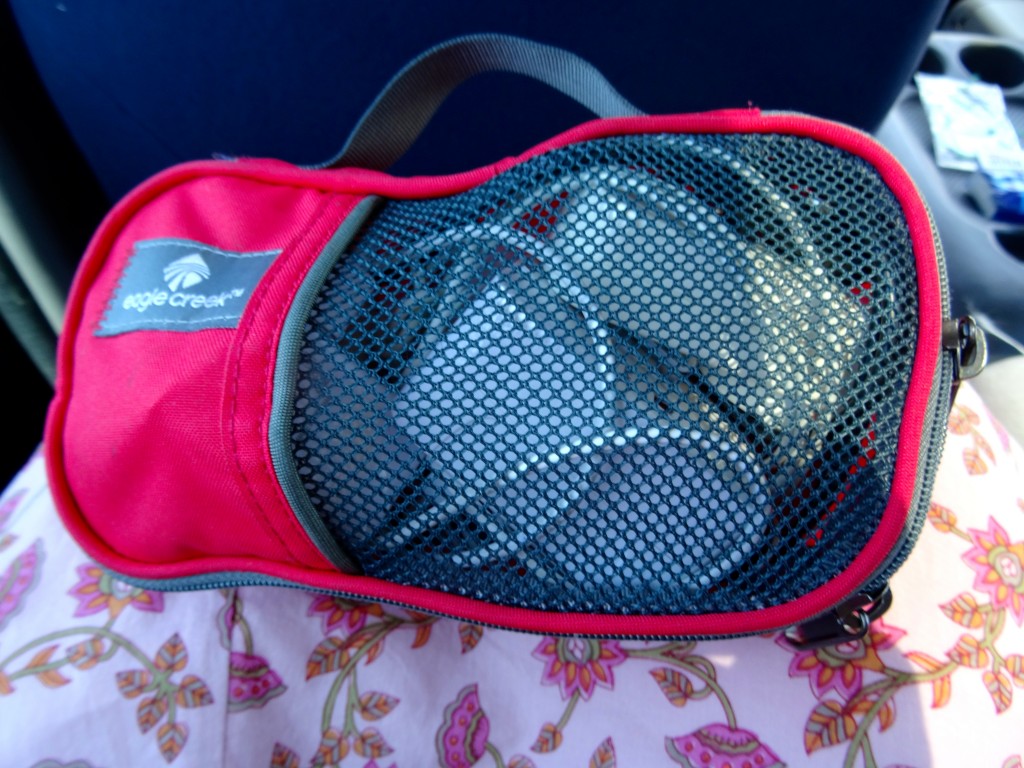 "See, no more lumps," I told her, inserting the tissue pack on top. "You can now use your gadget bag as a pillow."
Sue, seen here, looking very happy with her new gadget bag-travel pillow.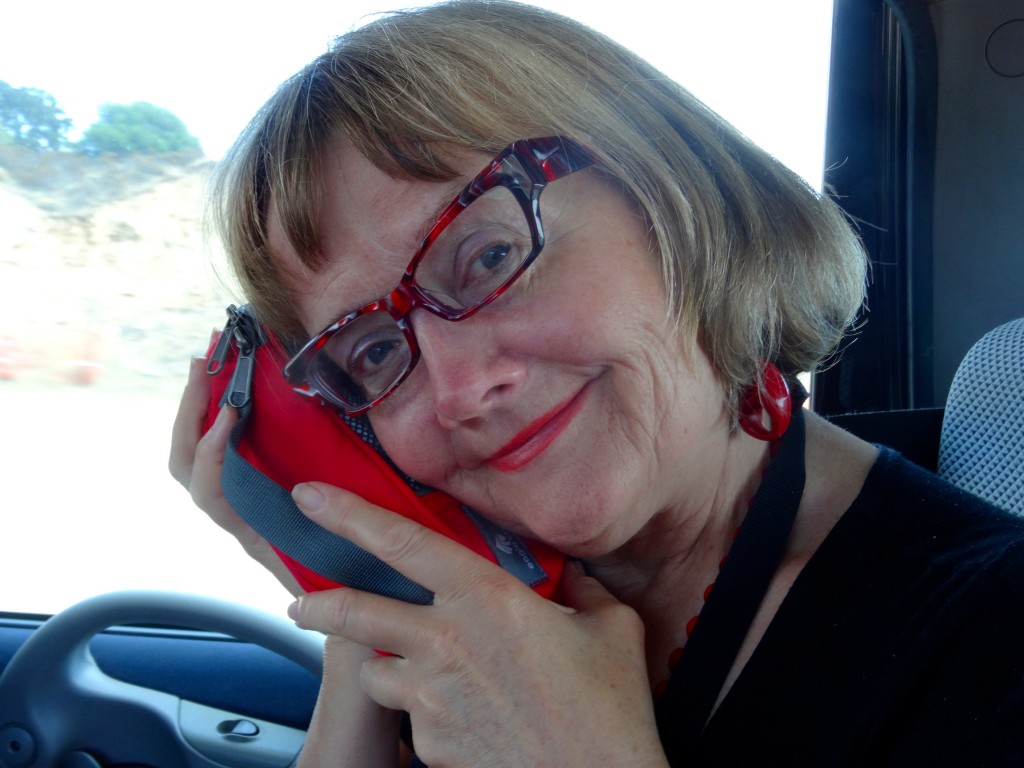 At the Sardinia airport, we popped into a Carpisa luggage shop and bought matching yellow waterproof toiletries bags. I pack my liquids in my suitcase, so I don't have the hassle of removing a 3-1-1 bag at security. Sue does the 3-1-1 routine, but I'm hoping she'll change her ways. If we were on opposing teams on The Amazing Race, I'd rack up crucial minutes going through security — every time.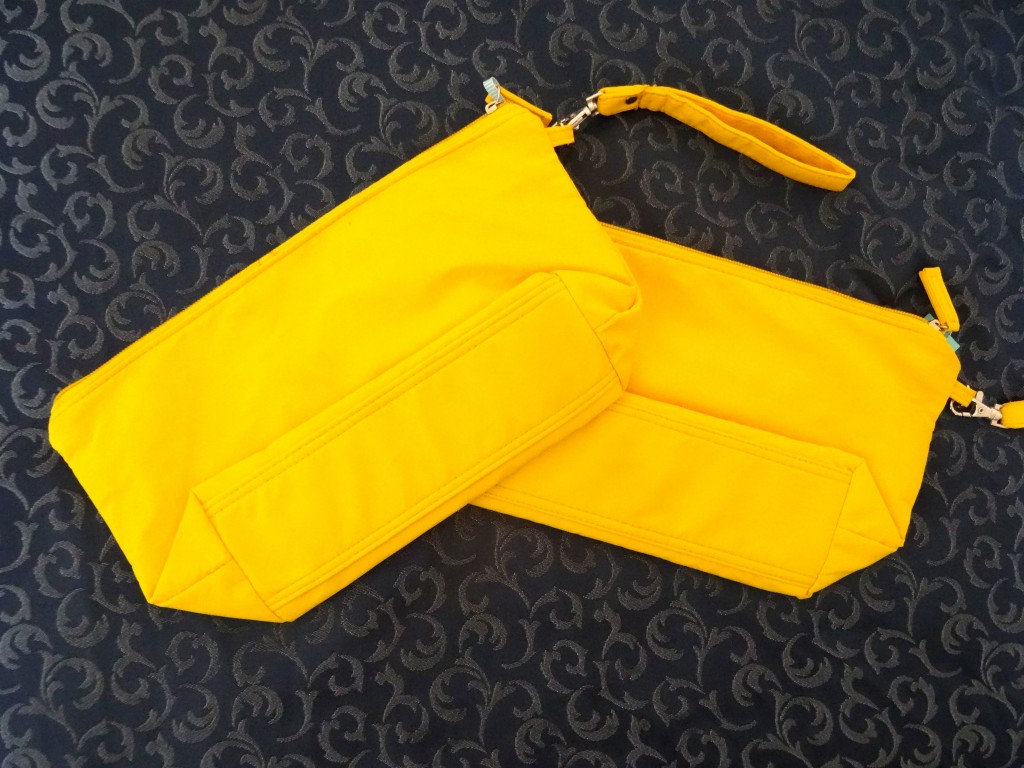 Sue and I are both big fans of ziplocks. (She calls them Snap Locks.) I like the Hefty brand with the plastic zipper. Bring them with you — in Italy, ziplocks are unknown (except for IKEA's low-end zips without zipper tabs).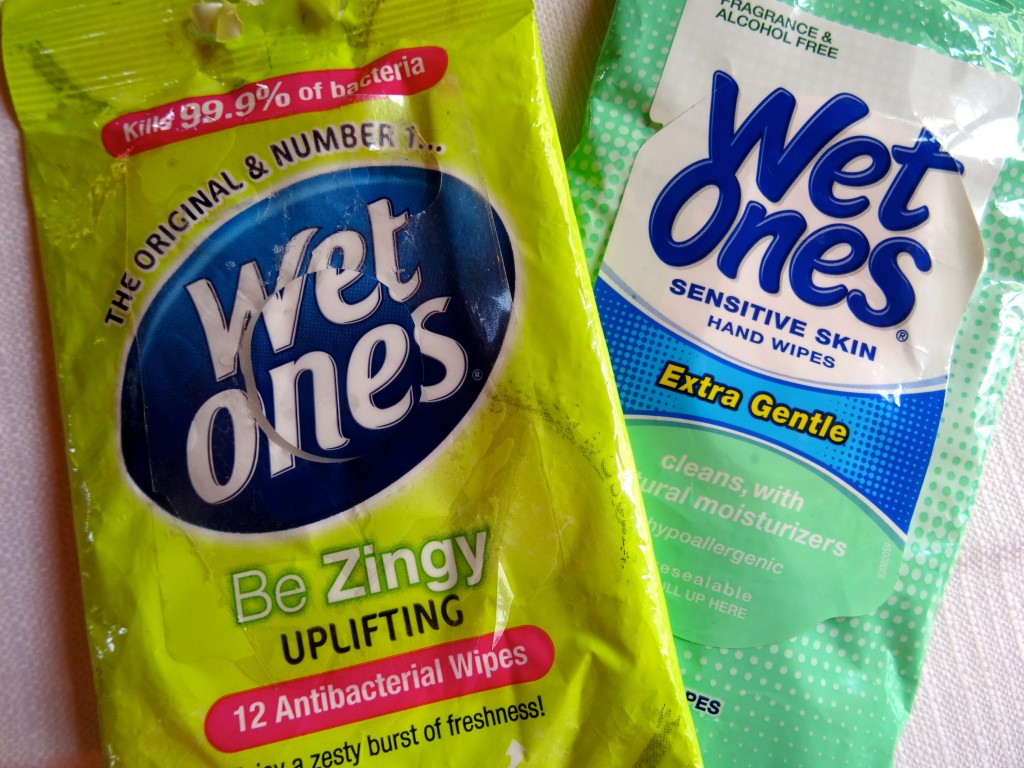 We both travel with packs of Wet Ones for hand cleansing. Wet Ones haven't arrived yet in Italy either, so Sue generously shares hers with me during our travels so as not to dwindle my precious supply. (I buy my Wet Ones at Target on home visits to the U.S. and pack them snugly between the bottom ribs of my suitcase, Meticulous Packer that I am.)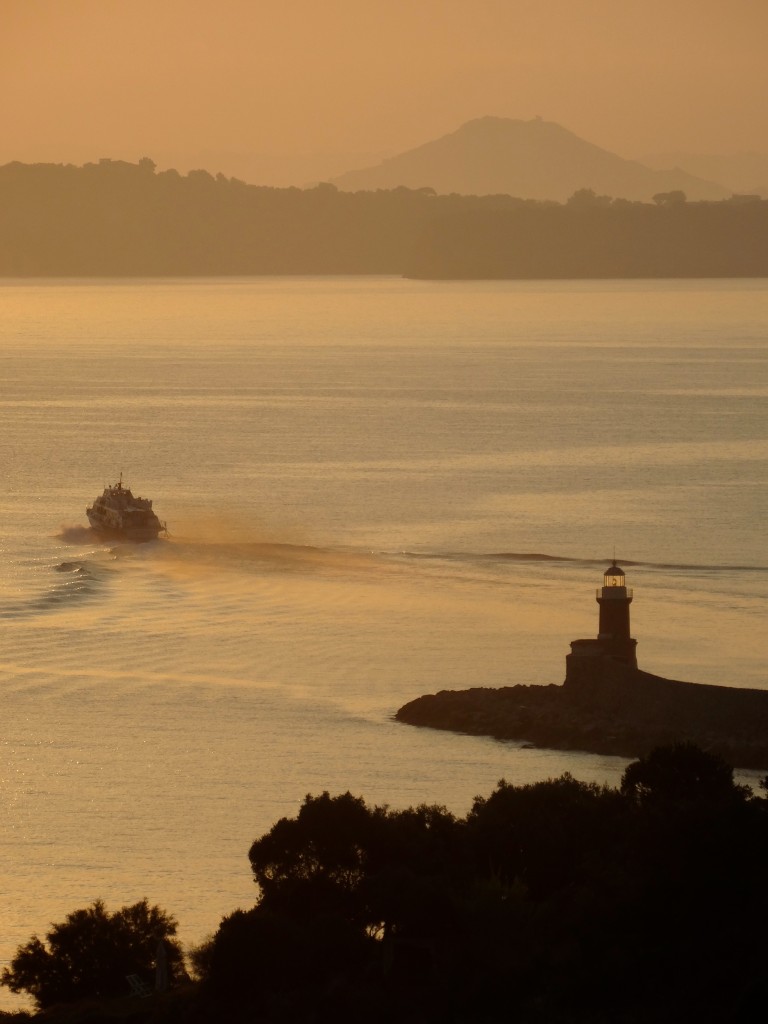 During breakfast one morning, with a sweeping view of the Bay of Naples and Mt. Vesuvio in the distance (we love a volcano in the backdrop of our adventures), Sue and I compiled a list of our Travel Essentials. (Stylish hats and fans are our signature essentials.)
Sue's List:
Wet Ones
travel iron
stain remover spray
clothesline, pins & sink stopper
3 plastic hangers
Blu-Tack (adhesive putty for fixing earrings and repairing hems)
bed pillow
ear plugs
power strip for plugging in gadgets
collapsible water bottle
Pacsafe Anti-Theft travel handbag
travel-size toiletries
arnica cream (good for bruises and inflammation)
cashmere pashmina for the plane
jet-lag tablets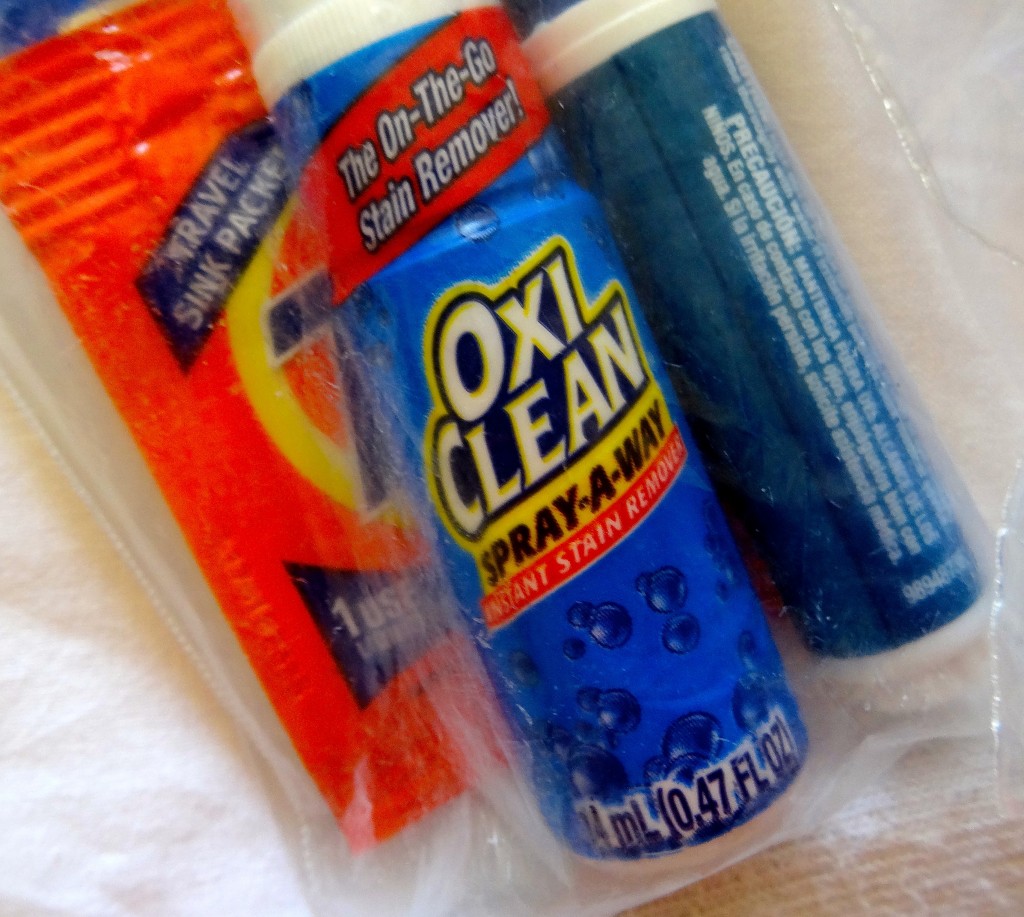 To that, I would add:
corkscrew 😉
camera memory cards
waterproof toiletries bag
rubber bands and safety pins
first-aid items/moleskin
mosquito repellent/anti-itch cream
sunscreen
nail scissors
spare coins for luggage/shopping carts and tips (stored separately from your wallet so you don't get caught without change)
extra ziplocks
immune-booster supplements
detergent packets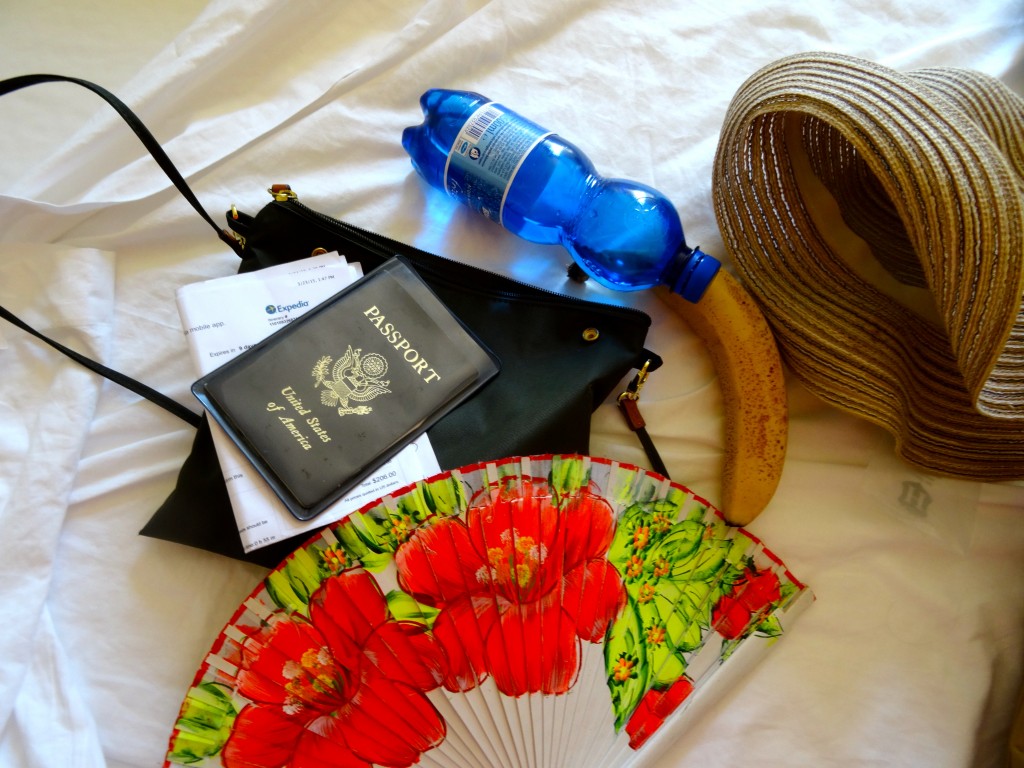 As you're leaving for your trip or checking out of your hotel room, be sure you have in your handbag/personal bag:
passport/ticket/wallet/phone
gadgets/chargers/adapters
eyeglasses/contacts/sunglasses (spare pairs are a good idea)
medications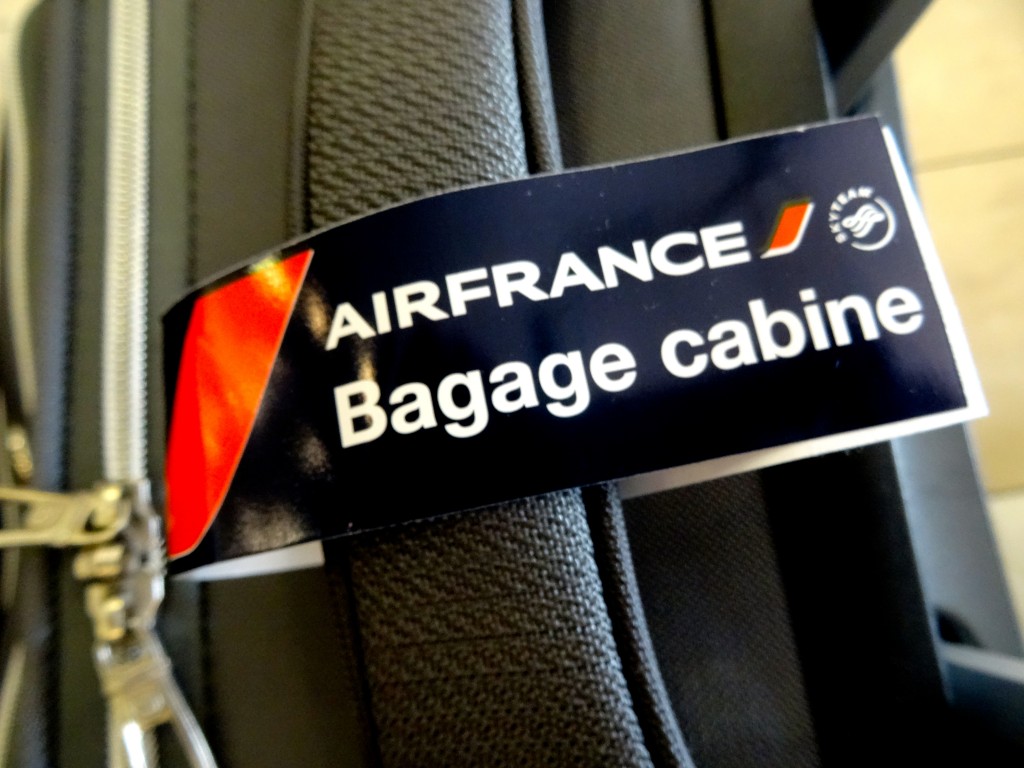 What trips up U.S. travelers is that a 22" carry-on — the standard size for U.S. domestic flights — is too big for most internal flights in Europe. The overhead compartments on regional European planes are too small to accommodate a 22" bag, so it will be taken from you at the counter — likely at a surcharge that you'll have to pay at another counter which will cost you time, not to mention $50-100. If they don't catch you at the counter with an oversized or overweight carry-on, you may be asked to give it up on the jetway or at the steps to the plane. I ran into trouble recently with a surprise weigh-in at a security checkpoint at Charles de Gaulle Airport in Paris. The agent weighed my carry-on and my handbag – which may become the new normal because of the excessive cabin baggage that passengers are trying to sneak on board, to avoid surcharges or standing in line at the ticket counter. My carry-on and handbag combined were a kilogram over the hand-luggage allowance. (My carry-on alone was in compliance.) I had to go back to the ticket counter to check the carry-on and nearly missed my flight — I was the last to board. Lesson learned: Verify with the ticket agent that your carry-on meets the size and weight restrictions (along with your handbag) and get the carry-on tagged (see above). If the carry-on is overweight, you can shift items to your checked bag at the ticket counter, as long as the bag to be checked is underweight.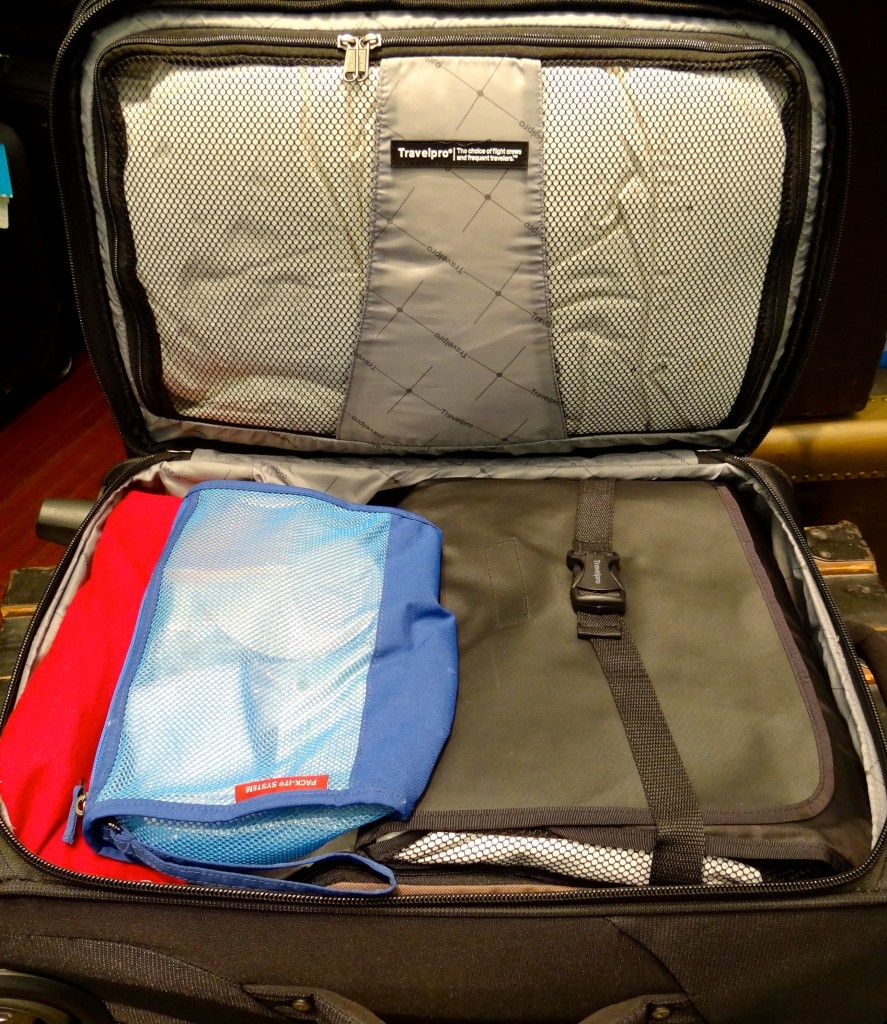 If you have to give up a carry-on on the spot, you'll need to remove valuables like camera gear, laptop/notebooks and jewelry. If ever I have to quickly lighten my load, I have something called The Black Envelope (<<< pictured here) that comes in handy. (When I do packing demonstrations, this is the shock-and-awe moment. 😉 ) It's a compact packing envelope (similar to a packing pod) that contains a change of clothes and undies, pashmina, lightweight rain jacket, swimsuit, and cover-up (that can double as sleepwear). The envelope has a zippered compartment where I keep earrings (leave your good jewelry at home — a few costume pieces will do just fine) and has flaps that close with Velcro.
When I've had to hand over a carry-on at the jetway (sometimes this happens when you're in the last group to board and the overhead bins have filled up), I pull out my laptop and The Black Envelope and slip them into a collapsible tote (stashed inside the carry-on) that can serve as a beach bag or shopping bag at my destination. My passport, tickets, wallet, phone, camera, eye/sun glasses, medications, gadgets/chargers and adapters are in my handbag.
Checked bags can fall prey to theft, so be sure to always carry your valuables. I heard tale of a young man who had to check his oversized carry-on on the tarmac and forget to remove the engagement ring he planned to give his girlfriend at their destination. When they got there, the ring was gone.
My best advice is not to get yourself in the situation of having to re-pack on the jetway or runway — so bohemian. To be on the safe side for European air travel (especially if you're flying budget airlines), your carry-on shouldn't weigh more than 7 kg (= 15 lbs) and should be between 18-21″ in height x 15″ wide x 8″ deep (weights and measurements vary by airline, so check in advance). The contents of a Black Envelope are all you really need to see you through the first days of a trip if your checked bag is lost. Think SMALL and pack LIGHT!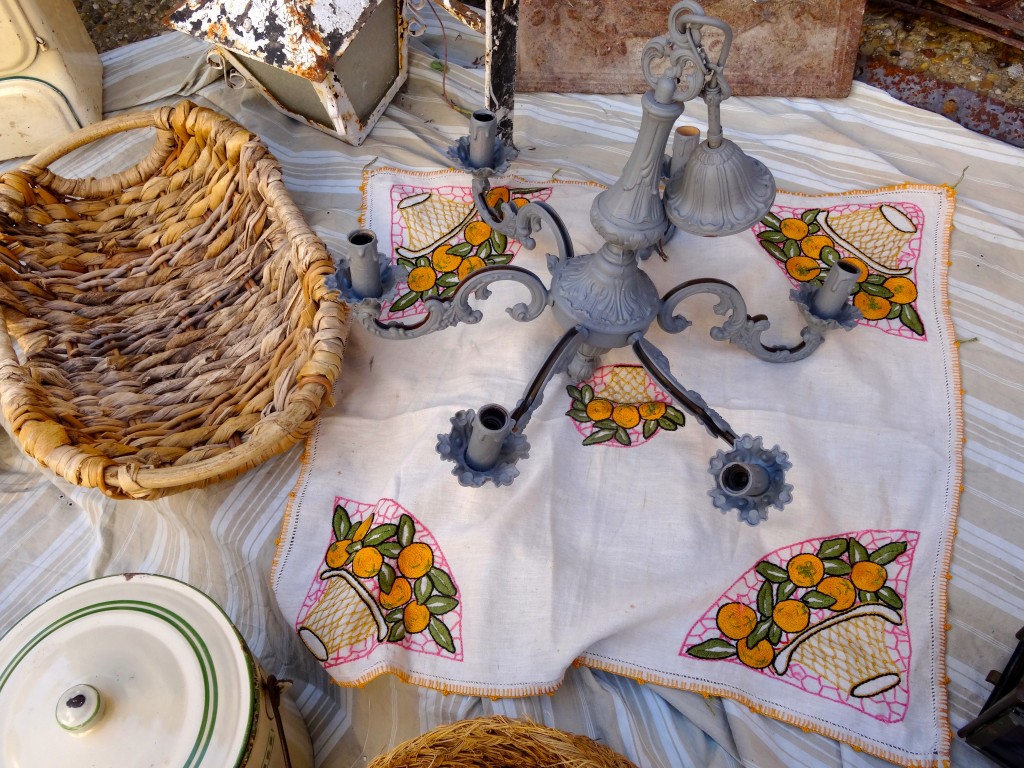 On our most recent trip, Sue traveled with four pairs of shoes (she had business meetings in London). I traveled with only ONE pair — my orthotic-equipped Finn Comfort sandals that complemented my skirt-and-top ensembles. I also brought a pair of pool sandals. My travel philosophy: The more shoes you pack, the less room you have for spontaneous purchases. 😉 No, I didn't buy the chandelier pictured here, but I did spontaneously acquire the lovely hand-embroidered cloth beneath it. >>>
Sue and I will continue to refine our travel advice — stay tuned for the reality TV show. Meantime, she and I look forward to many more travel adventures together. As we walked away from the Carpisa luggage store at the Olbia airport, I said to her, "Every time you use your yellow toiletries bag, you'll think of me. And when I use mine, I'll think of you."
Travel sisters forever, we are.

Group shot (on the last day of our most recent trip) of our souvenir-loaded bags that have become travel buddies, too…