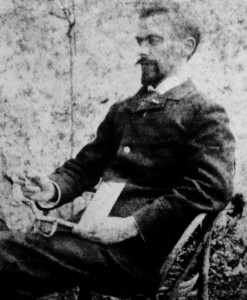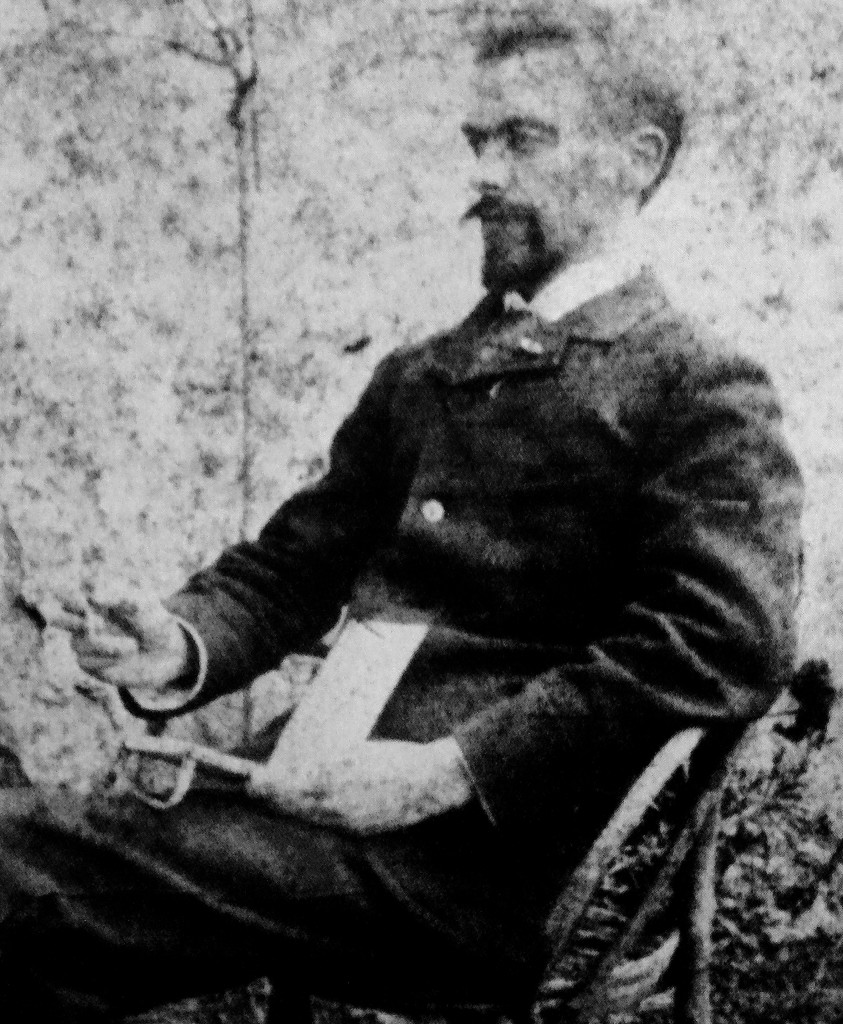 My first encounter with American Impressionist artist Theodore Robinson happened in 2004, when I was staying in Giverny, France — just down the road from Monet's famous gardens — at a B&B that had been an 18th-century water mill.
Although Robinson (1852-1896) had been dead for more than century, he seemed very much alive to me during my stay at the old moulin. The mill and its surroundings had been the setting for a number of Robinson's paintings when he was a prominent figure in Giverny's artists' colony in the late 1800s. The B&B owner told me a story about Robinson and his connection to the moulin that intrigued me. In a lovely way, I sensed Robinson's presence there.
In the decade that followed, I often thought about Robinson and read about his life and art. Born in Vermont, he grew up in Evansville, Wisconsin, and studied art at the Chicago Academy of Design (before it became the Art Institute). He pursued his painting career in New York and eventually in Paris. During his Giverny years, he was befriended and mentored by Monet.
As I learned more about Robinson, I became intrigued with his favorite model — a Parisian woman known only as Marie. A model for other Impressionist artists as well, including Edgar Degas, Marie featured in a number of Robinson's paintings between 1885 and 1892. Her profile is distinctive — Robinson renders her upturned nose and protruding upper lip with the attention of a man who knew her well. Except for one portrait of her sitting in a chair and holding a violin, Robinson always painted her in profile, as if shielding her from curious eyes. They were lovers and spent time together in Giverny. There was gossip about a love child.

Last spring, as I began writing the story of Theodore and Marie, I studied the three known photos Robinson had taken of her in 1892. In all three, she is in profile or with her head bent. She wears the clothes of a Normandy peasant girl — a long skirt, a pleated vest and a short-sleeved white blouse. All three photos had been taken in an unkempt garden in Giverny, with a high stone wall in the background. In one of the photos, she sits in a chair, bent over her mending, near an old gnarled tree with a branch bent like an elbow.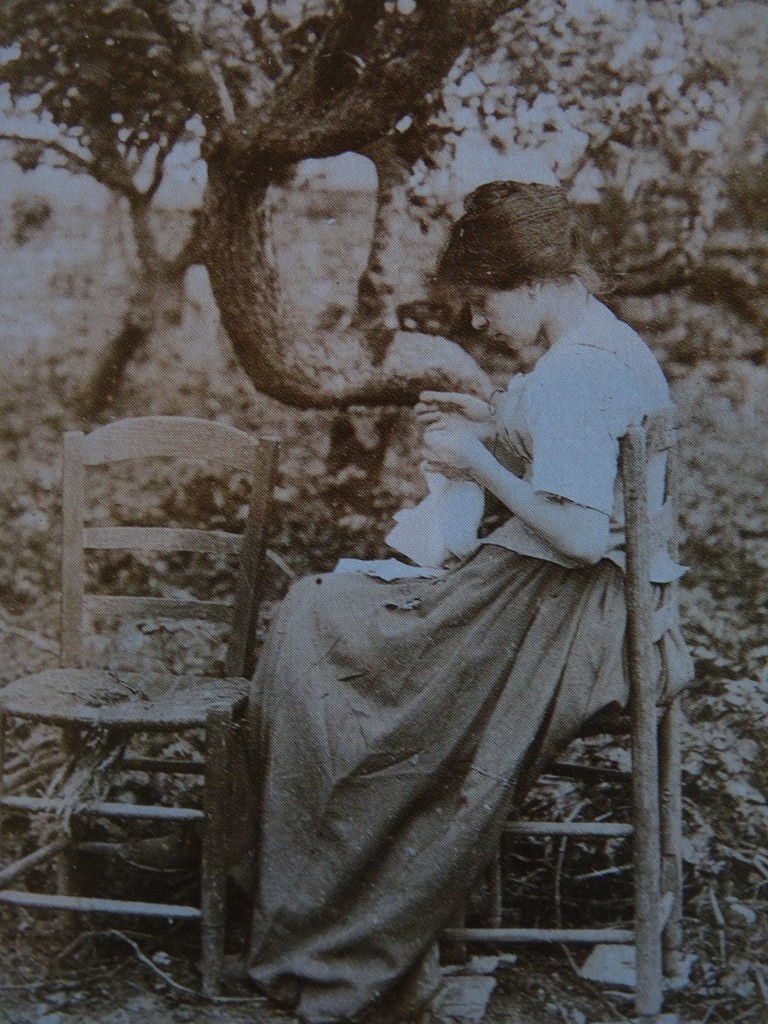 I had seen these photos in a catalog of an American Impressionist exhibition that traveled to San Diego in 2007. Another of Robinson's Giverny photos, titled Woman Standing by a Tree, caught my eye in that catalog. The quality of the image was poor, but the bent branch of that tree was unmistakable.
I contacted the Chicago-based Terra Foundation for American Art, which owns a collection of Robinson's photographs — including Woman Standing by a Tree — that had been gifted to the Foundation by New York art dealer and Robinson expert Ira Spanierman in 1985. The date range given for Woman Standing by a Tree was c. 1889-91. But the setting and the woman's clothing and hairstyle seemed to link this photo to those of Marie, taken in 1892.
It was a thrilling moment for me, in the Terra's vault one day last October, to see Robinson's original photographs, knowing that his hands had been on those images.
Terra's registrar Cathy Ricciardelli kindly let me look at Woman Standing by a Tree under magnification. I asked her to take a look as well, to confirm my hunch. There was little doubt: the anonymous woman by the tree wears the same earring and ring on her left hand worn by Marie in the photos taken in 1892.
Suddenly from a stack of photos that are more than 120 years old, we were looking at what's now the first known photo of Marie's face.
With the generous permission of the Terra Foundation, this photo appears on the last page of my book The Secret of Marie. I'd like to thank Terra Collection Associate Shari Felty and my book cover designer Elizabeth MacFarland for producing a high-resolution image of this photo, which enhances the details Robinson clearly saw the day he photographed his beloved Marie.
It wasn't my intention to solve the mystery of Marie when I started working on this book. I'm intrigued by the way she dissolved into the mist of time after Robinson's last visit to Giverny in 1892, and I want her to enjoy her solace there. That said, I enjoy the thrill of a chase when I'm researching a story and have developed a kinship with Marie and Theodore as I've lived their love story.
The day I saw the details of Marie's face (after the Terra had emailed me a digital image of Woman Standing by a Tree), I was sitting in "my" room at the old moulin, where this story began. I enhanced the image in iPhoto and zoomed in on her face. Another incredible moment, seeing Marie up close for the first time.
I looked out the window at the little bridge above the stream that turns the old mill's water wheel, at the spot where she had posed for Robinson in his painting La Débâcle, which graces the cover of The Secret of Marie.
It was the end of an 11-year journey for me — and just the beginning of a wonderful opportunity to share the story of an artist from Vermont and his Parisian model who left an indelible mark, tinged with mystery, on the history of American Impressionism.
I hope you enjoy the tale.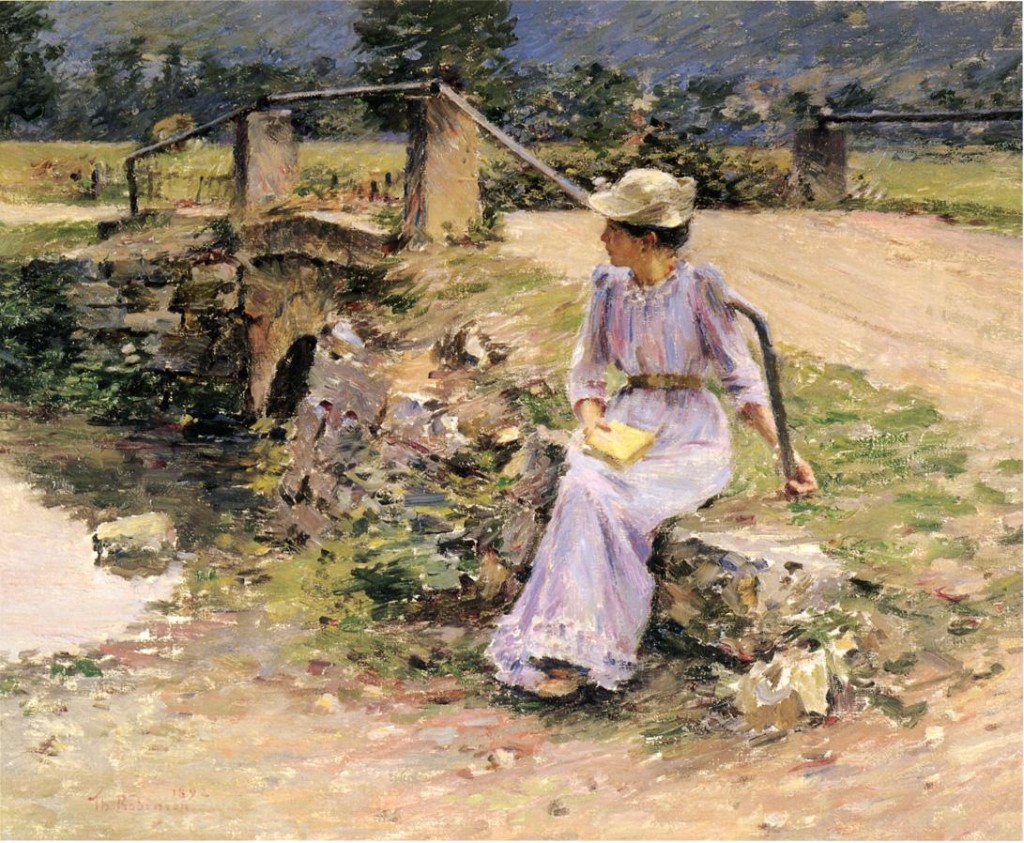 Credits:
photo of Theodore Robinson sketching in France, undated
Theodore Robinson, Lady in Red, 1885, private collection
Theodore Robinson, photo study for The Layette, 1892, Baudy-Perdrix Family Collection
Theodore Robinson, variation of La Vachère (The Milkmaid), c. 1888
Theodore Robinson, La Débâcle, 1892, The Ruth Chandler Williamson Gallery, Scripps College, Claremont, California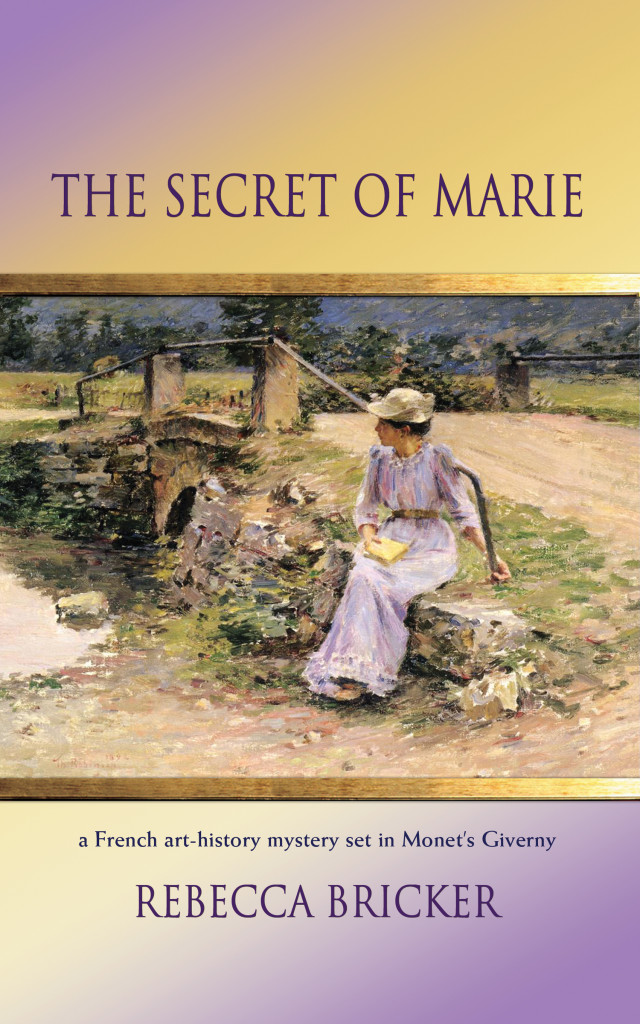 An art-history mystery set in Monet's Giverny, The Secret of Marie weaves a modern-day love story with the romantic tale of American Impressionist painter Theodore Robinson and his favorite model — a woman known only as Marie, who has perplexed art historians for more than a century.
Available on Amazon.