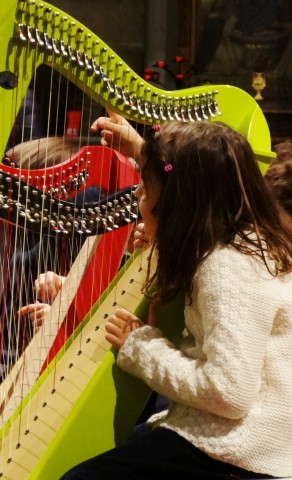 Yesterday here in Florence, it rained most of the day. Tears from heaven – if there is one, I thought.
A verse of one of my favorite Christmas songs, from a poem by Henry Wadsworth Longfellow, came to mind:
And in despair I bowed my head;
"There is no peace on earth," I said,
"For hate is strong and mocks the song
Of peace on earth, good will to men."
I turned off the news, in tears, and decided to take a walk. I couldn't stop thinking about the loving teacher at Sandy Hook Elementary, who had huddled in a hiding place with her terrified little students:
"I said to them – 'I need you to know that I love you all very much and that it's going to be okay' – because I thought that was the last thing they were ever going to hear."
I thought of the parents waiting at the firehouse for their children to be evacuated from the school. A nurse said wailing cries filled the room when word came to the parents of 20 students that no more children would be coming.
I walked to an ancient church in my neighborhood. It was mid-afternoon. I was surprised to see a number of people at the church door.
I wanted to light a candle on this dark, rainy day, so I followed them inside.
I looked around the grand sanctuary and there wasn't a single candle lit at any of the votive stands. Not one.
I saw a priest walking past.
"Signore," I said, thinking he probably should be addressed as something else. "I would like to light a candle."
"Not now," he said in English. "Maybe later."
"Why not now?" I asked.
"The kids will play with them," he said.
"Surely there is somewhere in this church where I could light a candle." My voice was shaking. "There are 20 dead children in the United States. I want to light a candle for them."
He looked puzzled. "What happened?"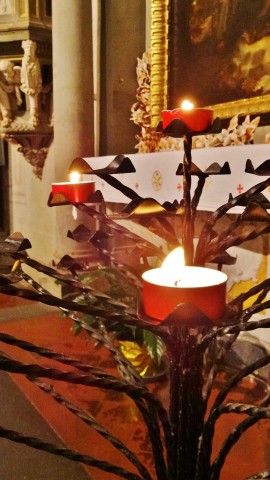 I told him the story. He took a cigarette lighter out of the pocket of his robe. "Come," he said.
I followed him down a side aisle to a votive stand toward the back of the church. He lit three candles. I thanked him and lit a fourth.
And then something amazing happened. Children started coming through the front door in droves. Most of them wore white tops. Many carried musical instruments. They were all grade-school age.
In the next half hour, the space in front of the altar was transformed into a stage for a music school's Christmas concert. A row of miniature harps appeared…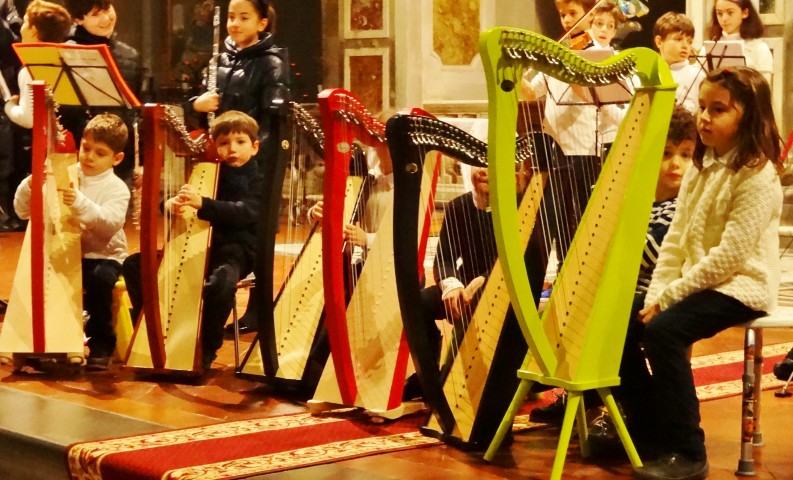 Many of the instruments were down-sized to fit these very young musicians. I watched a teacher put a tea towel under the foot of a little fellow's little cello, to keep it from slipping.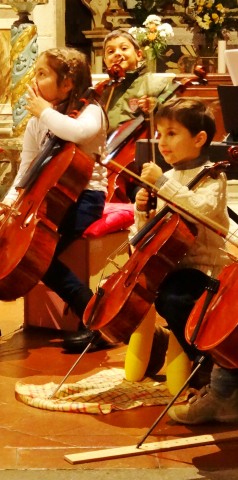 The scene was total chaos. The teacher-in-charge kept shouting, "Silenzio, per favore!"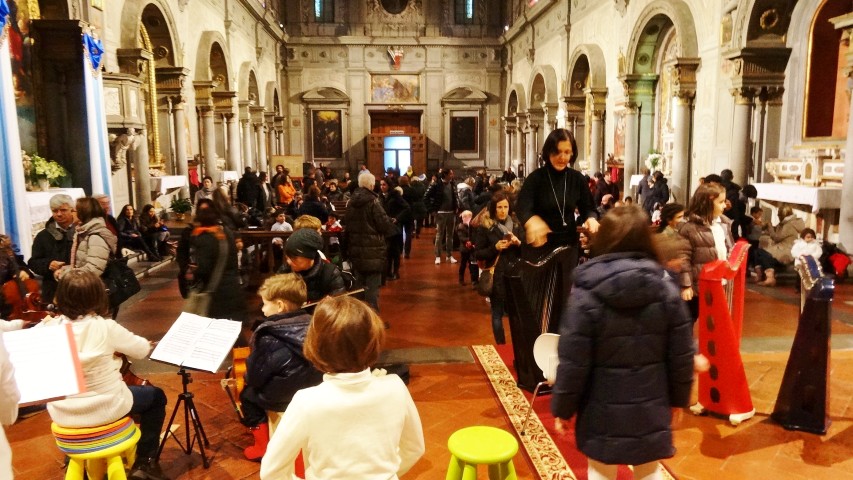 I fondly remembered helping out with Christmas programs at my son's elementary school. I was always amazed, no matter how badly the rehearsals went, that come showtime when they were up on the bleachers, miraculously little halos popped up over every child's head.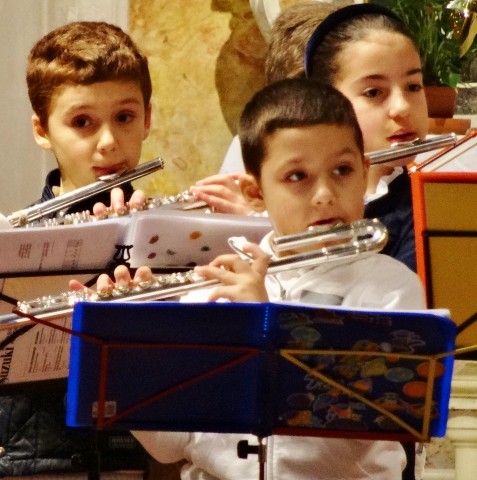 The same miracle happened yesterday. When they took their places on the stage, they all looked like angels.
The director of the music school welcomed everyone and then asked for a moment of silence for the "bambini di United States."
Three Italian mothers standing next to me, who hadn't stopped talking since they arrived, continued chatting in a whisper. I so wanted to say, Silenzio, per favore. Can you not show some empathy and respect? 
But the tragedy in Newtown, Connecticut was far away. It hadn't torn their lives apart.
Before the concert started, I was sitting near the votive stand where the priest and I had lit four candles. I noticed that there were now seven candles burning. At first, I was comforted by the thought that others, too, were sending up light on this black day.
Then I saw a boy, about 8, lighting an eighth candle. I watched him play with the votive lighter – a long white stick. He twirled it in the air, watching the trail of smoke. There was a hot ember at the tip. I could tell there was something not quite right about this child. I could see it in his eyes.
No one seemed to be with him. I looked over my shoulder at a stern-faced nonna sitting in the pew behind me. Her eyes were fixed on him, too.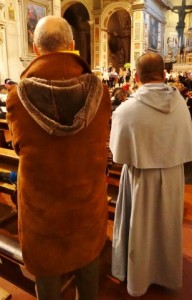 I'm a former Cub Scout den mother and didn't hesitate to take action. I felt responsible in a way – the priest had been right.
I approached the boy and softly said, "Sweetie." He looked up at me, startled. I pointed to the stick and motioned for him to put it back on the votive stand. He dropped it on the candle tray and then ran off.
The nonna and I exchanged a look. I moved all the lit votives to the top tiers.
I grieve today for the children we've lost in this horrific act of violence – as well as the children who survived the day and will be haunted by it for the rest of their lives. But I grieve also for the children who need attention and help, who slip through the cracks, who walk into a school at the age of 20 with death as their mission.
How does this happen? In the raging debate about how to keep this from happening again, we all need to look around us and help the children who are playing with fire.
The rain had stopped by the time I left the church. Bells rang in the distance…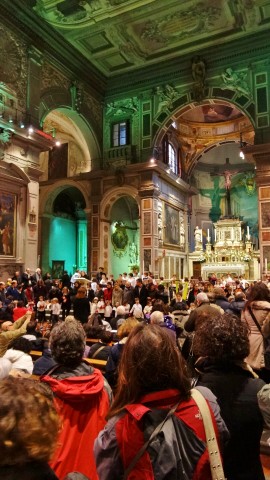 Then pealed the bells more loud and deep:
"God is not dead, nor doth he sleep;
The wrong shall fail, the right prevail,
With peace on earth, good will to men."
Till ringing, singing on its way,
The world revolved from night to day,
A voice, a chime, a chant sublime,
Of peace on earth, good will to men!
With prayers for ALL in this time of great sorrow.

The lyrics of "I Heard the Bells on Christmas Day" are from the poem "Christmas Bells" by Henry Wadsworth Longfellow, written in 1863 – following the severe injury of his son in the Civil War.