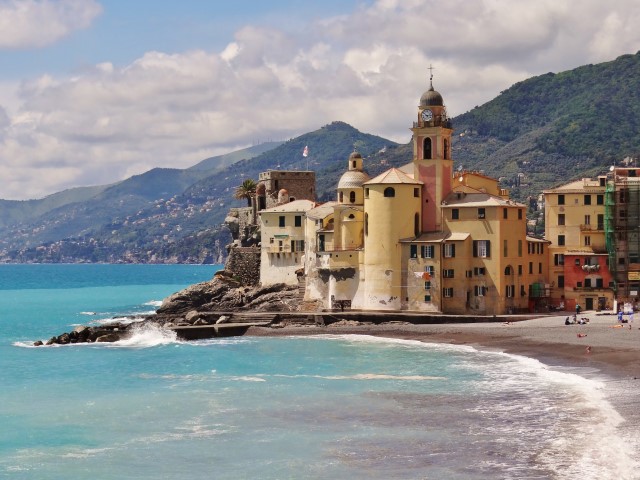 Camogli is the name of this mystical Ligurian fishing village, on Golfo Paradiso, south of Genoa. Fishing boats and tall ships have been part of Camogli's history since Roman times — there are traces of Camogli's story that begin in the 8th century BC. Its castle on the rock — built to defend the village from invaders and pirates — dates back to the 12th century. Napoleon kept part of his fleet in Camogli. In the late 1800s, Camogli was home to a prestigious naval college and became the retirement home for many seasoned ship captains.
Today, fishing boats still sink anchor in Camogli's harbor alongside ferries that transport tourists, enchanted by this village's charm.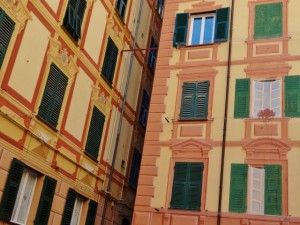 The colorful facades of its buildings are in the trompe l'oeil style that is prevalent along the Italian Riviera south of Genoa. In towns and villages of this region, where supplies and financial resources were limited in years past, local painters dressed up the stucco building facades with false windows, shutters and decorative cornices, balustrades and cut stonework. The effect is surreal. In full sun and twilight, your eyes begin to play tricks. I found myself blinking a lot, to discern between reality and illusion.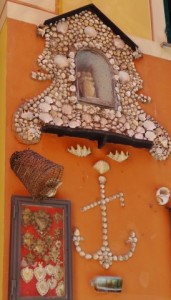 That's the magic of Camogli.
There's a very fine line between fact and fantasy in this village. Its men went out to sea, sometimes for years at a time, leaving wives, daughters and mothers behind. The name Camogli, in fact, is said to have come from casa delle mogli — "house of wives." On the narrow streets of Camogli, tabernacles — some made of seashells — are shrines to the Madonna, where daily prayers are whispered.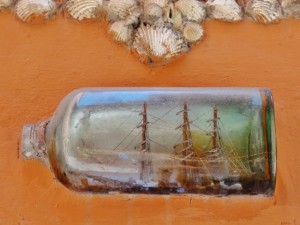 It's a village filled with fishermen's tall tales. I was spinning a postcard rack at the local bookstore when I saw these two photos — I laughed, thinking they were photoshopped images meant to fool tourists…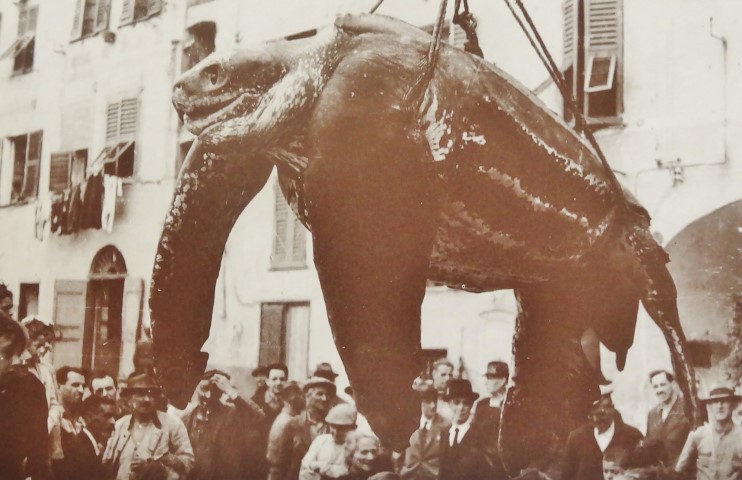 "Surely this isn't real," I said to the young man at the register.
He deferred to an older woman standing at the counter. She told me this sea turtle was brought into port in the late 1940s or early 1950s — she couldn't remember exactly when. Same with the manta ray.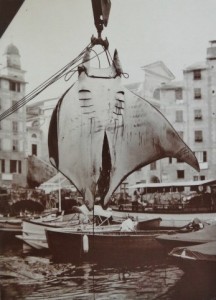 I looked closely at the turtle. "It looks like he's still alive."
The woman nodded, her eyes wide.
"What did they do with him?"
"They took him back to sea," the young man assured me.
"Poor baby." I had to laugh, though. I've heard a number of fishy fishing stories from the men in my life over the years and could understand the bragging rights and vindication that come with bringing home an unbelievable catch.
Camogli seems to be filled with the spirits of women, who wove tales of their own as they sat together, mending sails and nets.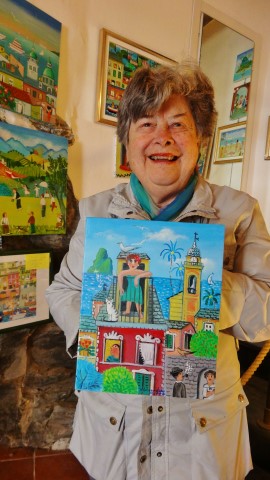 During my recent stay in the village, I met a lovely artist, Alessandra Puppo — a native Florentine — who has a gallery built on the castle rock. Her work is colorful and whimsical and captures the life of Camogli. I purchased one of her paintings called L'Abbaino (the Italian word for "dormer"), which shows a woman standing on the balcony of her abbaino, taking in the world around her. (In my new apartment that has a sweeping top-floor view, I feel a lot like the all-seeing woman in this painting. ;))
Alessandra told me the story of a little piazza in Camogli, where the ghosts of women dance after midnight. It's hard to find — you won't come to it from any street in the village. It sits at the bottom of a narrow staircase and is called Piazzetta della Signore Secche — the little piazza of the "thin" women. Alessandra explained, holding up a finger, "They are old and thin, like this."
Alessandra couldn't remember the exact location of the piazzetta and I couldn't find it on my tourist map, so I asked the woman at the front desk of my hotel.
"You take the narrow stairs beside the Revello pasticceria — you know the place?" she asked me.
"How fair is that?" I cried in dismay. "Thin women dance above the pasticceria?!" She laughed.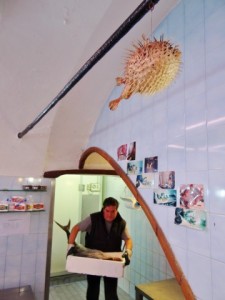 The stairs she spoke of led me into Camogli's "medieval borgo," a warren of alleys and stairwells, hidden from the village beachfront. I smelled a fish merchant's shop before I saw it — a swarm of flies crowded the doorway. I nearly got knocked over — by smell and sight — when this catch-of-the-day exited in a wheelbarrow. >>>
I stood at the top of one stairwell, thinking I had lost my way. Walking up the stairs was a young man, with blond curls, in his late teens. As he passed me, I think he saw the perplexed look on my face and asked, in English, "May I help you?"
"I am looking for the square where thin women dance."
He smiled and pointed down the stairs. "It's there. It's where old women meet in the summer to talk because it's shady there most of the day."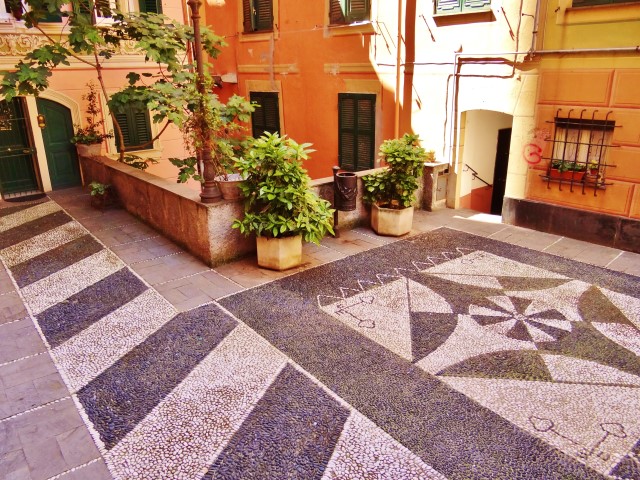 I could feel my heart beating as I made my way down the narrow staircase — and I let out a little gasp when I reached the bottom. The piazzetta is a mosaic of gray and white pebbles in a nautically geometric design — with crossed keys in the corners. A fig tree (of course it was a fig) shaded a lovely door to a two-story house with lace curtains at the window. Beach towels hung on a clothesline strung from an upstairs window. Two towels had the Woolrich logo with the word PENNSYLVANIA woven into the design. (I was born in Pennsylvania. A flag of welcome?)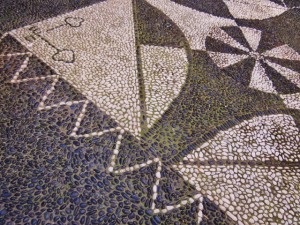 A window opened above the courtyard and a man appeared. "Buon giorno," he said, smiling.
"Buon giorno," I replied. "You live in a beautiful place."
"Si," he said.
"I hear it's a place where thin women dance at midnight."
"That is the story."
"Have you seen them?" I asked.
"No." He shook his head, then pointed to a window above the bottom of the staircase. Someone had painted a silhouette of a man smoking a pipe. "He's a spy."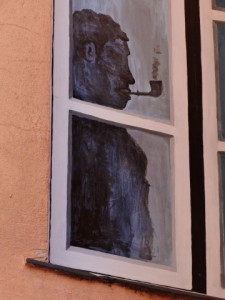 "Like you?"
"Would you like to join me for coffee?" he asked.
And I did. 😉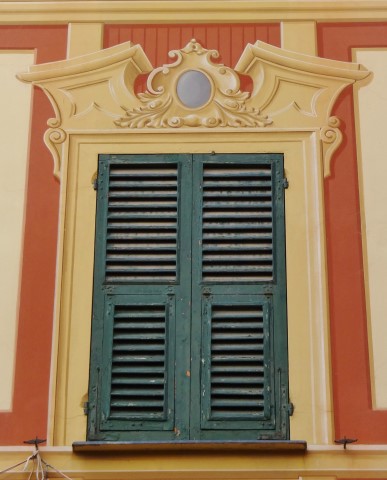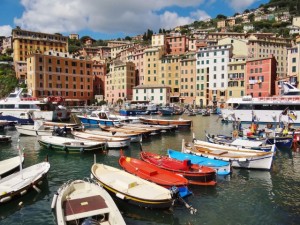 A footnote to this story: In magical Camogli, fish squeeze their own lemons…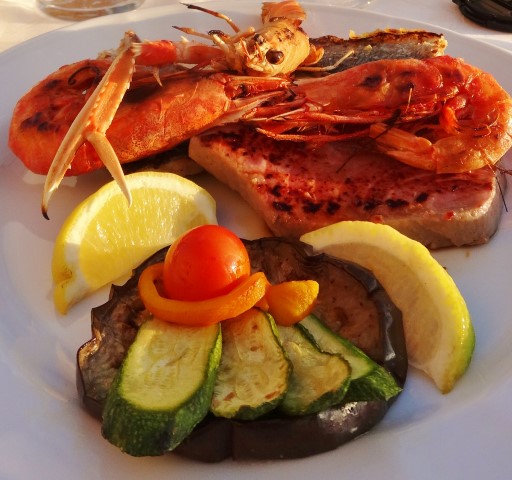 I swear to you, I did NOT stage this photo!