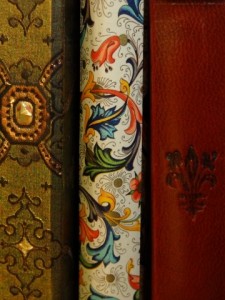 One Christmas Day, when I was 12, I slipped away from the visitors and festivities in our festive house and settled into my favorite writing spot, on the floor between the twin beds in my room. In all the hubbub downstairs, only my father noticed I was missing. I remember him standing in my doorway, looking for me, softly calling my name. He couldn't see me in my cozy cavern, until my head popped up, which gave him a start.
"What are you doing?" he asked, mystified by what was going on between the beds. He came closer and looked even more mystified when he saw me stretched out on my tummy, with my pencil and notebook.
"I'm writing a story," I said matter-of-factly.
"About what?" he asked.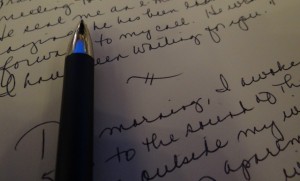 "Christmas."
"Don't you want to come downstairs and be with everyone?"
"I'll be down later," I said. "I just want to finish this part."
"Okay," he said. He left without a fuss. When he got downstairs, I heard him say (to my mother, I think), "She's up in her room, writing a story."
I wrote pages and pages that Christmas night, enjoying the sound of chatter and laughter and Mitch Miller Christmas songs on the stereo, from my comfy spot between the beds. I was in that place that's a zillion miles away, in the Land of Dreams where girls like Wendy, Dorothy, Alice and Nancy (Drew, of course) have amazing adventures. I can't imagine life without this place, where you can open a blank book and – abracadabra – a wonderful story and marvelous characters spring to life. It's the magic that makes me love being a writer.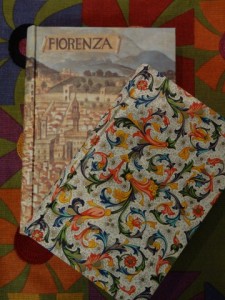 A few months ago, I was clearing out my family home of 47 years and found the story I wrote that Christmas night. It was tucked inside a bulging manila envelope, along with my other "early works." On the envelope, I had written, in stylized adolescent script:  1st collection of stories (age 12-13). Apparently, I sensed my destiny even then.
But I didn't imagine when I was 12 that someday someone would read a story of mine that would spirit her away on a Christmas Day. She had chosen to spend the day alone, feeling out of sorts with all the holiday hoopla. "I just curled up with your book and got carried away," she wrote to me last week. "I read it through and couldn't stop. I had the entire day in Italy…peace and serenity were mine the entire day. It was the exact book at the exact time that I needed to escape with. Thank you for this journey. I cannot tell you the joy you brought to me."
This, to me, is an author's ultimate reward. After all the solitary hours, days and months of your labor, you connect with people who become your traveling companions on an extraordinary journey.
To all the Wendys, Dorothys, Alices, Nancys (and Lost and Hardy Boys) among you, here's to a new year – adventures and as-yet unwritten tales await! 😉