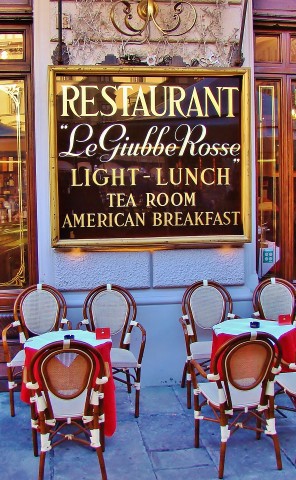 Giubbe Rosse is my favorite place to write in Florence. I love sitting at a table under the awning, looking out at the carousel on lively Piazza della Repubblica. I wrote much of my book, Tales from Tavanti, at Giubbe Rosse. In fact, it's the setting for the opening scene.
Not even in my wildest dreams did I imagine that one day I would be invited to join the elite circle of writers who have called this historic literary cafe their home.
Renowned authors, poets, journalists – along with artists, photographers, philosophers, intellectuals and political activists – have been part of Giubbe Rosse's rich history for the past century.
I love looking at the old photographs, in Giubbe Rosse's bar area, of the regulars who used to hang out there.  My favorite is of a group of dashing Giubberatis – among them are Salvador Dali, Max Ernst and Man Ray.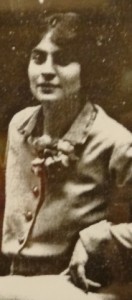 There aren't many women in Giubbe Rosse's photos. But one always catches my eye as I carry my cappuccino to the reading nook opposite the bar. Her name is Maria Ginanni, >>> a countess who was part of the Italian futurist movement that was born at Giubbe Rosse in the early 20th century. She was known for her dreamy creative writing and feminist views.
At my book presentation at Giubbe Rosse last Friday evening, I read a chapter that tells the story of my first encounters with GR co-owner Claudio Catalani and Italian poet-artist Massimo Mori, who leads GR's writers-and-artists group. As I read aloud, Massimo sat on my left and my dear American friend Jean Matranga, a sister Californian who has lived in Florence for 40 years, translated my prose into Italian (and did an amazing job!).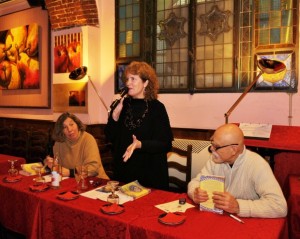 The chapter recounts my first conversation with Claudio, who told me the history of Giubbe Rosse and served me a cocktail – invented by the Futurists – called Giostra d'alcool (the alcoholic merry-go-round). It's a blend of Campari, Barbera wine and a sweet citrus drink called Cedrata, topped with chocolate shavings. Giostra d'alcool is served in a bowl-shaped stemmed goblet with three cubes of Pecorino cheese skewered on a long stick that's perched on the rim. After the first sip, I was ready to become a disciple of Futurismo. 😉
My reading ended with Claudio's comment the day I met him: When your book is published, we will do your presentation here.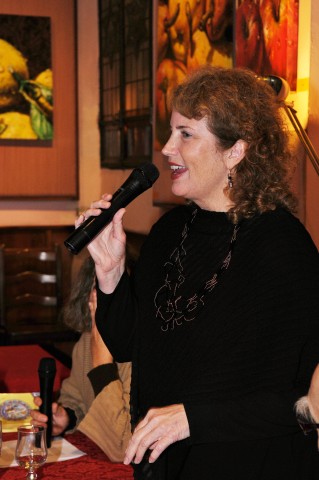 I savored the moment, as I closed the book, feeling the clasp tighten on a journey that had come full circle. Massimo thanked me for continuing the tradition of authors who've written their books at GR.  Claudio welcomed everyone to an aperitivo buffet he had prepared as a gift to me. 
<<< Massimo Mori
Grazie mille to Massimo and Claudio…and to all my friends who came out on a cold and rainy night to cheer me on.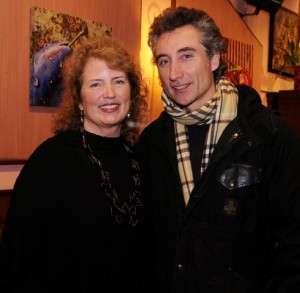 <<< Claudio Catalani
A footnote to this story: Two Finnish women – mother and daughter – were in the audience. I had met them the previous night at a local department store, in the coat department. We were shivering from below-freezing temps. (They had left zero-degree weather in Finland and, expecting mild weather in Florence, hadn't packed their parkas.) In winter, Italian women wear all-weather down-filled "puffers." Not exactly a flattering style for a Woman with Hips (that would be me). But frankly I don't mind looking like a walking sausage as long as I'm a warm walking sausage.
The Finnish mother and I bought the same coat. I love how women bond when they try on clothes together – it's a global phenomenon. I present to you the Puffer Twins…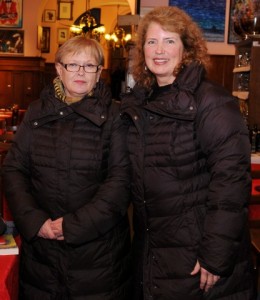 Presentation photos by Vieri Leidi Gardi