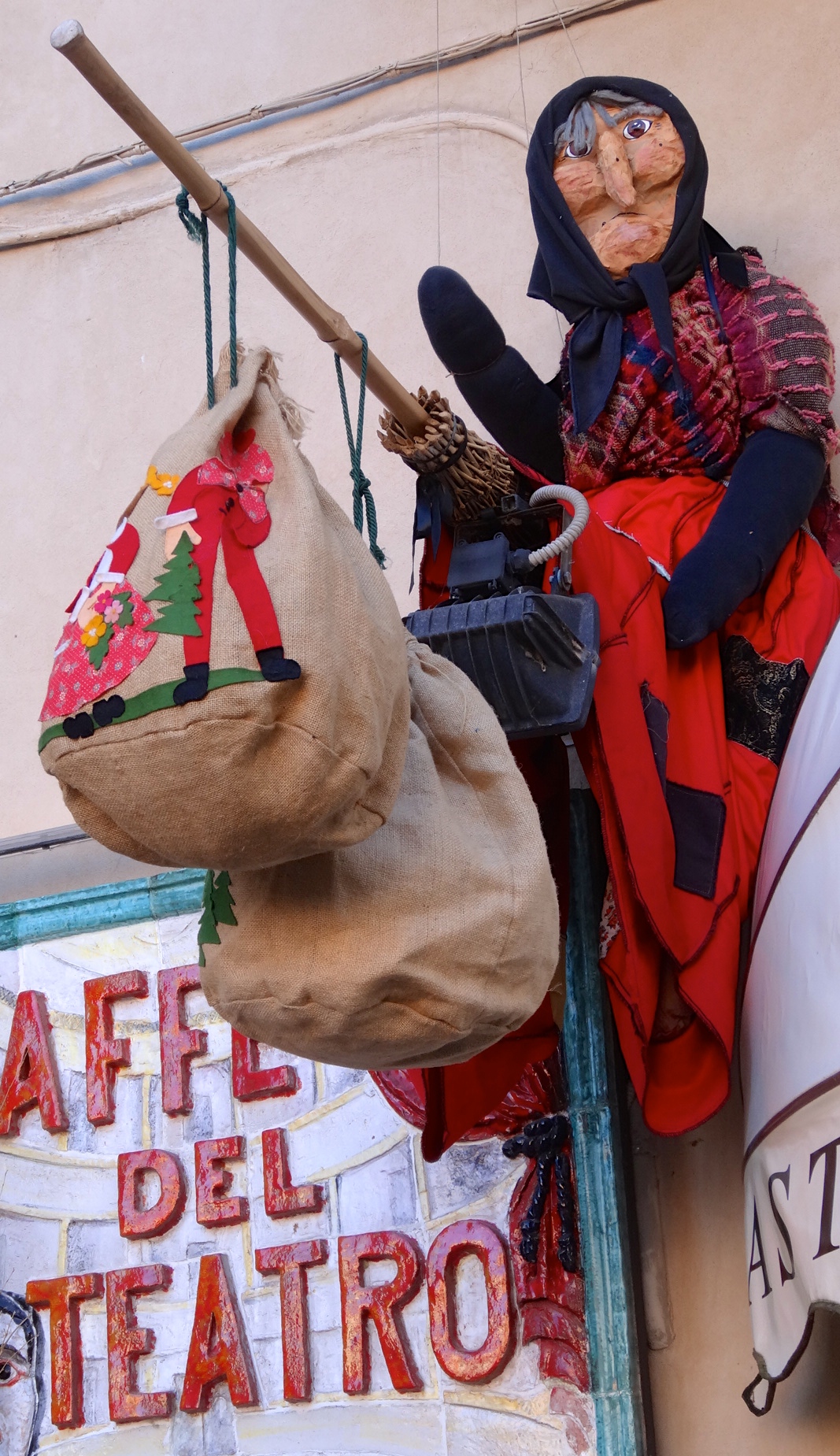 The grand finale of the Christmas season in Italy happens on January 6, the day of the Epiphany — the Christian celebration of the Three Kings' arrival in Bethlehem where they've come, bearing gifts, to honor baby Jesus. January 6 is a public holiday in Italy and a day of parades and festivities.
But for Italian children, Epiphany Eve is the big event. They await a visit from an old woman named Befana, who flies down the chimney on her broomstick and leaves treats in their stockings.
Befana looks a bit like a Halloween witch. She wears tattered clothes covered with patches and a knitted or crocheted shawl, with a scarf around her head. Her face is smudged with chimney soot and she carries a sack filled with goodies — and carbone (coal) for children who've been naughtier than nice.
The Befana legend has many variations, but a commonly told version is that the Three Kings stopped at her house on their long journey to Bethlehem, asking for directions. She was busy sweeping her floor and turned them away, refusing their invitation to join them. Later she had second thoughts and decided to follow them, wanting to see baby Jesus, too. But she never found her way to Bethlehem. So every Epiphany Eve, she visits the homes of children, looking for the Holy Child.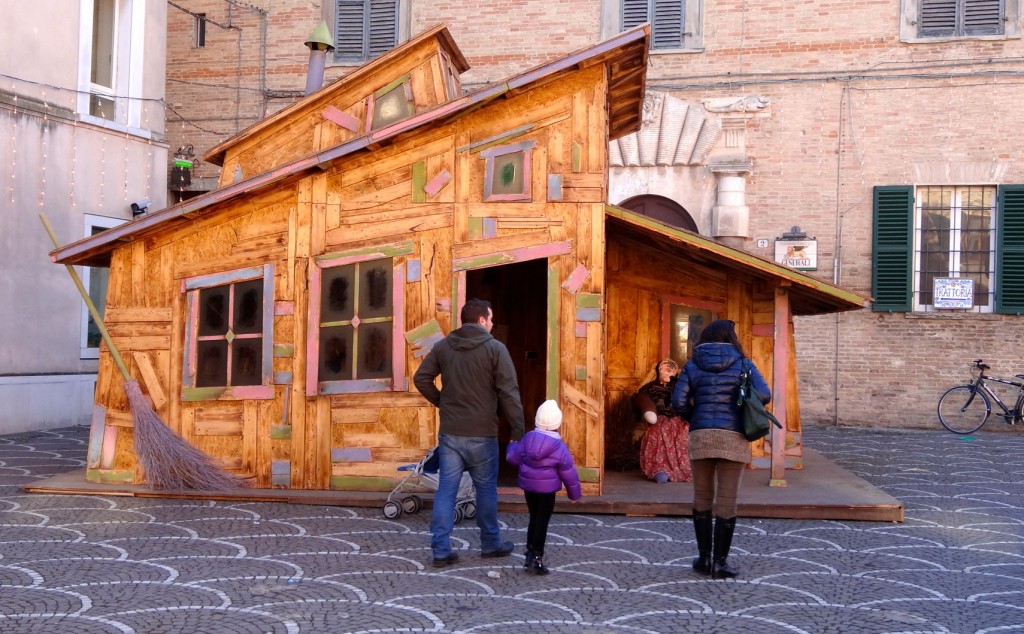 The Italian village of Urbania (in the province of Le Marche between the Apennine mountains and the Adriatic Sea) claims to be the hometown of Befana and throws a big party for her every year in early January — a five-day festival that draws an estimated 50,000 visitors.
When I arrived in Urbania this past week — early in the afternoon on January 5 — the village was quiet. Presumably the local children were still having lunch or maybe napping. But slowly they began appearing in the town square where Befana's house was the main attraction. Some timidly peeked through the front door and then ventured inside with their parents. Tiny chairs were set up for storytime with Befana, and children's letters to Befana were strung above a small writing table. A life-size Befana doll was propped near the fireplace.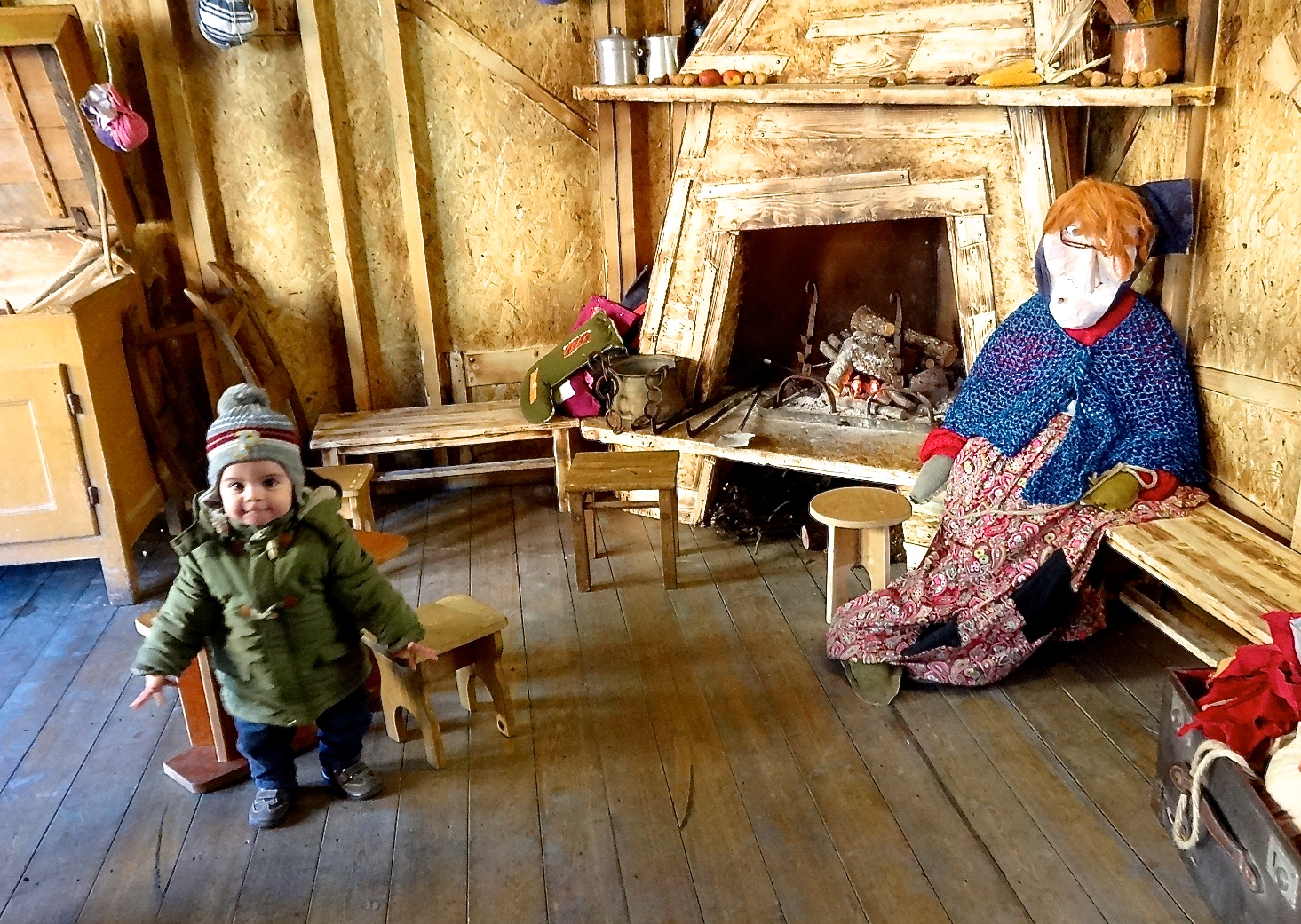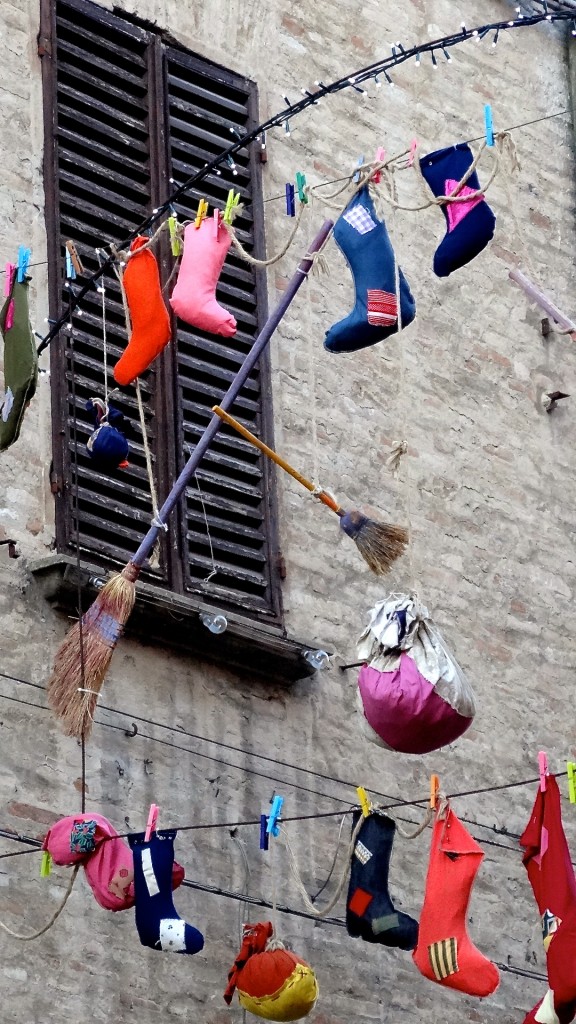 But I wanted to find the REAL Befana.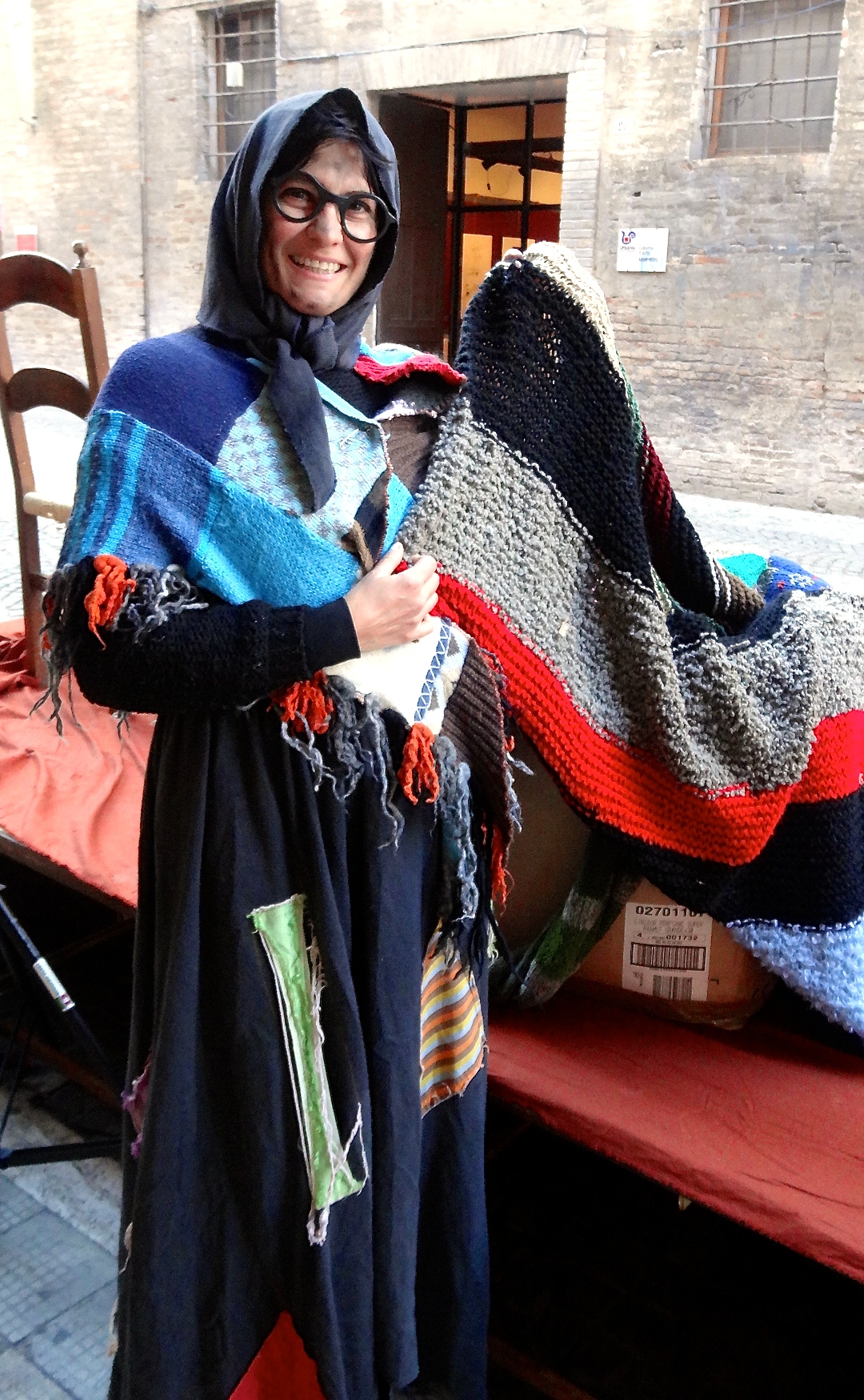 As I walked through the village, under a canopy of stockings and brooms, I came upon a little stage where a large brown box held what looked to be a massive knitted blanket.
And then, just beyond the stage, I saw her…Befana! Sitting behind the counter at a tobacco shop, she was busy knitting.
I timidly opened the shop door. "Are you the real Befana?" I asked her.
She laughed, with a twinkle in her eyes that told me I had found her.
Her other name was Stefania. She warmly welcomed me and answered all my Befana questions, as she cast stitches on four sets of knitting needles, each with a different color yarn. She was getting ready for the Befana Knitting Contest.
I've never witnessed a knitting contest before. It's not exactly a spectator sport that causes an adrenaline rush. But I got into the spirit as soon as the village's four expert knitters took their seats on the little stage. The contest would determine who could knit the most rows in 15 minutes. Before the yarn started flying, I had correctly projected the winner: A sweet granny in her lovely Befana costume out-knitted her much-younger competition.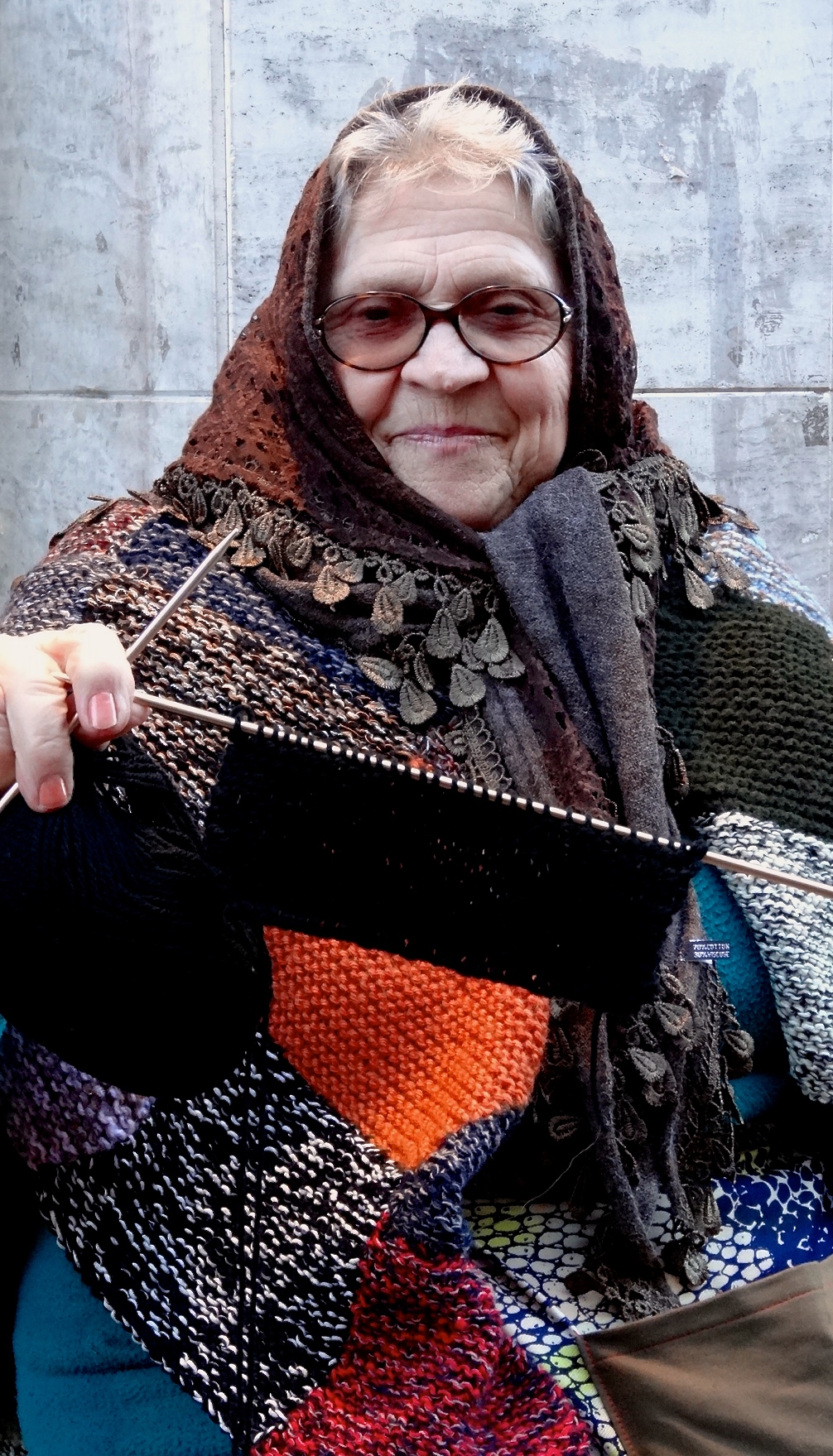 Stefania pulled out the pile of knitting spilling from the box. It was actually an enormous Befana scarf made by local knitters. At 35 meters, it holds the Guinness World Record as the longest scarf in Italy. The scarf, as well as a 50-meter-long stocking, are paraded through the streets of Urbania as part of the Befana festivities.
By late afternoon, the streets had filled with locals and visitors, who followed a parade of musicians and a bevy of Befanas — a few of them on stilts.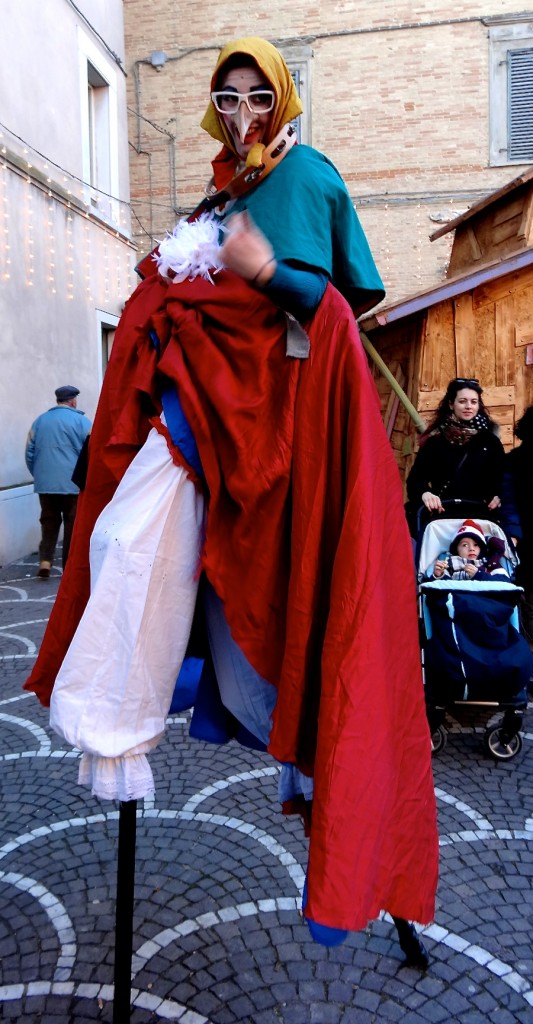 Kids played games in the village square and posed for photos with a Befana in her pony-drawn cart. A young girl, with her mother's arm around her, was in tears as she spoke with one Befana. I wondered if she was afraid of getting carbone in her stocking.
I soon discovered that, in Urbania, carbone takes the form of sugary candy crystals that come in tasty flavors. At the carbone hut next to Befana's house, a young girl sweetly smiled at me as she sampled some.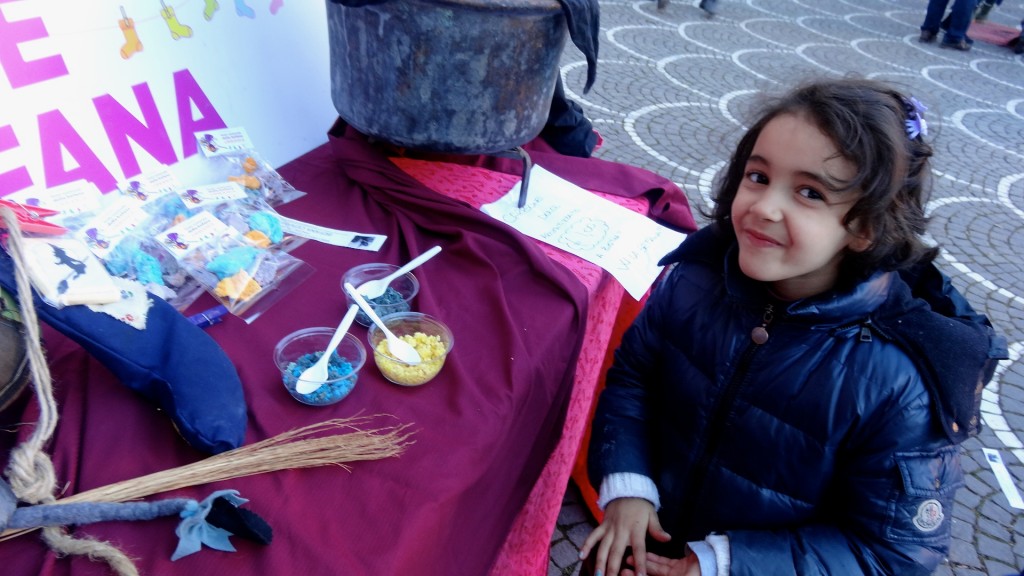 I tried some carbone, too. "Mmm," I said to one of Befana's helpers. "So what's the incentive to be good?"
She smiled. "For children in Urbania, it's good to be bad." 😉
The party went on into the evening, with Befana flying along a wire from the village clock tower.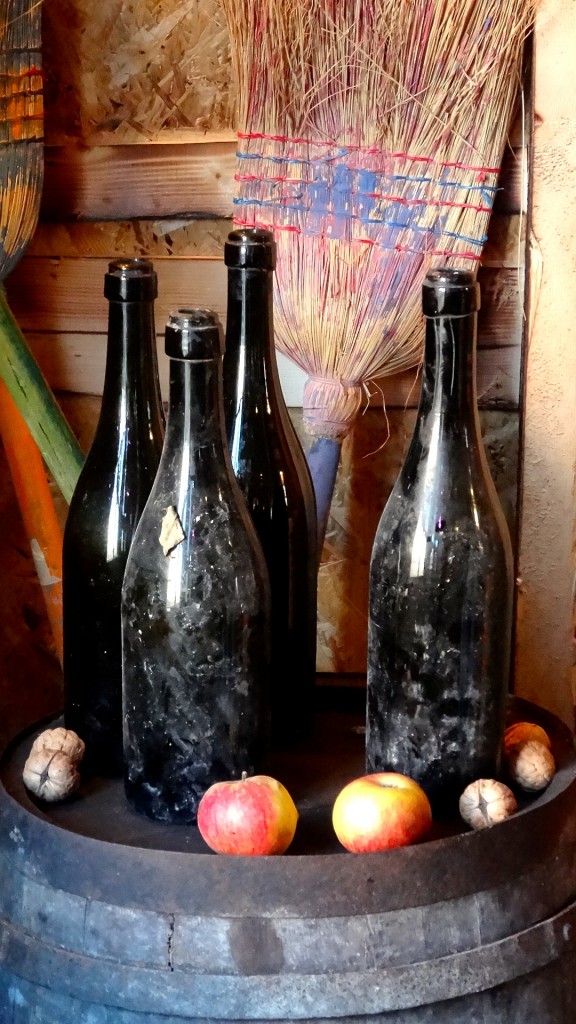 It's a big night for an old lady. But in a tradition that's authentically Italian, families leave fruit, nuts and a glass of wine to fortify her (no cookies and milk on this night!). And in thanks for that, if she's not too tired, Befana might even sweep the floor.