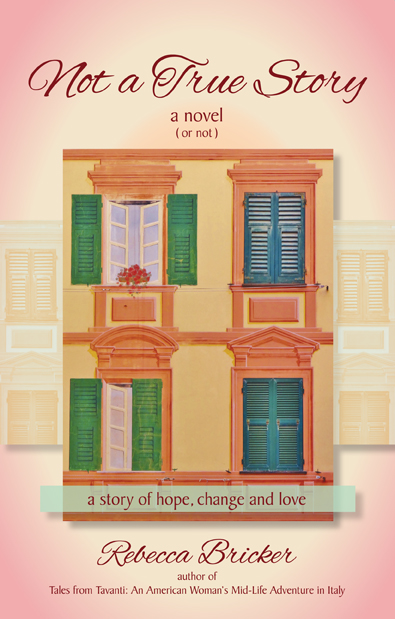 A special package arrived the other day…
I can't quite explain the moment when you see pages of a manuscript you've written, in book form with a beautiful cover – thank you, Elizabeth MacFarland (she also designed the cover of Tales from Tavanti). There's something so satisfying about holding your work in your hands, fanning the pages and seeing all those words – all 80,000 of them – fly by you. It reminds me of a deck of playing cards I had as a kid that flashed an animated scene when you thumbed its edge.
The title of my new book is Not a True Story. I call it a "novel (or not)." Parts of the story spring from my life. (Writers tend to write what they know, after all.) Some of it is pure fiction and a good bit of it is somewhere in between.
It's not important to know what's real and what's not in this story. The underlying truth of Not a True Story is known to every woman who has dealt with heartache in the face of divorce, an empty nest, illness, the failing health of parents, the death of loved ones – and the longing to find love again.
It's NOT a sad story in the end. As Not a True Story unfolds, the protagonist – whose name is Jenna – grapples with these issues, knowing that time is marching on. In her solo travels at mid-life, she experiences a cathartic reckoning that transcends loss, missed opportunity and unmet expectations – and discovers a love that bloomed in her old backyard.
WARNING: There's SEX in this story! So don't give this to your 80-year-old mom if you think she can't handle it. But based on the reaction I got to the somewhat racy Tavanti tales, some of my most enthusiastic readers have been over 80. 😉
I wrote this book last summer, at my apartment in Florence. On the night I finished, I went out on my rooftop terrace. It was 2 a.m. The entire city seemed to be sound asleep. The sky was FULL of stars. I threw my hands up, in a huge embrace, and said ciao and grazie to all my angel friends. And just as I put my fingers to my lips to send up a kiss, something magical happened. I'll let you read about that for yourself. But truly, it was one of the sweetest moments I've ever known as a writer.
Not a True Story is available on Amazon (in the US, Canada, UK, Italy, Germany, France, Spain, Australia, India, Mexico, Brazil, Japan and beyond… :)) in paperback. The Kindle edition will be out soon.
My hope is that this book will be read by book groups, and I've included a discussion guide at the end. I'm happy to join in the conversation on Skype. There's a lot in this book for women to talk about. We've all lived parts of this story.