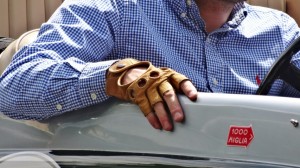 Yesterday as I got off the bus in Galluzzo – a quick ride from my new digs in Florence – I channeled the spirit of E.M. Forster who, in his 1908 novel A Room with a View, sent his Brits-visiting-Florence on an outing to the olive groves of this little Tuscan town. The Brits traveled by horse-drawn carriage, with picnic hampers and parasols. I got on the 37 bus, around the corner from my apartment.
Galluzzo is a sleepy place, but Saturday is market day in the piazza. I wandered around the stalls and bought a tablecloth in bright Tuscan yellows and oranges that I intend to use for picnics in the country this summer. (I'm channeling E.M. Forster, remember.)
Like most Italian towns, Galluzzo closes up on Saturday around 1 and the shutters stay closed until Monday morning. But yesterday in Galluzzo, there was a buzz in the air.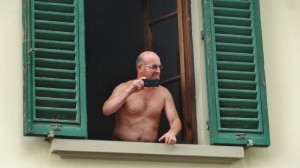 At first, the buzz could be heard in the distance, from the main highway into town. A neon orange sports car raced past the piazza. I noticed a few men standing at the curb. A dad and his teenage sons appeared. A half-naked guy with his camera leaned out his window above the street.
As the mother of a son who loves fast cars, I knew what was coming around the bend – or so I thought.  But this wasn't just an all-comers road race, I later learned. In fact, it wasn't until today that I discovered I had witnessed a race that's part of Italian motorcar legend. (Who knew?!)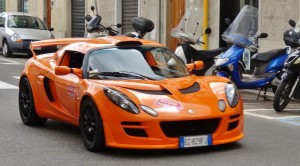 Galluzzo is on the route for the grand Mille Miglia, a 1,000-mile road race that goes from the Lombardy city of Brescia, at the foot of the Alps, to Rome and back again. It's a rough, rugged, three-day endurance test with an elite field of participants: Only 375 vehicles were accepted for this year's race and were selected from models that have taken part in at least one historic Mille Miglia race (between 1927 and 1957).
The history of the race is fascinating. It was started in 1927 by a count and his buddies who were outraged that the Milan motorclub had stolen the Italian Grand Prix race from Brescia.
In 1927, there were only 170,000 cars in all of Italy and they were driven on the right side of the road in the country and on the left in the cities, which perhaps explains the danger of this race in its early years. Five million spectators would line the 1,000-mile course to watch daredevil drivers fish-tail toward them at reckless speeds, sometimes causing fatalities.
I knew none of this yesterday as I stood with my just-purchased tablecloth under my arm, shooting these photos. I know my son is looking at these photos today, crying – "oh my god, Mom, how could you not have known?????" I just thought it was a really cool car parade. 😉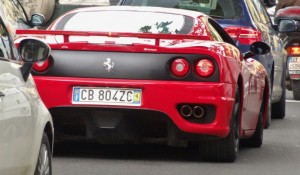 Because it's Italy, there were a lot of Ferraris, many of them classic. In fact, yesterday in the span of two hours, I saw more Ferraris than I've seen in my entire life.
Next to the piazza, there was a makeshift pit (in the bus-stop zone) where sponsor vans would pull up ready to service team cars. I loved watching the tune-up for a vintage Bentley with German-flag decals.  A guy wearing a support team t-shirt fed the driver slices of cheese that he cut on wax paper spread on the hood of the car. Re-fueled, Herr Andretti swung back into traffic, blowing his oooo-ga horn.
A car full of Brits came by with a horn that sounded like an air-raid siren. They wore fly-boy caps and goggles.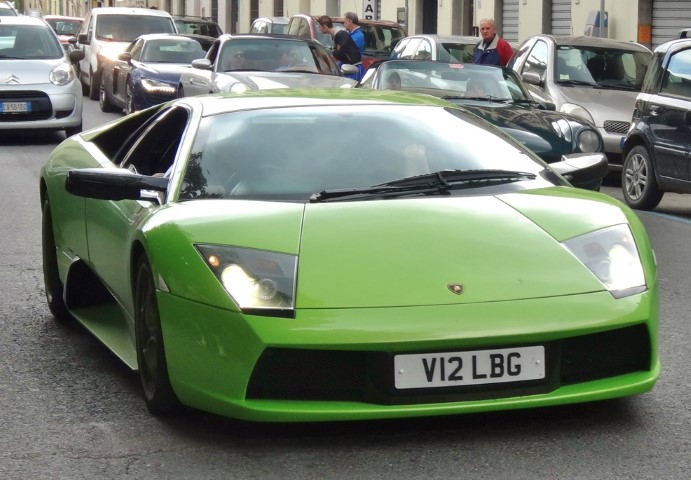 The Italians were well represented. I got a little blasé about the Ferraris. But I took notice – and this photo – when this Lamborghini came into view. >>>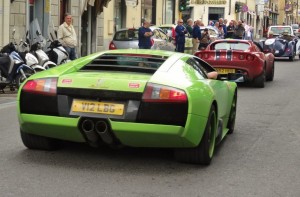 And then there was this Bugatti…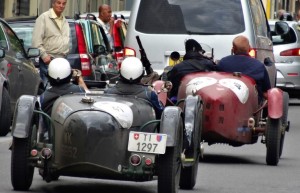 Some cars looked like they belonged in the Cub Scouts' Pinewood Derby. >>>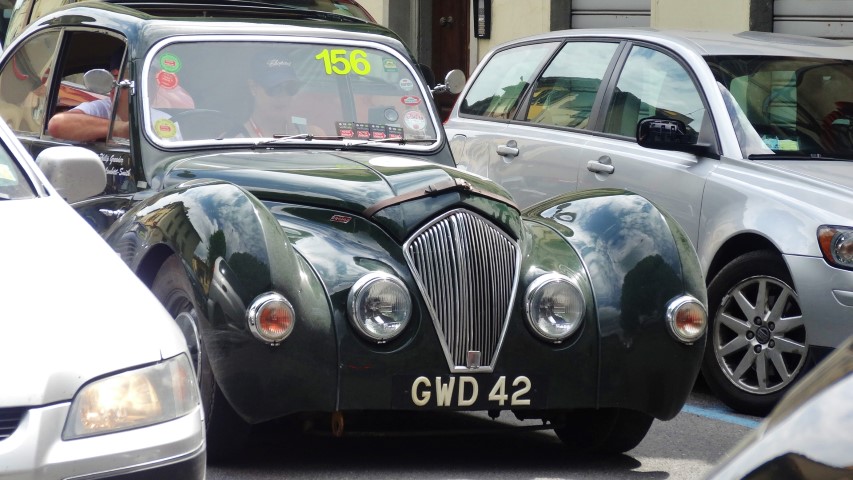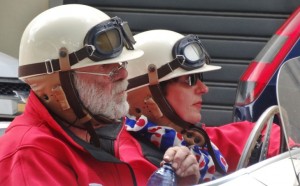 Women were on board for this race. Some were navigators, reading maps. In one car, there were two women – driver and navigator – hair flying in the wind.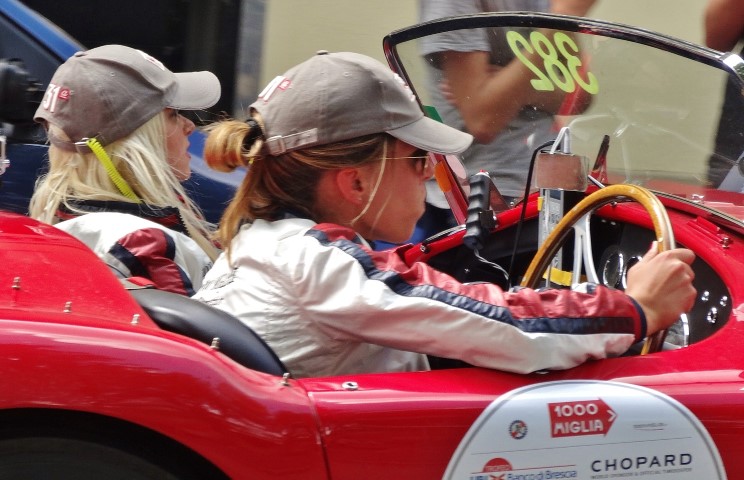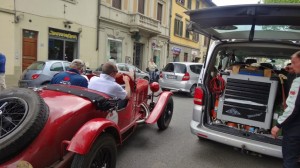 There's a long red light in Galluzzo, so you could get a close look at these cars and their occupants. The funny part to me was that the street hadn't been cleared for the race, so you had unsuspecting locals trying to do Saturday errands, with Florence city buses pulling into the "pit" to pick up passengers while race drivers revved their engines in a tangle of traffic at the stop light.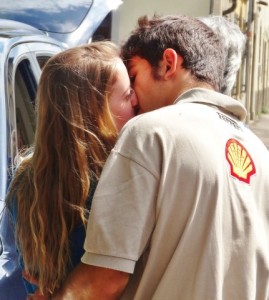 I loved photographing the crowd as much as the cars. My favorite moment was when a young Italian guy, who had spied a hot car coming down the street, impulsively hoisted his girlfriend on his shoulder and ran into the middle of snarled traffic so that she could take a photo. For a moment, I thought they were committing spontaneous suicide. But she got the shot and a big kiss from from him, all before the light turned green.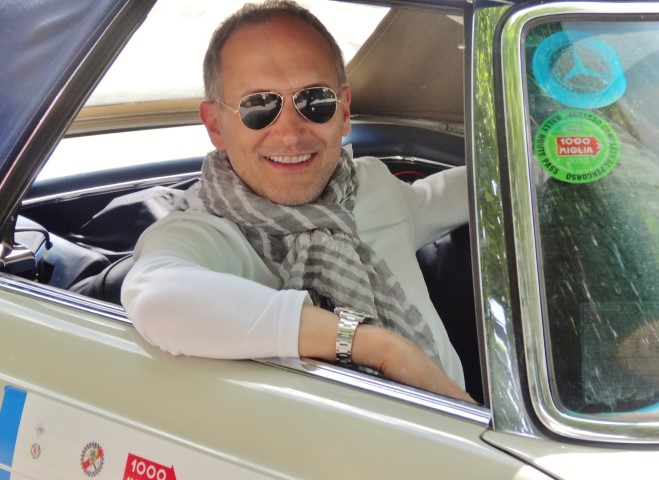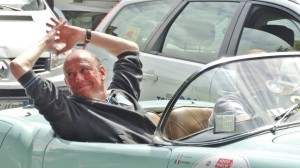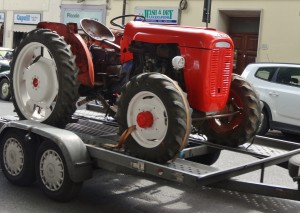 Since I'm not much of a car person, I decided to photograph every red car that went by, thinking that most hot cars are red. (I'm hearing more groans from my son.)  I got a few red Fiats, KIAs and Volvos in the mix – as well as this. >>>
My favorite red car was a Ford Mustang. I gave the occupants – I'm pretty sure they were americanos – a thumbs-up. They gave me a big wave.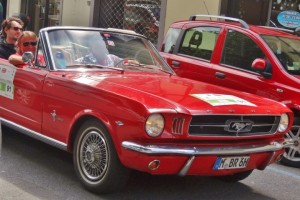 Coming up behind them was the very best car of all – a lime-green 1954 Lincoln Capri with, get this…California plates.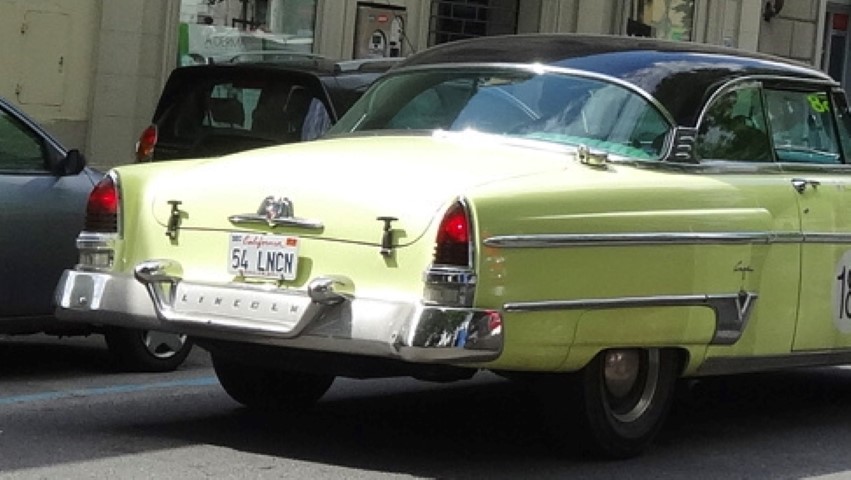 The Italian guys along the street, with drinks in hand, raised a cheer: "CALIFORNIA!"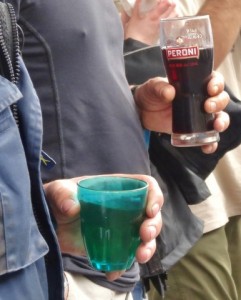 When I do a re-write of A Room with a View, I'm going to send my expats into the Galluzzo countryside in a lime-green Lincoln Capri. (With California tags, of course.)
Or maybe I should send them in this… 😉