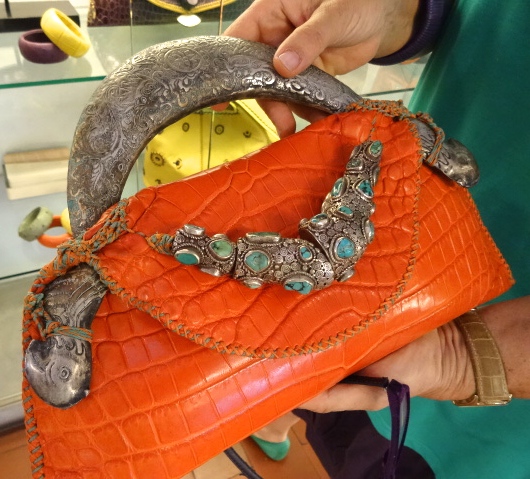 Shopping for an Italian handbag can be a religious experience – quite literally – when you visit Florence's Scuola del Cuoio, a leather school that was founded in 1950 by Franciscan friars and two local leather artisans, to help Italy's World War II orphans learn a practical trade.
The school and its shop are tucked behind the magnificent Basilica of Santa Croce. I passed through a gated entry down the street from the visitors' entrance to the church and followed a shaded path behind the apse. The religious experience began immediately as I took in this view…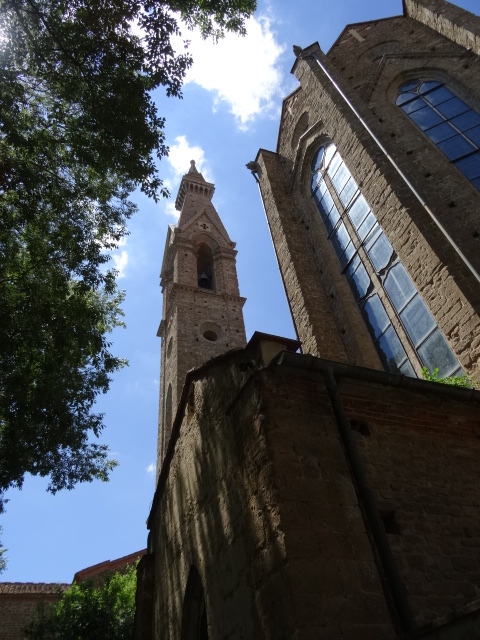 Posted signs led me around the back of the school and through a stone archway – a portal to another era. I climbed a staircase at the end of a courtyard and found myself inside the dormitory of a monastery that the Medici family had donated to the Franciscan Friars in 1455. I knew at that moment this wasn't going to be a retail shopping experience like any I had ever known.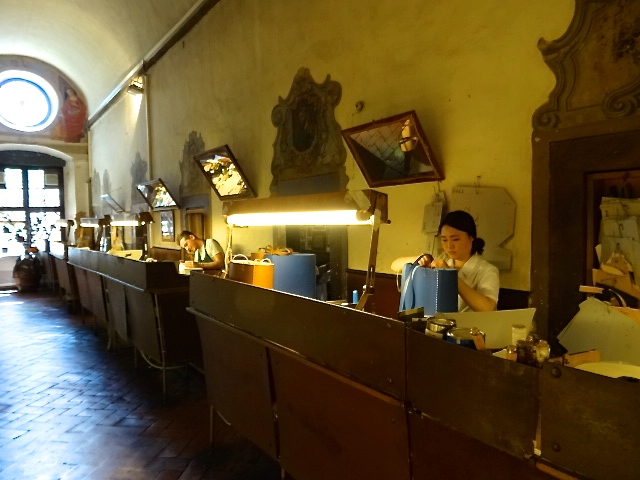 I entered a room filled with small leather items – wallets, journals, frames, jewelry boxes – and grand display cases. Inside one was the replica of a Scuola del Cuoio desk set used by President Dwight Eisenhower in the Oval Office. Photos of celebrity visitors and clients cover the walls: Jack Nicklaus teeing off below photos of two Popes. Actor Will Smith, whose photo is on the wall, had visited there just the day before. I was drawn to the Old Hollywood gallery and a very dapper-looking Jimmy Stewart.
I watched several of the school's artisans work at a long table along the main corridor and then wandered into a brightly lit room, where I met Francesca Gori, whose one-of-a-kind, hand-stitched bags carry her insignia.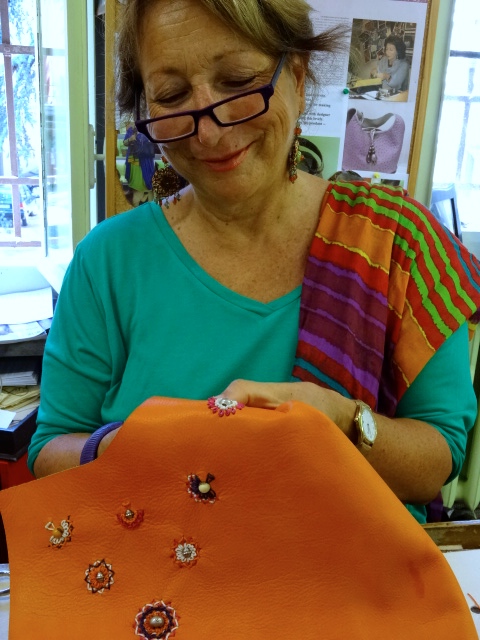 "You look so happy," I said, as I watched her guide her embroidery needle and thread through small punched holes in tangerine-colored leather that I noticed matched her scarf. "I like to wear something that looks nice with what I'm working on," she said. Clearly, Francesca LOVES what she does.
Francesca is the daughter of the school's co-founder Marcello Gori, whose artistic vision and commitment to education and social responsibility are the cornerstone of Scuola del Cuoio. Since Marcello's death in 2003, Francesca and her two sisters, Laura and Barbara, along with Laura's son Tommaso, have been dedicated to preserving his legacy and the traditions of Florentine craftsmanship.
"We are keeping alive ways of working by hand that we're losing because of globalization and mass production," Laura explained, as she gave me a tour of the school. "Young people here are losing what is important for our future in Italy. They want to become doctors and lawyers, but when they finish school they're unemployed." (The unemployment rate in Italy for those under 25 is more than 40 percent.) Laura says, "My father used to say, 'Go to university. Get a degree. But when you finish, get back to work.'"
Of 20 students enrolled in the apprentice program, only one is Italian. But the Gori family is happy to share its knowledge with aspiring leather artisans from around the world and to help them become successful. Laura and Francesca proudly told me about one young Italian guy, from Puglia, who studied at the school and went on to produce jackets and bags for motorcycle enthusiasts.
The next generation of the Gori family passionately embraces its destiny. Laura's son Tommaso, who has a degree in economics, honors his grandfather's philosophy as he helps shape the company's business model in these challenging economic times: Scuola del Cuoio does not outsource its production or brand its products with logos, and it is committed to training and hiring apprentices. Although this limits the company's potential in a global market, Scuola del Cuoio is more concerned with producing superior-quality goods crafted in Florence using centuries-old techniques.
It has been a cathartic process for Tommaso: "When I joined the company after graduating in the late 1990s, it took me a long time to develop a new vision that reconciled my personal ambition with my grandfather's legacy and teachings. In time, I began to understand our clients and our firm. I realized that our clients do not want to fall into line with the 'elitist masses' of fashion followers, but wish to stand out for their discernment. Our customers love to show off their purchases and tell the story of when Florentine Master Adelmo chose that specific skin and with his expert hands created an extraordinary bag just for them."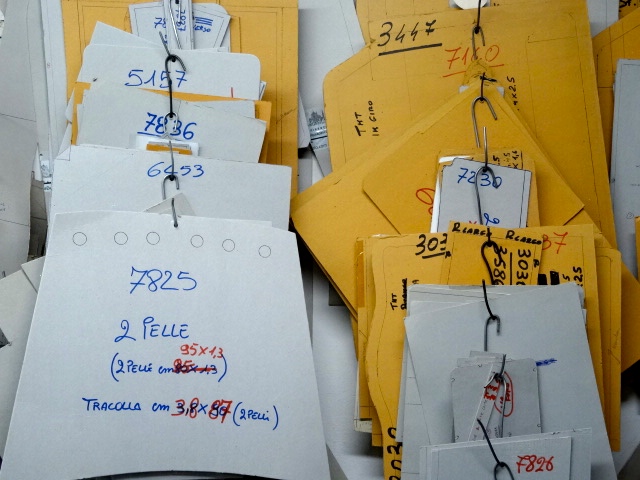 In addition to Francesca's unique creations, the company has a vast catalog of styles that date back to the 1950s. On our tour of the workshop, Laura pointed out handbag templates hanging above the cutting table. "Look at the number on that card – 7,825," she said. "Imagine all those handbags."
She led me into the inner sanctum of the workshop – to the room where tanned animal hides are piled on the shelves. Alligator, crocodile and python skins hang on the wall. Laura held out bright-blue ostrich leather. "We bring a woman here to choose a leather for her bag." Then she smiles. "If she can't find what she wants here, she wants plastic." Customized bags take two months to produce. A crocodile bag takes about six months. "It might take me a while to find purple crocodile," Laura says.
Francesca gave me a close-up view of the crocodile and alligator skins at her work station. She showed me the hole-punching tool she uses for the thick skin of an African hornback crocodile, its tail still intact. A slit in the soft belly of a Mississippi alligator appeared ready to accept a clasp. She assured me the hides are from farm-raised (not wild) animals. Although the skins come from around the world, they all are tanned in Italy. (During the Middle Ages, Florence's tanneries were located in the same area as the school, in close proximity to the Arno River.) As an added exotic touch, she uses the metal-alloy necklaces of Chinese Miao nomads as purse handles.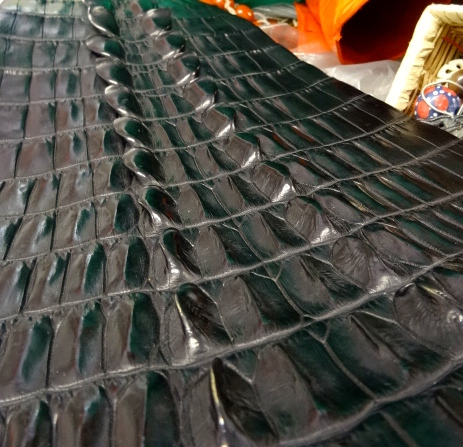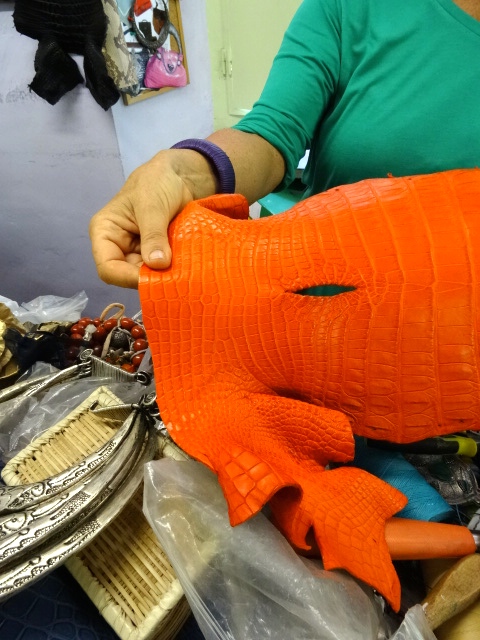 I left Scuola del Cuoio without a bag…this time. This is NOT an impulse purchase, at least not for me. Prices range from €400 to €6,000 ($540 to $8,100).
I told Laura the story of my pair of Ferragamos that I have yet to wear away from home, for fear of spoiling the numbered soles. "I sometimes put them on display in my apartment – they're a work of art. Someday, I'll put a Scuola del Cuoio bag next to them."
Laura laughed. "We'll dye the bag to match your shoes."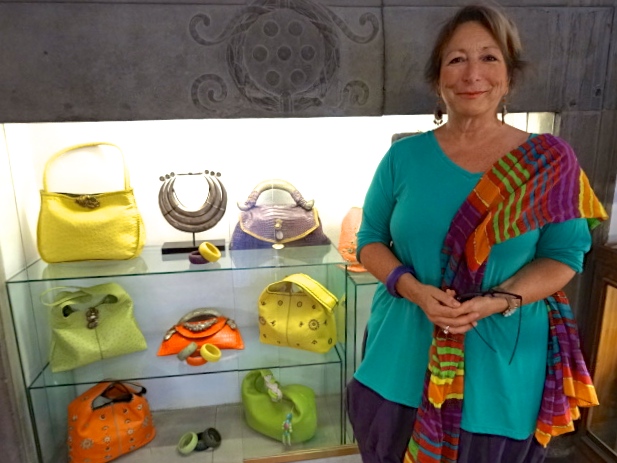 For a virtual religious experience, visit the Scuola del Cuoio website:
NOTE: The school offers half-day and full-day courses for visitors. Take-home projects include leather book covers, pouch-style handbags, picture frames and belts. Contact Scuola del Cuoio for details.