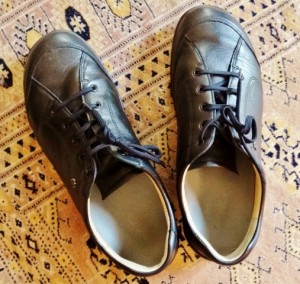 When people say to me "I'd love to be in your shoes" — wanting to experience my nomadic life — I suppress a giggle.
No one, especially a woman who loves shoes, would want to walk around in mine.
<<< I generally wear inelegant (make that ugly) German orthopedic shoes with custom-made orthotic inserts.
I've had feet issues since the day I was born with a severe crippling deformity called "clubbed" feet. I wore heavy plaster casts on my legs as a baby and when I finally walked, at age 18 months, I had to wear corrective shoes. During my toddler years, I had to wear those shoes on the wrong feet to help reshape my malformed bones. It sounds painful, but in almost every photo in my baby album, I'm smiling.
When I turned 6, I desperately wanted a cowgirl outfit for my birthday. But what I really wanted was cowgirl boots. My mother tried to reason with me — "Honey, you know you can't wear cowgirl boots. They aren't good for your feet." I cried in disappointment.
I remember opening a big box on my birthday — my cowgirl outfit. The hat, the fringed vest, plaid shirt, felted skirt, a holster and two pistols. And at the bottom of the box were calf-high shoe covers that looked like real boots. I don't know where my mom found this outfit, but I was the happiest 6-year-old girl in the world that day.
My mom used to take me shopping with her to buy clothes and shoes. She had a shoe fetish, which I've written about on this blog. She'd pack an entire suitcase full of shoes for a week-long trip.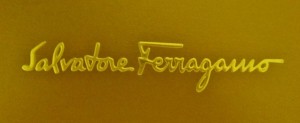 She loved Ferragamos. One day, when I was about 12, we were at a designer shoe store and she couldn't decide between two pairs of Ferragamo flats with stylish block heels (it was the mid '60s) — one pair in gray (the practical choice) and the other in mauve (less practical, but they perfectly matched an outfit she had just purchased).
"Which ones — the gray or pink?" she asked me.
I thought for a moment and then said, "Get both of them."
"Becky!" She sounded scandalized, but I knew deep down she liked my idea. After a few more minutes of agonizing, she bought both pairs.
By the time I was 12, my feet were a full size larger than my mom's so I never got to enjoy her fabulous shoe collection. (When my dear friend Peg helped me clear out my parents' home a year ago, we found a pair of my mom's Ferragamos — still in the original box. Peg tried them on. They fit perfectly. They're now hers. Life is so unfair. ;))
When I was in my 20s, I sometimes tucked my fragile feet into designer pumps and occasionally, stilettos. I wore lovely Bruno Magli pumps — with a low heel — on my wedding day. I have a pair of red satin Bruno Magli stilettos, which I haven't worn in years, that I intend to mount on plexiglass blocks someday and use as bookend shrines to my brief party-girl life. I'm now like Cinderella after the ball — back in my orthopedic ug-shoes.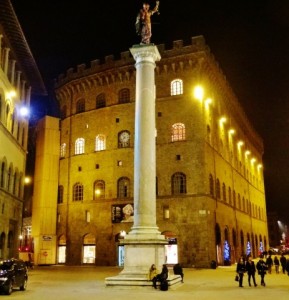 So you can imagine my wistfulness, now that I'm in Florence, as I pass store windows filled with beautiful boots and shoes. I'm beyond wistful when I stand at the windows of Florence's most amazing shoe store of all — Ferragamo's flagship store and museum, housed in a 13th-century palazzo by the Arno. >>>
My American friend Jean and I were at the museum recently for an exhibition of Marilyn Monroe's movie costumes and her famous Ferragamos, including the red stilettos — covered with Swarovski crystals — she wore in the 1960 film Let's Make Love. (The museum also showcases vintage Ferragamos from as far back as the 1920s that still inspire shoe designers today.)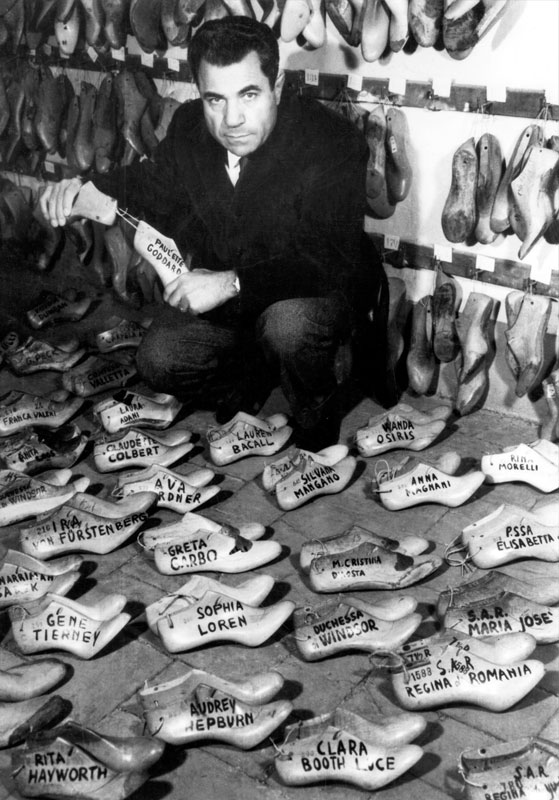 The archives of the Ferragamo store in Florence contain the wooden foot forms, as well as the customized shoe designs, that Salvatore Ferragamo created for the stars of Hollywood in the 1940s and 1950s.
Ferragamo now offers limited-edition collections of those shoes modeled on the original designs. The shoes are handmade in Florence (the number of each pair is stamped on the sole) and come with a certificate of authenticity.
After the Marilyn show, Jean and I wandered into Ferragamo's boutique of movie-star shoes and were treated to a Sex in the City moment as a lovely sales woman opened a mirrored sliding door behind the counter to reveal a floor-to-ceiling rack filled with shoes from the current collection.
Jean and I watched in awe as she pulled shoes from the rack and casually piled them on the counter. Strappy sandals for Greta Garbo. Slides for Katharine Hepburn. Ballerina flats for Audrey. Ankle boots for Brigitte Bardot.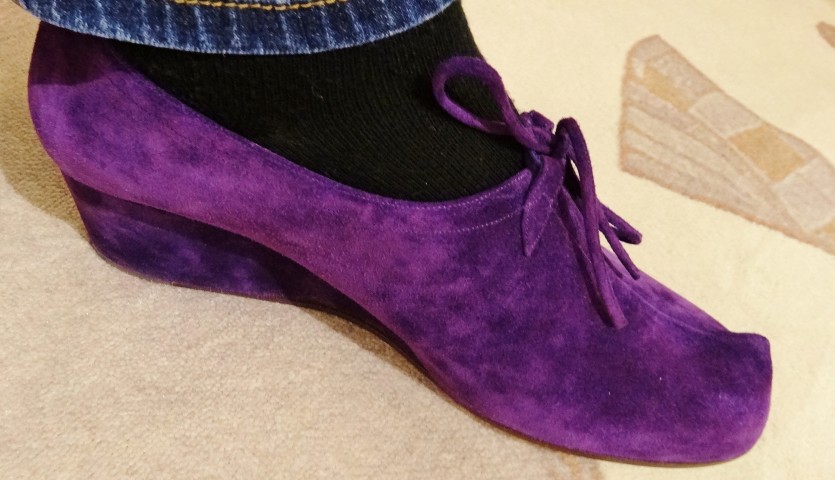 I instantly fell for a pair of wedgies, with a cute pinched toe, made for Lauren Bacall in 1944. Unlike Lauren's brown leather model, these were purple suede.
"Would you like to try them?" the sales woman asked.
I had never tried on a pair of Ferragamos — a life-altering moment long overdue, I decided.
I slipped them on and walked across the room, on a carpet decorated with Ferragamo designs. My feet felt cradled by the hands of a master shoemaker.
I could hear my mom whisper, "Get them — maybe in two colors."
I told the saleswoman I'd think about it. For the next two days, I walked around Florence — in my German ug-shoes — and kept hearing my mom say get them. Using a line of logic that would have pleased her, I thought of all the beautiful, expensive shoes I haven't purchased in my life because of my tender feet. Get them, get them.
And so, I did.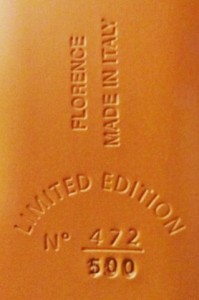 My Laurens were nowhere near the price of Marilyn's re-issued crocodile pumps from Some Like it Hot (a staggering $4,800). I can't imagine actually wearing my Laurens (#472 of 500) on the cobbled streets of Florence where they could get scuffed and sullied in a blink. However, I do see them walking across a gorgeous rug at a villa or down a red-carpeted aisle at a concert hall. 😉
But for now they sit with their golden shoe pouch (that has a golden charm on the drawstring), atop their golden box – a shrine to Lauren and me, the girl who dreamed of cowgirl boots.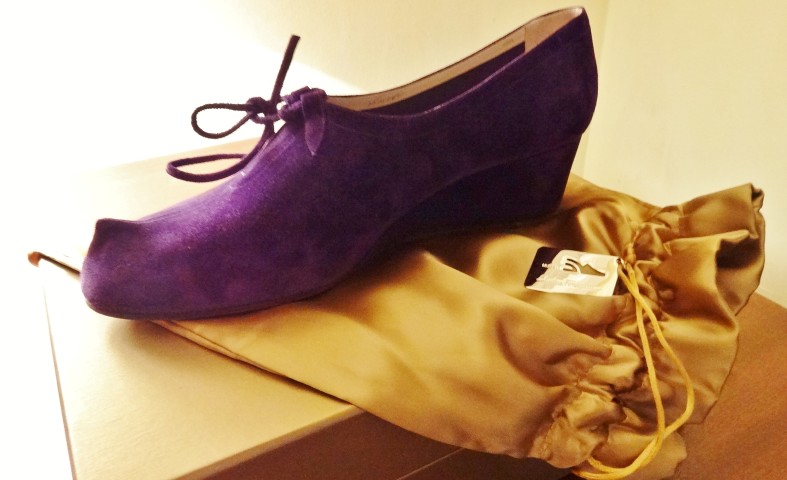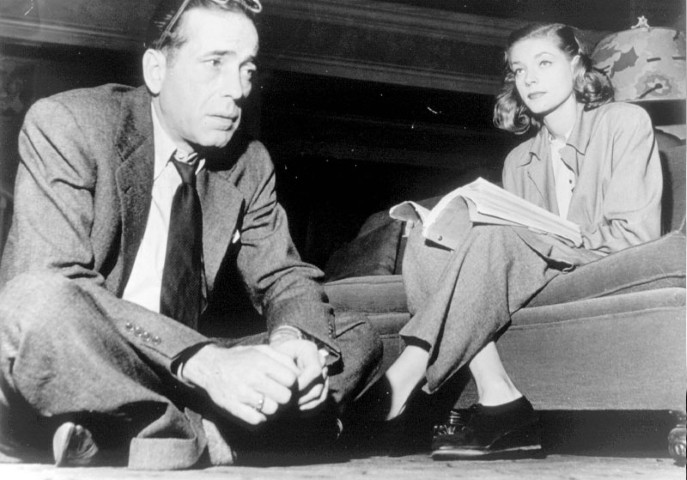 Lauren wearing "our" shoes. >>>
(Bogie looking worried — Greta Garbo, on a visit to Florence in 1949, ordered 70 pairs of shoes from Salvatore, saying, "I haven't got any shoes. I want to walk."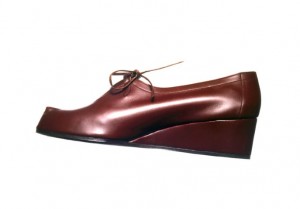 )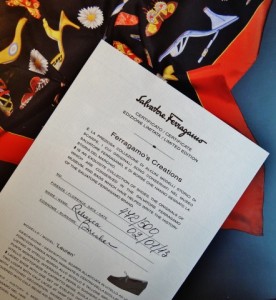 Photo credits:
Ferragamo photo archives: Salvatore Ferragamo, Lauren Bacall, original "Lauren"
Jean Matranga: my right foot in Lauren #472