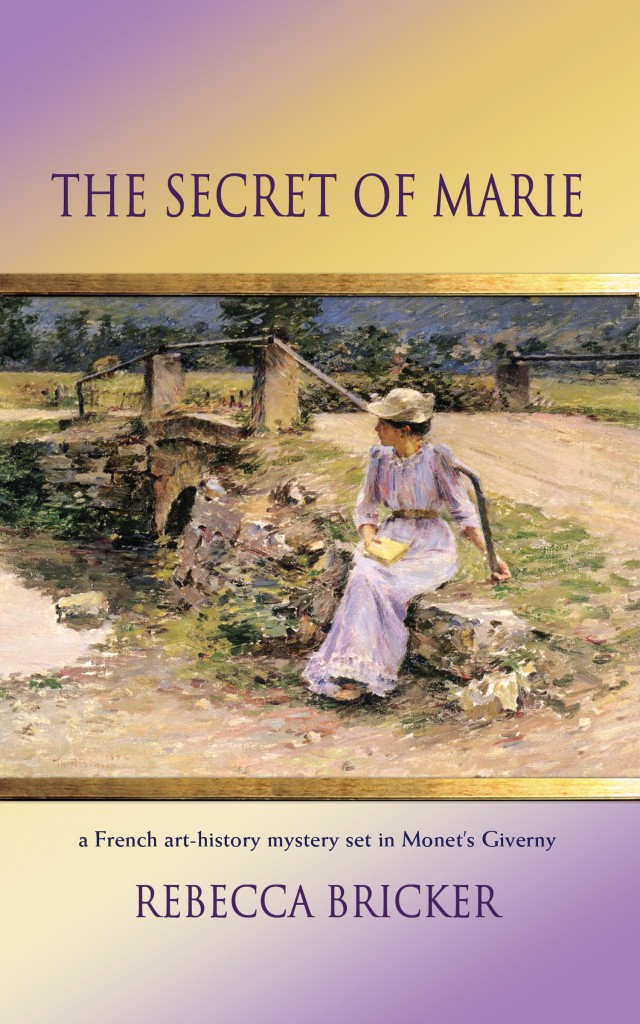 My new book The Secret of Marie went into production this week. In a month or so, a FedEx truck will be delivering my proof copy — and I'll be running down three flights of stairs, grinning, when my doorbell rings that day.

This book didn't take long to write, but it's been in the making for 11 years. I stumbled on the story that inspired The Secret of Marie in 2004, during a visit to Giverny, France, where I had gone to write an article about an art program there.
What happened to me during that visit set in motion a wonderful journey down a rabbit hole. Over the years, I've been drawn to another world — at times feeling I was having a past-life encounter with Impressionist artists from Claude Monet's early years in Giverny, which was a thriving artists' colony from the late 1880s until the start of World War I.
The Secret of Marie is an historical novel. The historical part of the book focuses on the life and work of American Impressionist artist Theodore Robinson (who was mentored by Monet) and Robinson's favorite model — a French woman known only as Marie.
An aura of mystery surrounds Theodore and Marie. Their story leaves room for conjecture, which is where I wandered as I wrote the fictional overlay of the book — a modern-day love story between a French architect and an American writer who meet at an ancient Giverny moulin, the setting of several of Robinson's paintings.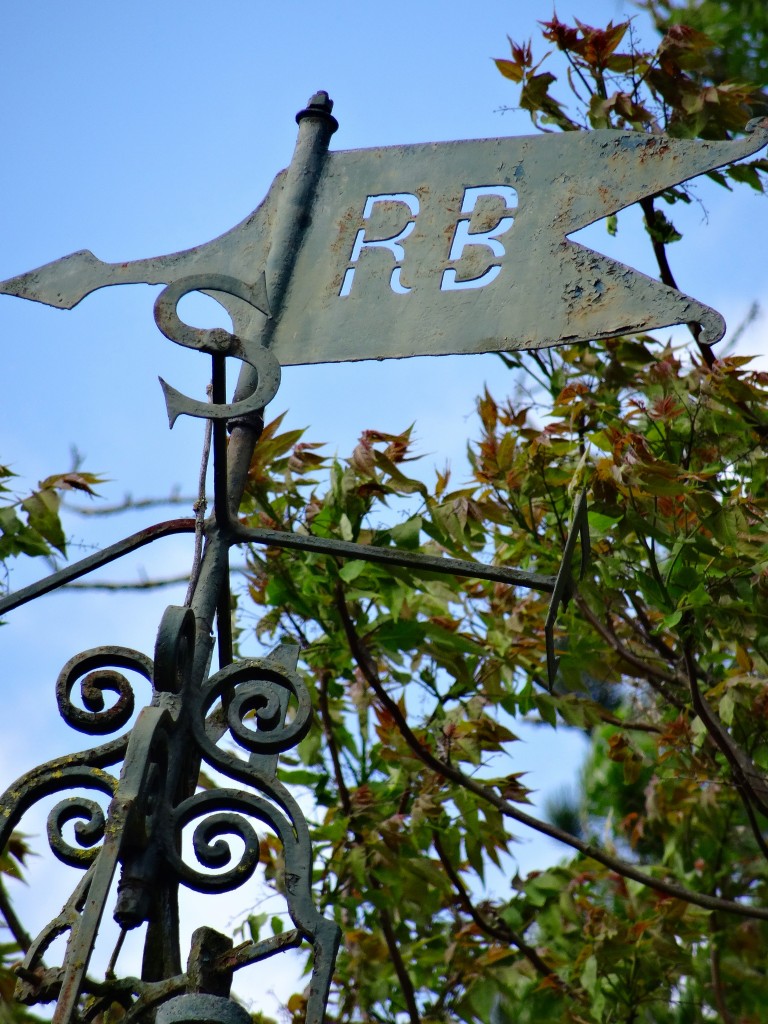 I felt an incredible pull as I researched this story during four visits to Giverny in the past year. At one point — as I shared here several months ago — I felt guided by a weather vane with my initials on it. 😉
My hope is that the book will give visitors to Giverny added insight about the village's fascinating history and shine a brighter light on Robinson's work. Although he is not widely known by the general public, his work is in the collections of major U.S. museums — including The Metropolitan Museum of Art in New York, the Smithsonian American Art Museum, the National Gallery of Art, the Phillips Collection, the Baltimore Museum of Art, the Art Institute of Chicago, the Los Angeles County Museum of Art, and the San Diego Museum of Art. (The full list includes more than two dozen museums and university collections across the country.)
I've just spent five weeks traveling around the U.S., viewing Robinson's paintings. In some places, I had the thrill of seeing his work up close in museum store rooms and vaults. The book's cover image is Robinson's painting of Marie entitled La Débâcle (named for the book she's holding of the same title by Émile Zola). I spent an hour with this well-traveled painting, which was taking a 'rest' in the back room of the Ruth Chandler Williamson Gallery at Scripps College in Claremont, California. The gallery's registrar Kirk Delman regaled me with stories of his role as the courier of this painting during its travels. This version of "Marie" has racked up some air miles — she's been to New York, Seattle, Baltimore, Boston, Washington, London, Switzerland, even Oshkosh, Wisconsin (Robinson spent much of his childhood in Evansville, Wisconsin).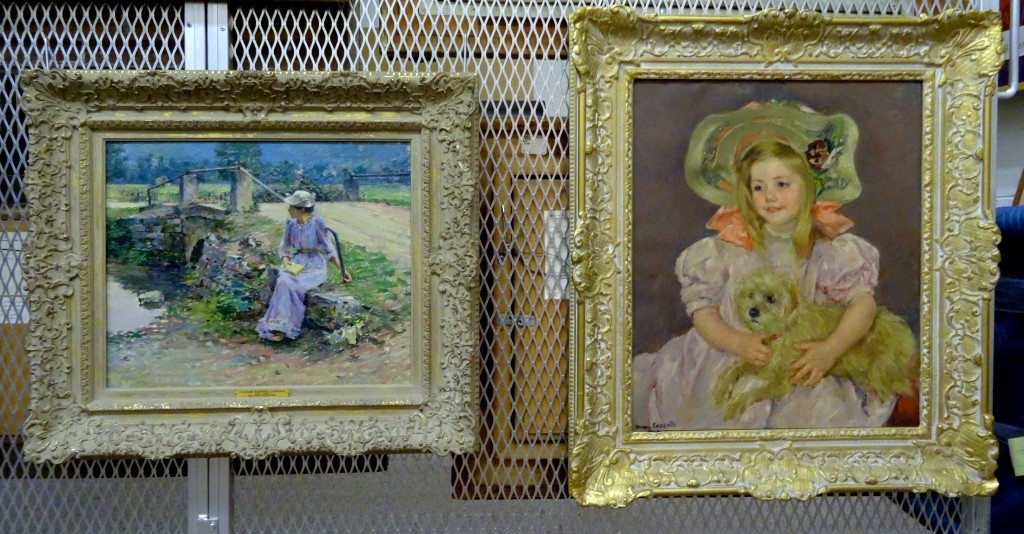 Marie's neighbor in the Williamson Gallery 'napping' room is a Mary Cassatt 
It wasn't my intention to solve the mystery of Marie when I began work on this book. I'm fascinated by the way she dissolved into the mist of time after Robinson's death in 1896 (he died of acute asthma at age 43), and I want her to enjoy her solace there.
That said, I love the thrill of the chase when I'm researching a story. I was intrigued by the photographs Robinson took of the subjects and settings for many of his paintings — one particular image of a woman standing by a tree had caught my eye. I was able to view the faded original, stored in the vault of the Terra Foundation for American Art in Chicago. You can imagine my surprise and delight when I discovered (under magnification) that this image is a previously unknown photo of Marie — and the first (now) known photo to fully show her face. I'm grateful that the Terra Foundation has given me permission to re-print this photo, along with five other Robinson images, in my book.
For my upcoming book tour, next spring, I would like to do book talks at public libraries in areas where Robinson's work is on display: Los Angeles; San Francisco; San Diego; Seattle; Chicago; Kansas City; Wichita; Atlanta; Cincinnati and Youngstown, Ohio; Pittsburgh; Philadelphia; New York City; Brooklyn; Newark, Montclair and Princeton, New Jersey; New Haven, Connecticut; Amherst and Andover, Massachusetts; Baltimore; Washington, D.C. — and Waterville, Maine (interestingly, the Colby College Museum of Art has the largest public collection of Robinson paintings in the U.S.).
I will be donating proceeds from book sales at these events to the libraries. This will be a win, too, for the museums — hopefully The Secret of Marie will bring visitors wanting to see Robinson's work.
If you live in/near these cities and would like to help me organize an event at your local library, please let me know. This book has been a joy to write. I look forward to sharing the story of this art-history mystery.
Robinson's first known rendering of Marie…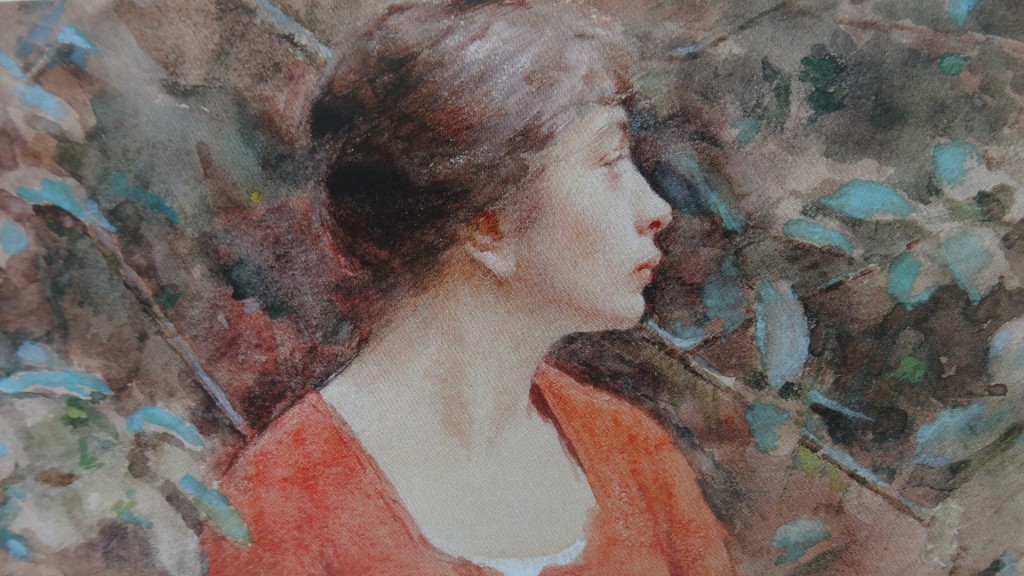 Theodore Robinson, Lady in Red (detail), 1885, watercolor on paper, private collection
The Secret of Marie cover design: Elizabeth MacFarland