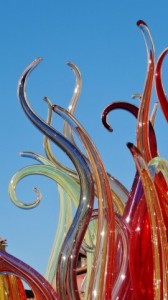 When I travel, I like to wander off the beaten path.
After the ferry docked at Faro, on the Venetian island of Murano – famous for its art glass – a crush of day-trippers hit the beaten path. I was among them. We gathered at the open doors of a glass factory, not far from the dock, and watched an artisan transform a molten orb into an elegant vase.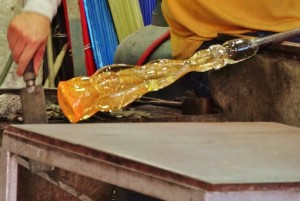 The tourist shops were waiting for us, offering earrings and goblets and ashtrays as souvenirs. One shop owner gave me a tour of his extensive showrooms, filled with amazing pieces.
I wandered on…past the trattoria where most of my fellow travelers had stopped for lunch. Surely there was more to Murano than this, I thought.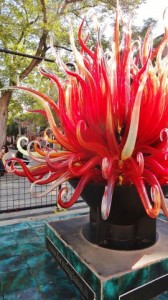 In a little piazza beyond the trattoria, tongues of red, yellow and violet glass formed a sculpture that, in the brilliant sunlight, looked like a bonfire. I walked around it, intrigued with its construction and awed by its artistry.
I kept walking and turned a corner…to see the real Murano, a lovely village that lines a canal traversed by fishing boats. My itinerary for the day changed in an instant. I felt no rush to leave this place – other Venetian islands could wait for another day.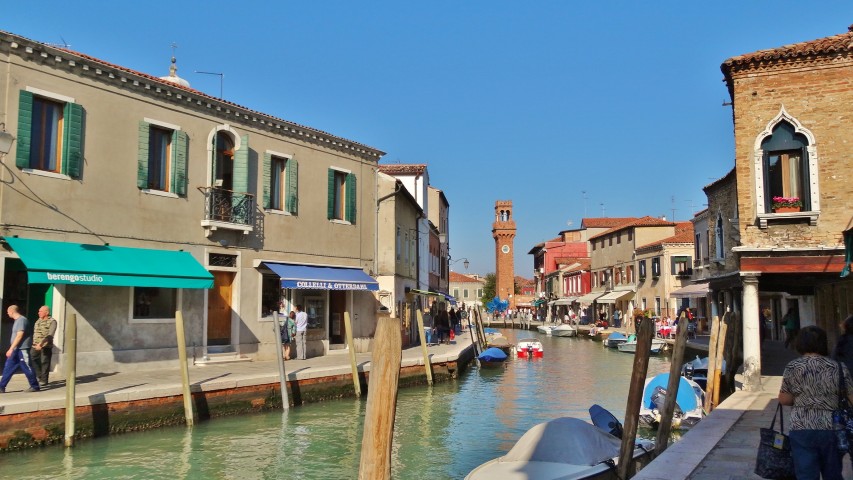 The shops along the canal weren't like the tourist shops by the dock. I went into one where an older Italian woman showed me a strand of vintage Murano beads.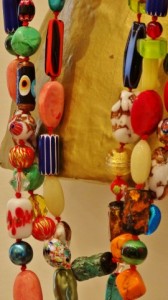 "How can you tell old from new?" I asked her. I was a Murano bead newbie, but she seemed pleased to give me my first lesson.
She moved aside a book on the display case about contemporary Murano glass and pulled out an old book, a bit tattered around the edges, from under the counter. As she slowly turned the pages, she pointed to beads in the book that were in the necklace – some dated back to 1911.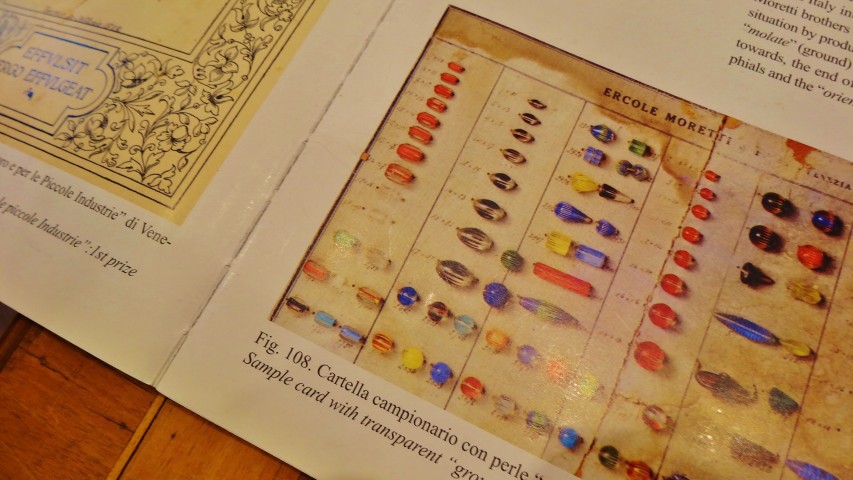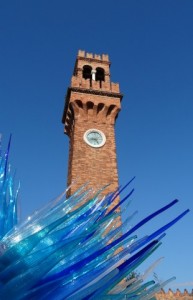 I continued my walk along the canal, my sights set on a clock tower in the distance. At the base of the tower was another beautiful sculpture – this one made of tapered tubes of blue glass, the color of the sky that day. Standing next to it, I felt like I was in the spray of a crashing wave.
I wanted to take a photo of the tower and the sculpture, but I couldn't quite get everything in the frame. So I walked backwards across a little piazza – back, back, back – until I was at the front door of a boutique. Curious, I stepped inside the shop – and a lovely, stylishly dressed woman greeted me. Her name was Monica.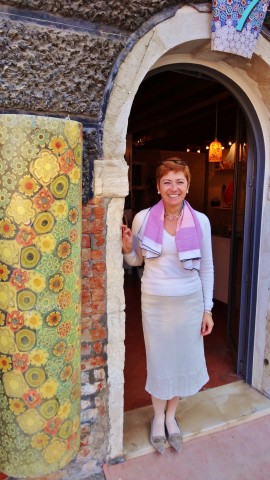 Monica makes exquisite jewelry from vintage Murano beads. She showed me a necklace with three strands of very thin black glass tubules – just slightly wider than the strand they were strung on – separated by tiny round mauve-colored beads. The strands were made of moldable wire so that the necklace can be scrunched into different shapes and lengths.
I put it on.
"Step outside," Monica said. She held a hand mirror framed by a garland of Murano glass flowers.
"It's gorgeous," I said, fingering the beads, which sparkled in the sun. "Of course, it's even more beautiful in a mirror like this."
Monica smiled. "This necklace is made of vintage Murano beads from the 1920s," she said.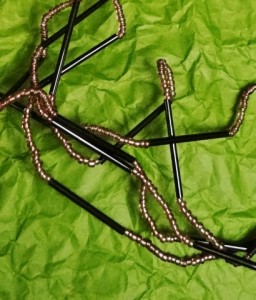 She, too, had a book. She showed me photos of tubular beads like the ones in the necklace. "They're from lamp shades, wall sconces and dresses women wore in the '20s."
"Flapper dresses," I said.
"Yes, exactly."
I had found my perfect souvenir from Murano. But this story gets better…
As Monica carefully wrapped and boxed the necklace – it's made of glass, after all – I thanked her for sharing the story of the beads. I told her that I write a blog and asked if I could photograph the page from the book she had shown me. I promised I'd email her and gave her my card, which has the cover of my book on it.
She looked at the card for a moment, then looked up at me in surprise. "I know about this book," she said. "About four or five weeks ago, a woman was here in the shop from Santa Barbara and told me about this book."
I suddenly had goosebumps. "How can that be?" I asked her. My book has resonated with a small international group of women – but the key word in that sentence is small. 😉 "I've come halfway around the world, to this little island…"
We looked at each other in amazement.
"I was in the piazza taking a photo, stepping back to get the shot I wanted," I said. "But actually, I think I was feeling the magnetic pull of this place."
Monica smiled and took my hand. "I'm so happy to meet you – at last."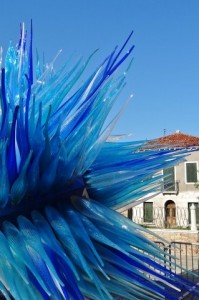 As I walked back to the ferry dock later that afternoon, little tears squirted from the outside corners of my eyes. Not the inside corners, where sad tears come from. These tears were from the wonder and amazement that comes when you let the current pull you to places and people you don't even know.
On the night last December when I presented my book at Florence's historic literary cafe Giubbe Rosse, I wore Monica's necklace – the souvenir of an extraordinary journey.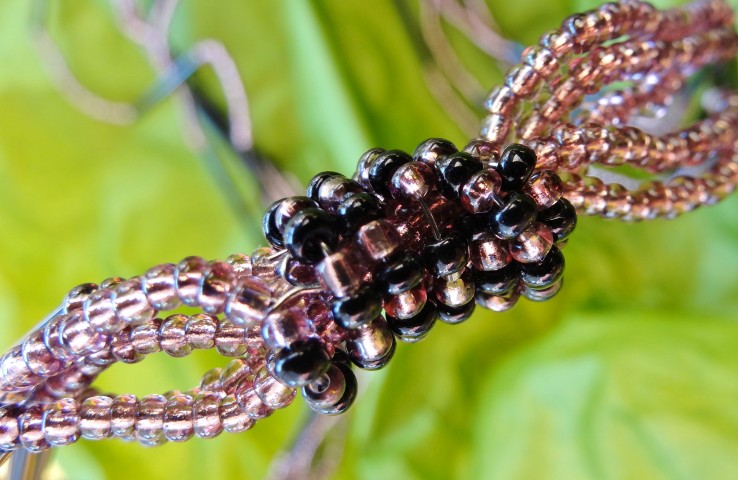 (I have no idea who the woman from Santa Barbara is – but if you're reading this, please drop me a line.)
Monica's shop:
Ferro Vetro di Monica Cavaletto
Campo S. Stefano 7
30141 Murano, Italy