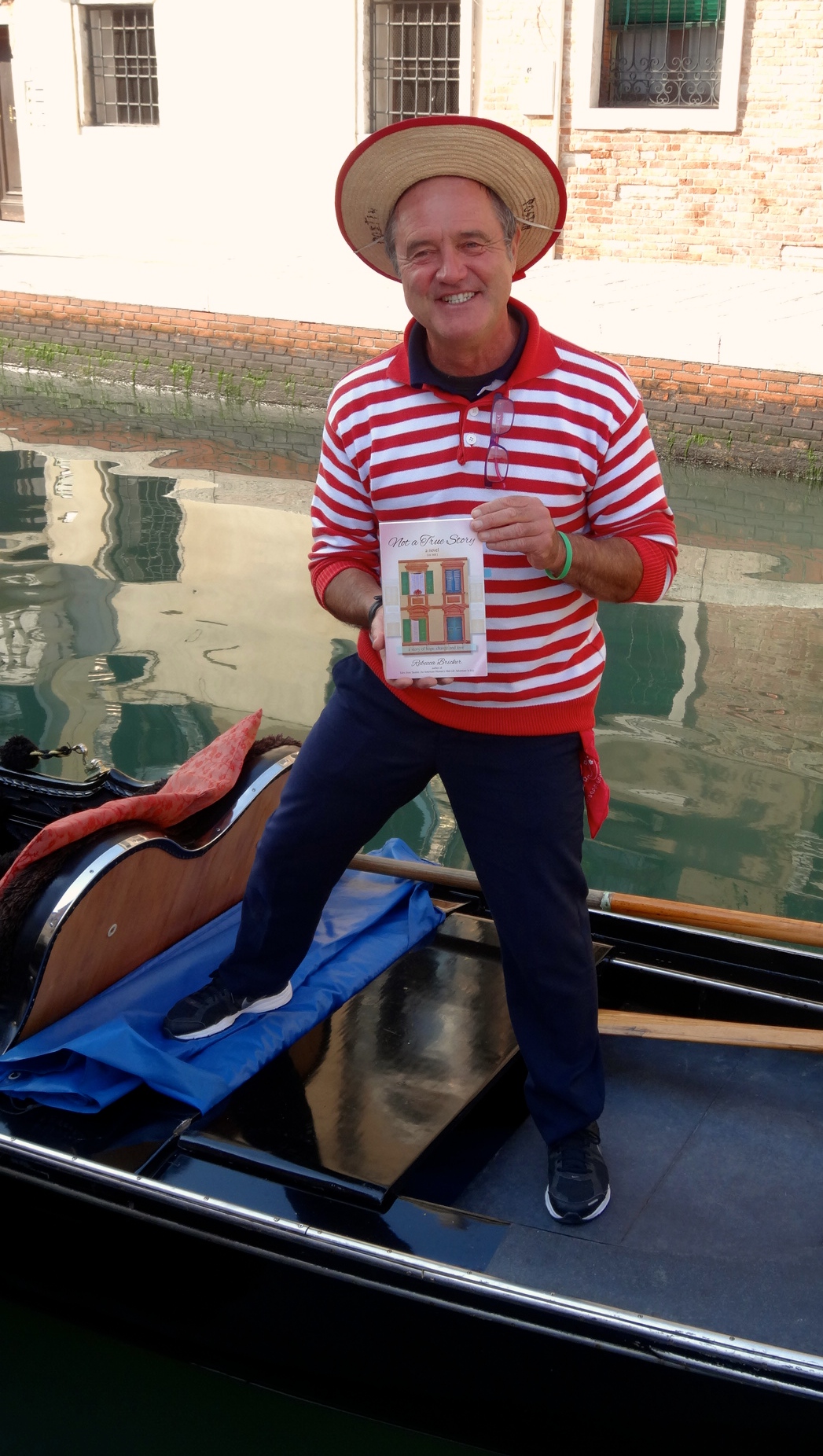 I knew it was a long shot. But I had to try.
During my recent visit to Venice, I went looking for a gondolier named Vittorio, who took me on my first gondola ride (back in 2008). He was so gracious to me that day – not many gondoliers are interested in solo passengers – that I wrote about him and that memorable ride in my new book Not a True Story. I wanted to give him a copy of the book and thank him, in person, for his kindness to me.
There are a lot of gondoliers in Venice – finding Vittorio wasn't going to be easy. But what if…? Sometimes, especially when I'm traveling, I experience an almost-magnetic pull to a person or place I'm meant to find.
So off I went, trusting my internal compass. I had a photo of Vittorio – taken on his gondola on that October day six years ago – tucked in the back of my journal. I hoped, if I didn't find him, that I'd find someone who knew him.
It was a good half-hour walk from my hotel to the gondola station where I last saw him, at Campo San Barnaba, famous for the church where a scene in an Indian Jones movie was filmed.
As soon as I walked into the piazza, I saw him. He was in his gondola, as if getting ready to push off. I hurried toward him.
I couldn't see his face, hidden by the brim of his straw boater's hat. He looked up at me in surprise when I said, "Vittorio?"
"Si." Vittorio has a great smile and looks enough like Bill Clinton to be an Italian cousin.
"I don't believe this!" The story tumbled out of me as I pulled the book out of my bag.
"Lady, you wrote about me? No one ever has written in a book about me."
I opened the book to "his" page and pointed to his name.
We sat on a bench together by the gondola station, as I told him about the book and wrote a note of thanks to him on the title page.
"I don't read English so well – but my son can help me," he said.
Vittorio showed the book to a friend who was passing by and pointed to his name, on page 54. The disbelieving friend laughed and asked Vittorio, in Italian, if he was on "Candid Camera." Vittorio gave him a playful shove.
Vittorio hopped into his gondola, to pose for a photo with his book. The boat wobbled as he got his balance.
"Be careful. Don't get that book wet," I teased him.
"Don't worry, signora, I do this for a living." Ah, that smile.
We posed for a couple of photos together, before I said good-bye.
"What a happy day this is for me," I told him.
"No, signora, this is my happy day." He looked down at the book in his hands. "Incredibile."
Life truly can be incredible.
Here we are – then and now…