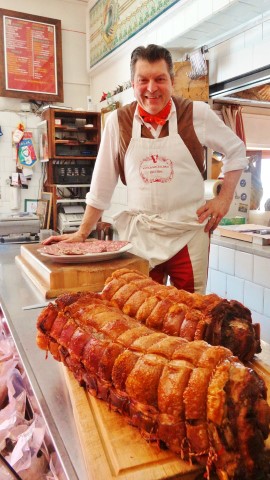 Tourists who come to the Chianti village of Panzano tend to be carnivorous. That's because the village's most famous attraction is a butcher shop owned by the charismatic Dario Cecchini.
I call him the Rock Star of Meat – when you walk into his shop with a bunch of friends, he cranks up the music and the party begins. Greeters juggling a tower of glasses serve the wine, which flows freely as customers nibble on Tuscan bread drenched in olive oil, smothered with seasoned lard or topped with Dario's mortadella. Appropriately, he garnishes his platters with blood oranges.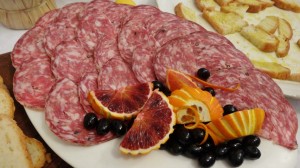 Last week, I joined friends here in Florence on a trek to Panzano for lunch on Dario's patio. (We made the same hour-long bus trip about a month ago and took refuge at long tables inside Dario's macelleria to escape a rollicking thunderstorm.) But this time, the sun shone over the beautiful Chianti countryside – a patchwork of olive groves and vineyards.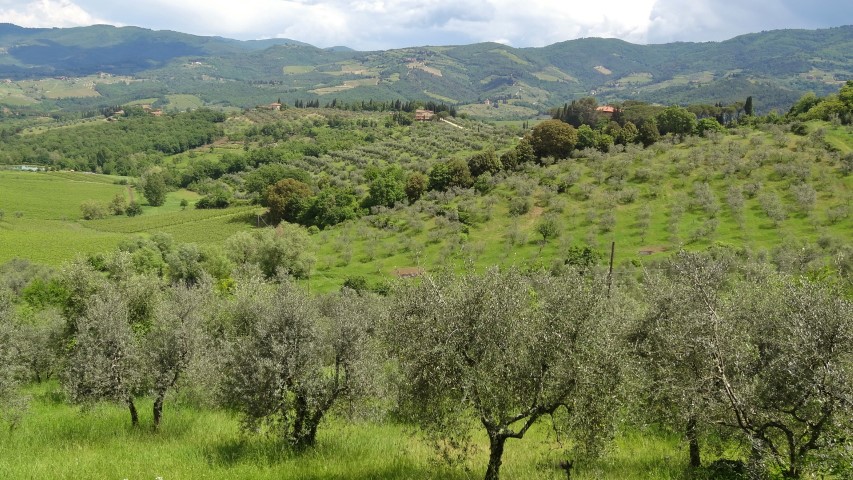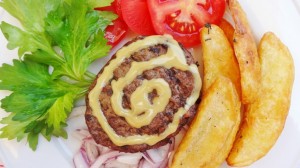 Everyone ordered Dario's famous burger, served with fries, juicy tomatoes and fresh Italian parsley. He makes his own sweet-and-sour sauce and mustard. No buns for these hefty patties – it's a knife-and-fork meal.
We staggered back on the bus after lunch, for the return trip to Florence. But if you make this trek to Panzano, don't be in a rush to leave. There's more to Panzano than its celebrity butcher…
Just beyond the little piazza in the center of the village where the bus stops, take the main street toward the hilltop church and turn left at the first corner. There you'll find the gallery and studio of Belgian sculptor Jan Praet.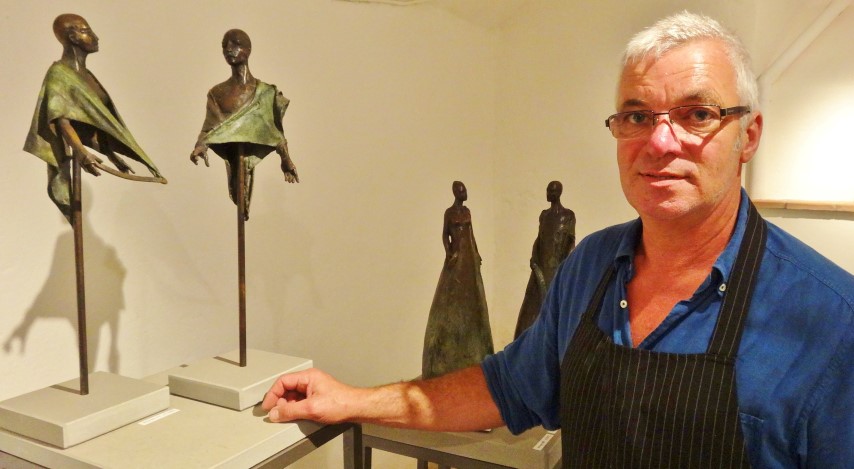 I asked him how a Belgian ended up in Italy – and the answer led to a wonderful conversation about taking chances, sometimes at great risk (financially and otherwise), when a whim-of-an-idea becomes a siren-call-to-action. For Jan and his family, it meant upending the life they knew in Belgium – including, for him, a 20-year career in academia – and settling in a Tuscan farmhouse not far from the lovely studio where he creates and displays his bronze and terra cotta sculptures.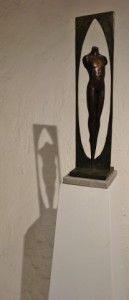 The titles of his pieces – Freedom and The Balance – tell his personal story as much as they convey the meaning of the work. His winged figures take flight in the form of shadows on the wall. One figure is framed by a cypress tree – the Tuscan landscape clearly has influenced this artist.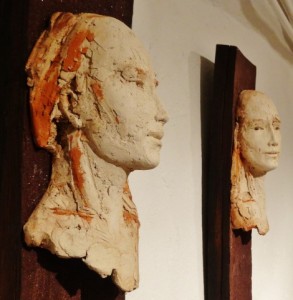 Jan's figures don't always have heads. I noticed that one bronze woman had no top to her head. "She doesn't have a hole in her head," Jan explained. "She has an open mind."
As I left Jan's studio, I felt the top of my head – wondering if I'd find a hole under my tousled curls.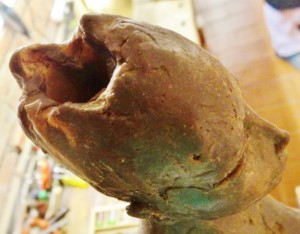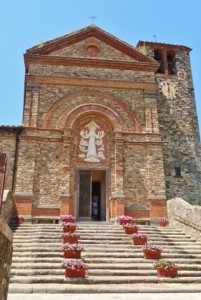 I had come to Panzano that day on a solo visit, wanting to explore. I walked up the hill – a bit of a climb – toward the ancient church. It was early afternoon – nap time – and there wasn't a sign of life anywhere. Until…I clicked a photo of a cheerful storefront…and suddenly, a man in a floppy red brocade hat appeared, his welcoming arms outstretched. He posed for me next to the stuffed head of a wild boar wearing a similar hat. How could you not instantly like this guy?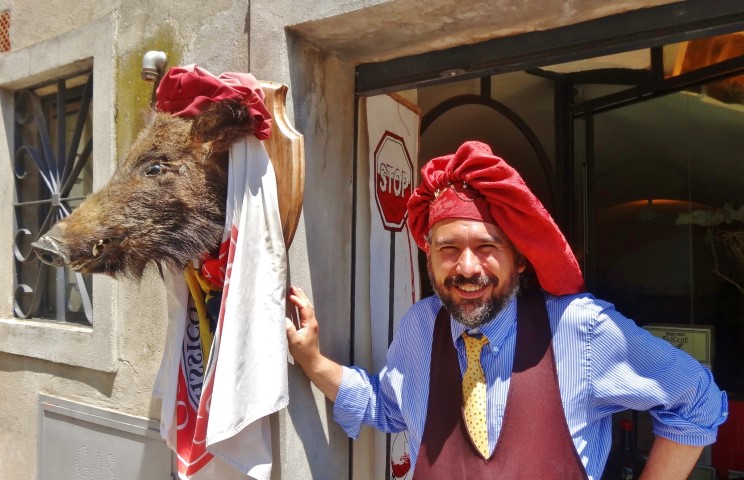 I had just met Stefano Salvadori, owner of Accademia del Buon Gusto, a delightful shop devoted to teaching its visitors about harmoniously marrying the flavors wine and food.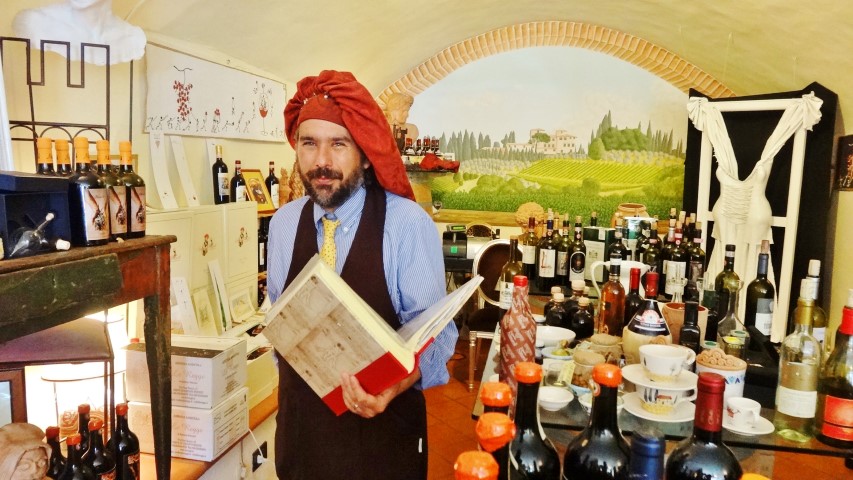 "What is your favorite food?" Stefano asked me.
"Chocolate," I replied. (I really wanted to say gelato, but I thought that might have been too much of a challenge.)
He poured me a red that didn't need a glass, then dipped a tasting spoon into a little jar of chocolate. I tried to guess the secret ingredient.
"Is it an herb?" I asked. "Sage, maybe?"
He smiled, shaking his head. "Truffles." What a combination!
Stefano used to work for a wine company, supervising a staff of 30. "I went on a holiday and when I came back, they told me I had no job," he said. "I was fallen down."
His father helped him get back on his feet, suggesting that Stefano open a shop to educate people about wine.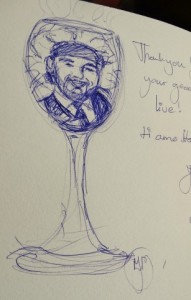 The week of my visit, Stefano was celebrating the 6th anniversary of his accademia. In those six years, Stefano's shop visitors have filled 17 large leather-bound volumes with their comments – and artwork – thanking him for sharing not only his love of Tuscan wine and food, but his embracing love of life.
Stefano has two young daughters. "I bring them to the shop to meet our visitors," he says. "I don't want them only to know people on Facebook."
If you make the trek to Panzano for lunch with Dario, leave time and room for another feast in this sleepy village, where there's a thriving creative and entrepreneurial spirit waiting to delight you.