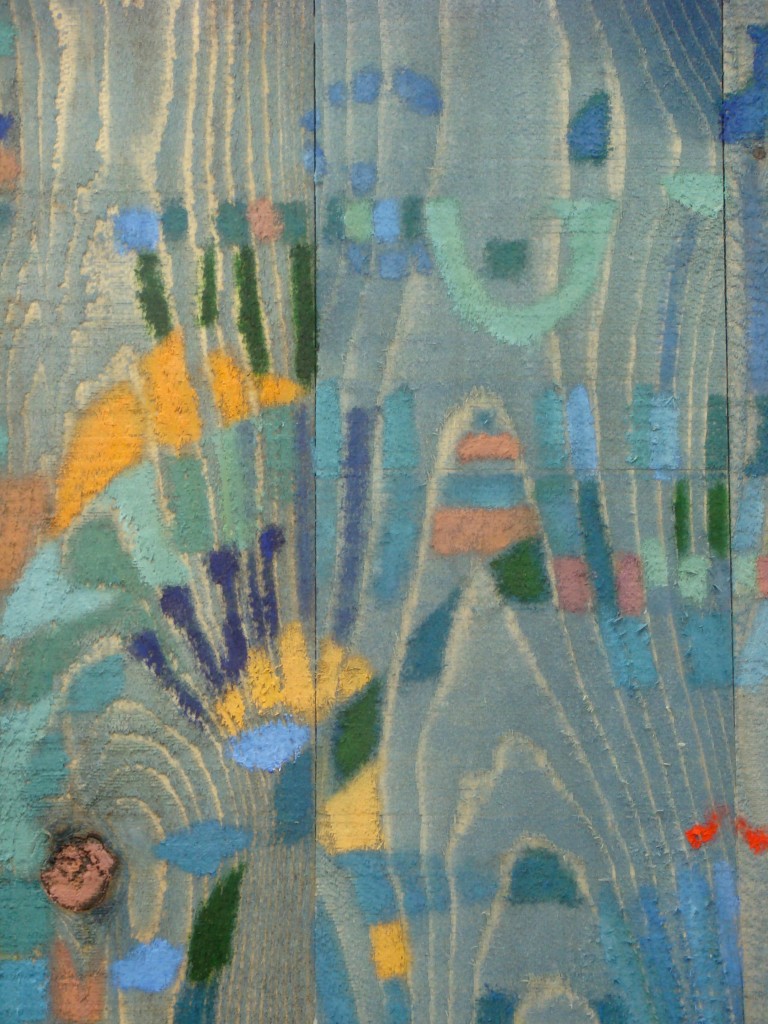 I discovered Joe Downing's artwork during the summer of 2007 as I was walking up a steep street in the Provence village of Ménerbes. Weather and time had nearly erased his brushstrokes. But there on the garden wall of a villa were a series of small collages — dabs of paint that formed mosaics of color.
<<< Later that day, I saw Joe Downing's paintings — vibrant abstracts on wood — at a gallery in the village. I spoke with the gallery owner, Pascal Lainé, who told me about the artist: 82 years old, born in Kentucky, arrived in France as a U.S. soldier on the second day of the Normandy invasion, studied art in Chicago and settled in Ménerbes in the early 60s. Monsieur Lainé showed me a book of Mr. Downing's art and poetry. I asked if I could purchase a copy.
"It's my only one," he said. "But let me call Joe. He has some copies. He would be delighted to meet you." Monsieur Lainé pointed the way to Joe's studio. "Just 50 meters down the street, on the left."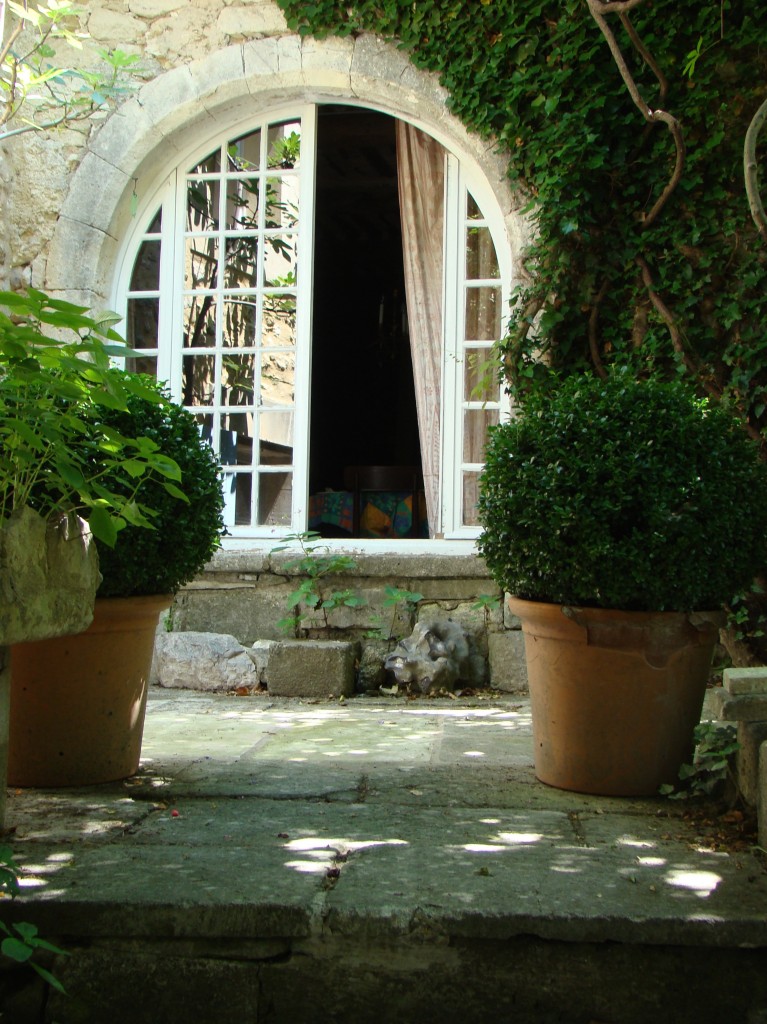 Behind a wall marked with a ceramic tile that read No. 5, I found a garden path that meandered to an old stone house with an enormous arched window. The window was open and a little dog was on the ledge, excitedly announcing my arrival.
Joe appeared. He wore a pink bandana around his neck and a painter's smock. "The easiest way in is through the window," he said.
The ledge was only a few feet from the ground, with a stone step just beneath it. This obviously had been done before. I stepped up onto the ledge, then carefully onto a low radiator under the window in the living room.
I jumped off the radiator as gracefully as I could. "I feel a bit like Wendy in Peter Pan, coming in the window," I said, hoping I didn't look too askew.
Joe smiled.
I introduced myself and asked if I could purchase a copy of his book.
"It's not for sale," he said.
I felt a bit deflated, especially after that grand entrance. But Joe graciously invited me into his studio, which, he told me, had once been a grotto filled with dirt "above your head." The room, with its high vaulted ceiling, was filled with his paintings, mostly on wood panels.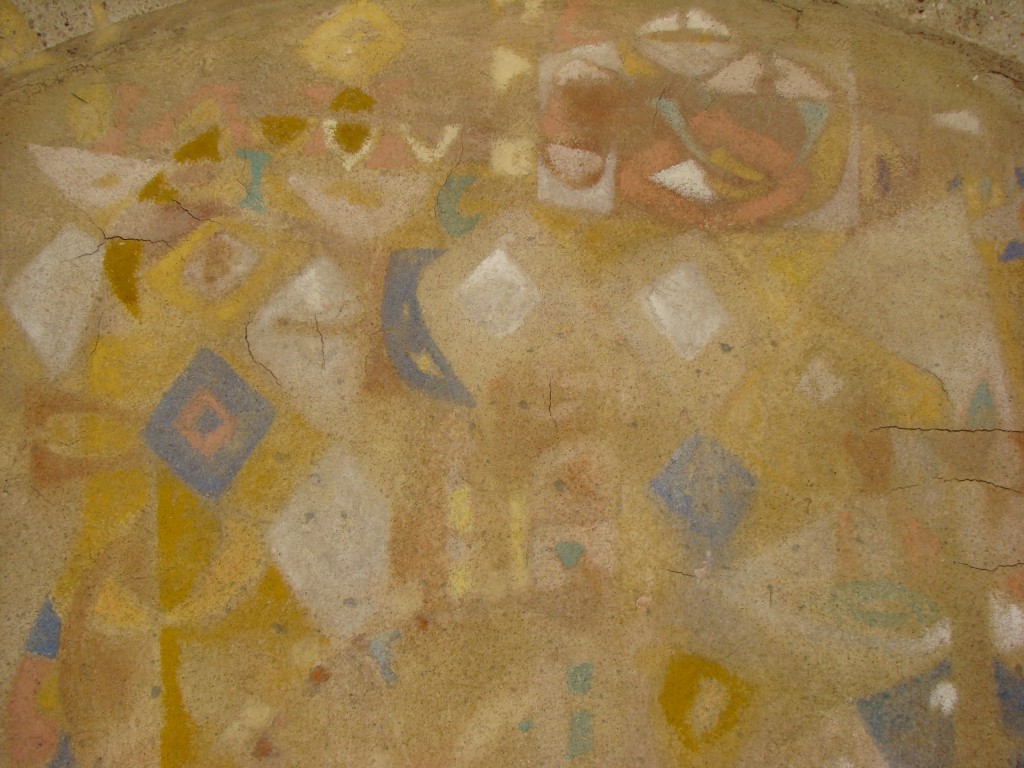 <<< I asked about his weathered artwork I had seen on my walk up the hill. He sheepishly grinned and confessed he had done that many years ago as a wedding gift for a young woman whose family lived in the villa behind the wall. He said not everyone in the village had appreciated his graffiti.
We spoke of his American roots. Joe told me he had studied at the Art Institute of Chicago. We had something in common: I had grown up in a Chicago suburb. I told him I had never seen works of art until I visited the Art Institute on a school field trip in fifth grade and how awed I was by Georges Seurat's pointillist masterpiece A Sunday Afternoon on the Island of La Grande Jatte, with all its synergistic dots of paint. Joe said he, too, had been amazed on his first visit to the Art Institute, which was also his first visit to an art museum.
"I had never seen art before," he told me. "It was then that I knew I would be an artist."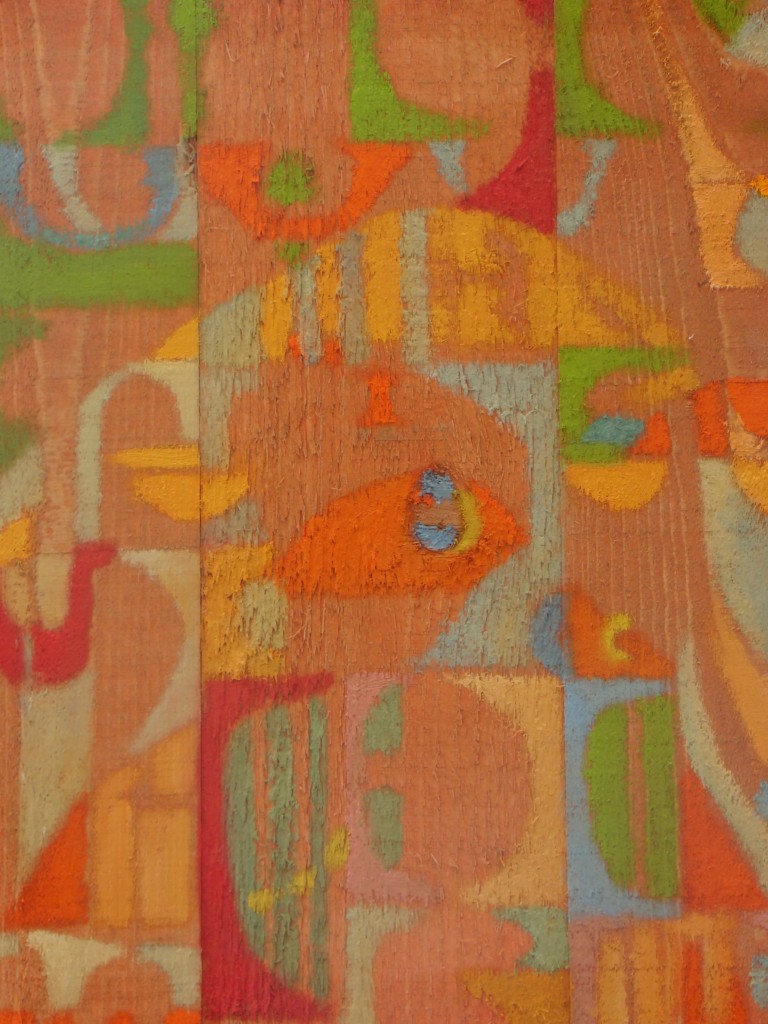 He showed me a portfolio of pieces he had done for a museum that was scheduled to open the following year in Bowling Green, Kentucky. He asked for my address so that he could send me an invitation to the opening. I gave him my card.
I told him that I was a quilter and had made an art quilt that had been in an international quilting exhibition in Paducah, Kentucky. That piqued his interest. I commented how the irregular shapes in his paintings reminded me of fabric scraps. He smiled and said that quilts were part of his childhood memories, growing up in Kentucky, and what a profound effect quilt designs had had on him as an artist.
Joe pushed aside a large painting in the studio and pointed to a cart filled with small folded cards, with printed images of some of his paintings. "You may take five," he said.
I chose five and told him, "These will be a keepsake of this day."
I left through the garden door, not the window. As I walked down the path toward the street, Joe called to me, "Miss Bricker, come back."
I walked back to the arched window and Joe re-appeared with a copy of his book. He smiled at my delight. Then he waved good-bye.
As I walked away, I opened the book to the first page, where he had written: "For Rebecca ~ Joe."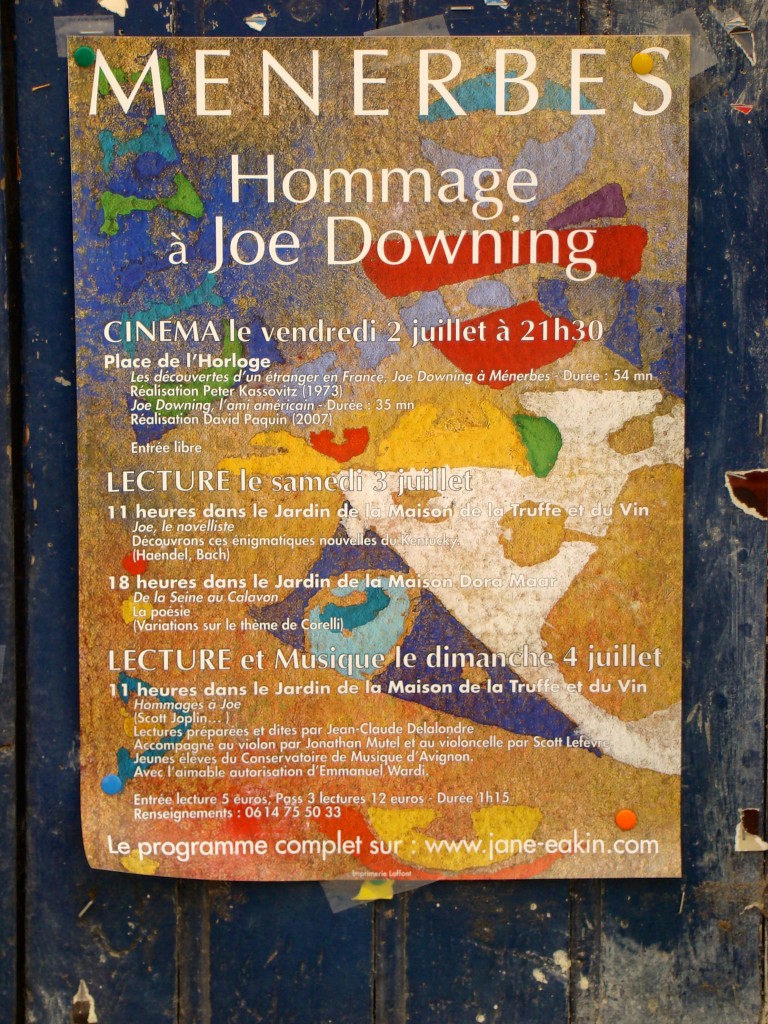 Joe died that winter. The next summer, when I returned to Ménerbes, I saw a poster announcing an hommage to him that included a documentary film about his life. I went to see Monsieur Lainé to express my sadness and condolences.
I later learned that I had made the acquaintance of not only an extraordinary artist, but a very modest man. The museum that opened in Bowling Green, located on the grounds of the Baker Arboretum, is the Downing Museum and houses a vast collection of his work. I discovered that Joe's art has been shown at the Louvre and some of his pieces are owned by the Smithsonian, the Paris Museum of Modern Art and the Museum of Modern Art in New York.
In 1950, after graduating from the Art Institute, Joe went to Paris for what was to be a three-month visit. But he couldn't bear to leave. Two years later, he opened his first one-man show in Paris and was encouraged by the praise of a more established artist who had come to see the show: Pablo Picasso.
On my return visits to Ménerbes, I enjoy sneaking a peek around the garden wall at No. 5, remembering the day I stepped through a window (and jumped off a radiator) into the salon of a gracious and gifted artist.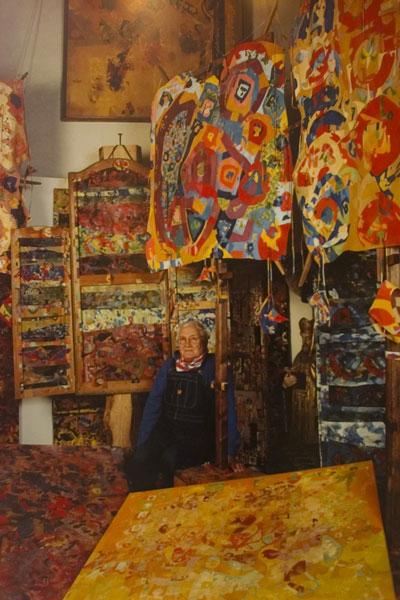 Joe Downing photo credits: (left) in studio, Mollie Hanrahan (courtesy of Kentucky Library & Museum, WKU); (above) the Downing Museum