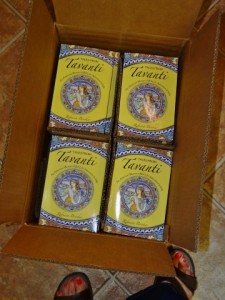 When the first copies of Tales from Tavanti arrived, I had that dream-come-true moment that author's relish as I tore open the box. I immortalized that moment with a photo. (Yes, those are my painted "California toes," admired by the Casanova of Florence in Chapter 2.) 😉
I didn't feel the same thrill when I first saw my book on Kindle. In fact, I was a bit disappointed. I had worked for four months with CreateSpace, Amazon's self-publishing division, attending to the minute details of book design: choosing fonts and fleurons (those decorative elements that fill in text breaks) and deciding on chapter headers and where to place page numbers. I nearly went cross-eyed looking for bad word splits at the end of each line. I e-mailed the designers, asking them to re-format one particular paragraph so that "Michelangelo" wouldn't be hyphenated. I'm sure they collectively rolled their eyes.
C'mon, be serious…you cannot hyphenate Michelangelo. (Mamma mia!)
In the Kindle version, the font is different – not as elegant. There are no headers and page numbers. That lovely cover (that took more than a month to design) looks pitifully bland in gray-and-white. And depending on the type size you dial in, there's a chance Michelangelo might be hyphenated – HEAVEN FORFEND.
Soon e-books will be packed with video and interactive features that are going to razzle and dazzle us. With digital technology upending conventional publishing methods and book formats, it's an exciting time to be an author and a reader. I'm glad I experienced the Old World art of producing a book and had the thrill of opening that box of author copies. But I'm also looking forward to the changes that are coming – it would be kind of cool to have an electronic travel guide with built-in GPS.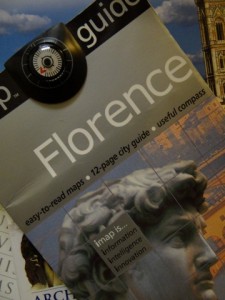 At the kind invitation of friend and fellow memoir writer Kathy Pooler, I've written a guest post about my self-publishing experience on her blog Memoir Writer's Journey, where there promises to be an interesting discussion about the growing entrepreneurial role of authors. Come by for a visit as writers talk about the revolution that's changing the world of books.
And check this out…my map of Florence with its broken compass >>>>>>
So Old World.