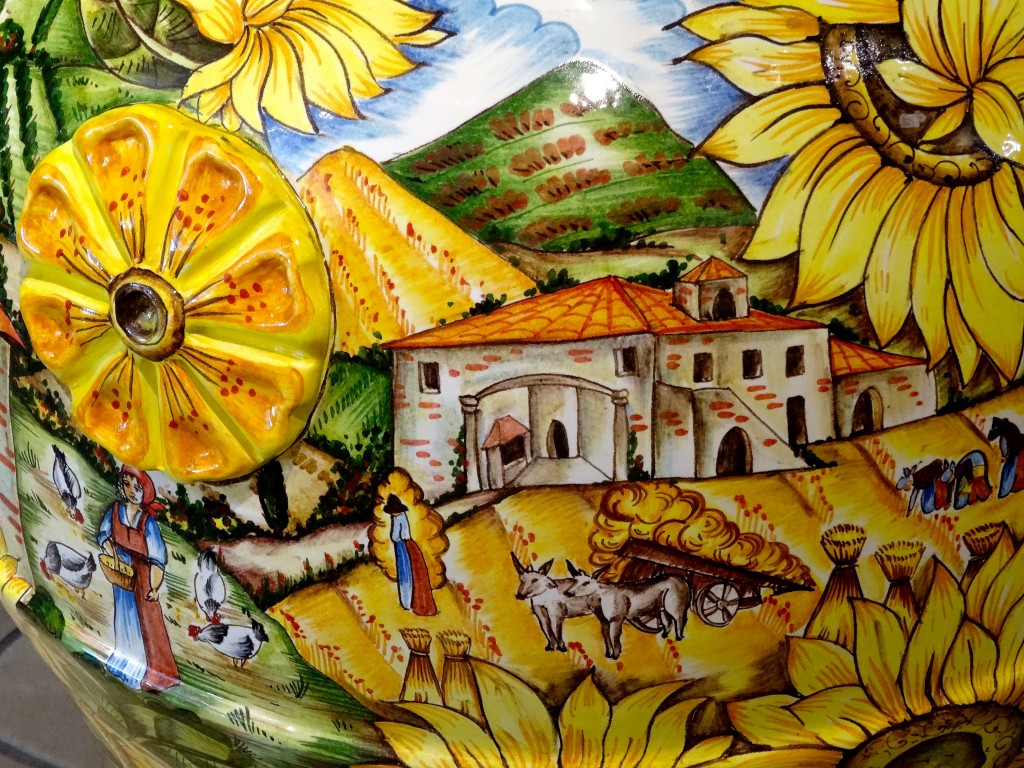 One of my favorite Tuscan villages is Montelupo, a 22-minute train ride south of Florence (on the way to Siena). Most tourists miss this jewel of a place that for centuries has been a thriving ceramics center.
Each year in June, the village hosts a ceramics festival that I note on my calendar weeks in advance. I wouldn't miss it.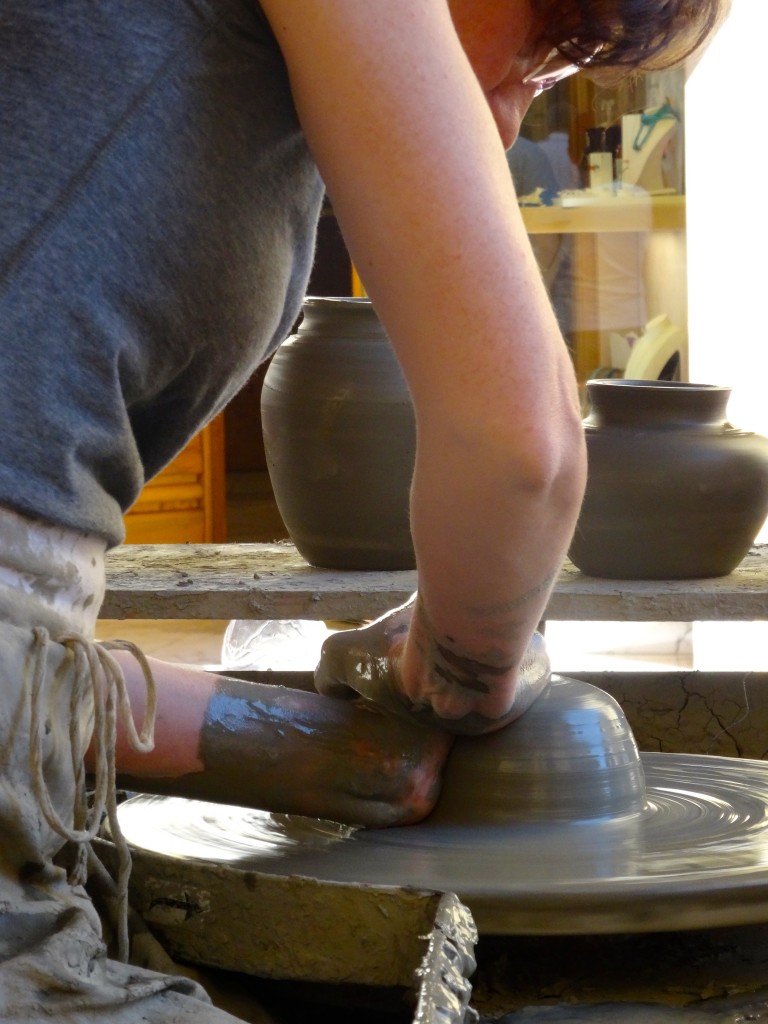 Ceramic artisans from around Italy come to Montelupo to sell their wares. Potters and ceramic painters demonstrate their amazing skills. Exhibition rooms and display kiosks showcase exquisite pieces. The ceramics museum in Montelupo is a must-see.
At every turn, Montelupo boasts its ceramics heritage. Even the shop signs and house numbers are little works of art.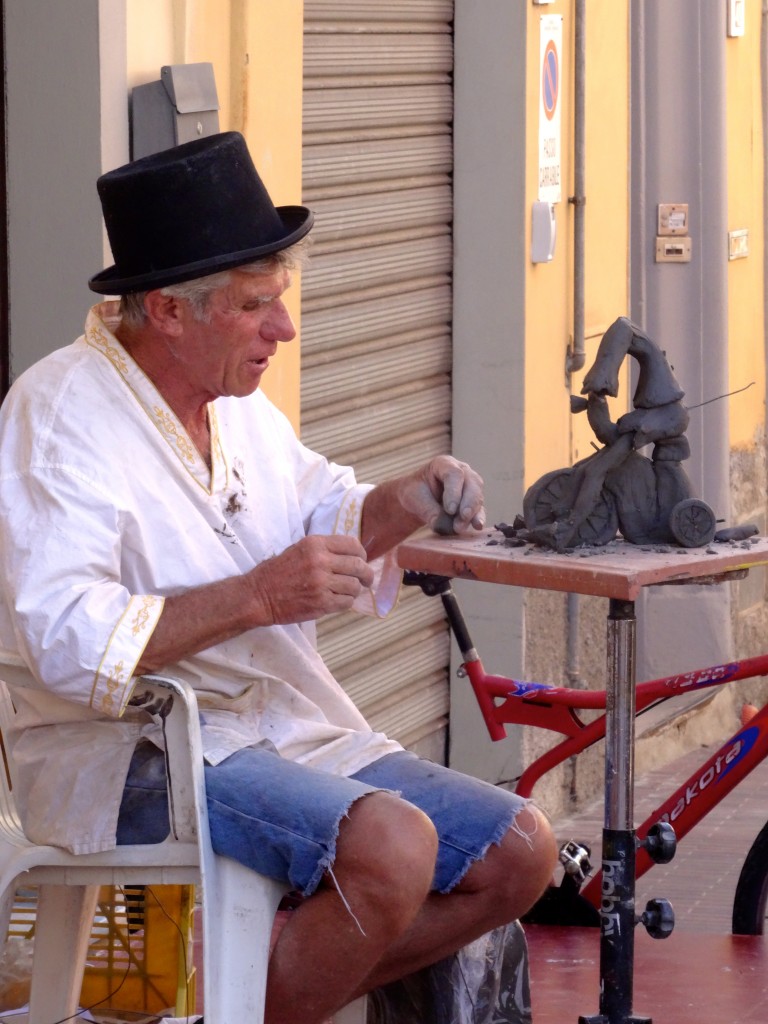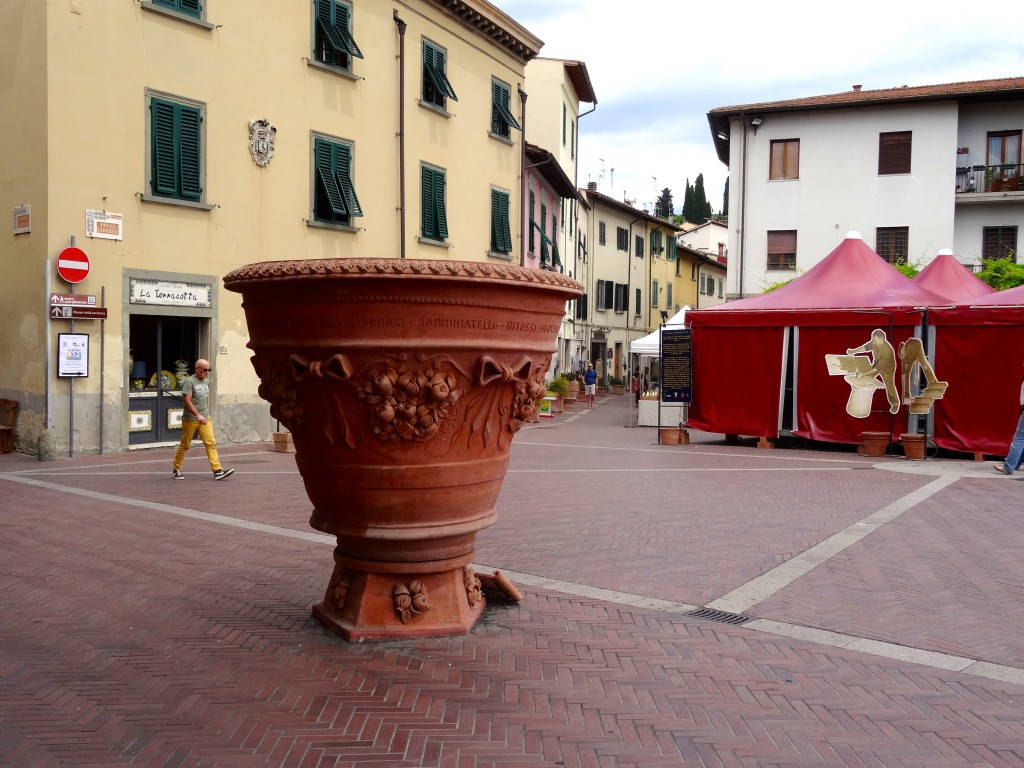 One thing I've learned about village festivals in Italy is that they don't get started until after nap time. When I arrived today in Montelupo at 2:30, the village looked like it had been evacuated. But by 5, la passeggiata was underway. The entire village was on parade. And in case any one was still napping, an all-girl burlesque band marched through the streets – quite a sight in sleepy Montelupo! They call themselves "Girlesque." And do they have some moves! 😉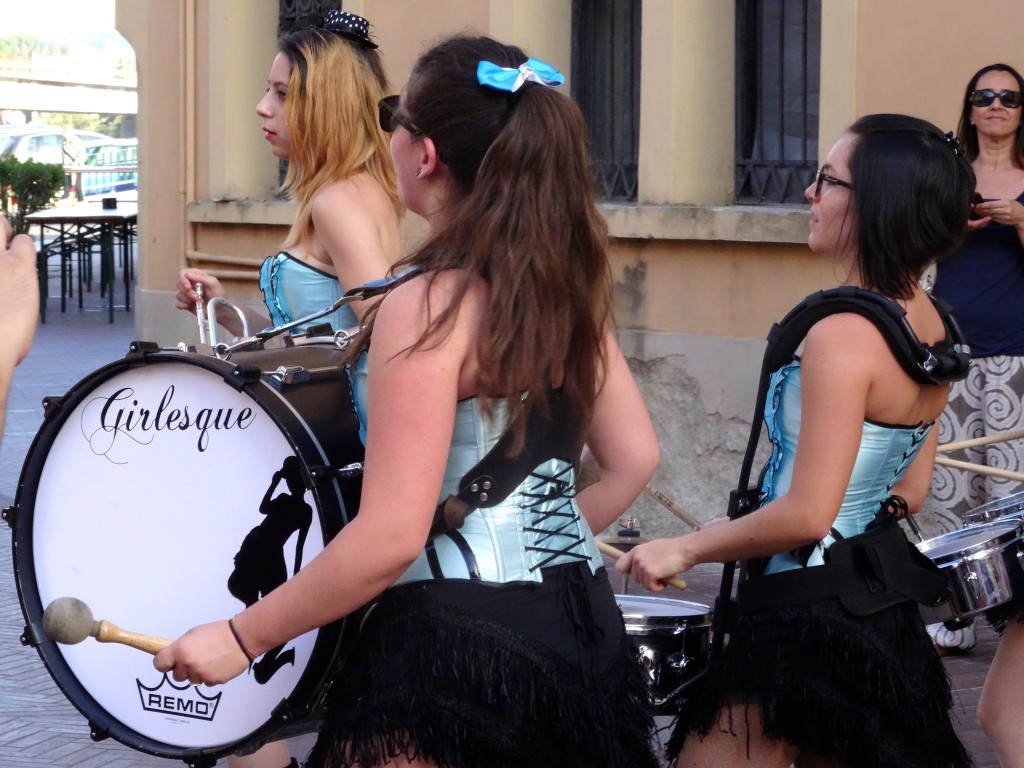 Montelupo is known for its ceramics shops. My favorite is La Galleria, owned by the wonderful Mirenda family. I met them three years ago during my first visit to the ceramics festival. Salvatore Mirenda is a master potter who specializes in large pieces – vases, urns, planters, umbrella stands. Today I bought two of his smaller creations: a pitcher and an olive oil jug that he shaped at his wheel. What treasures…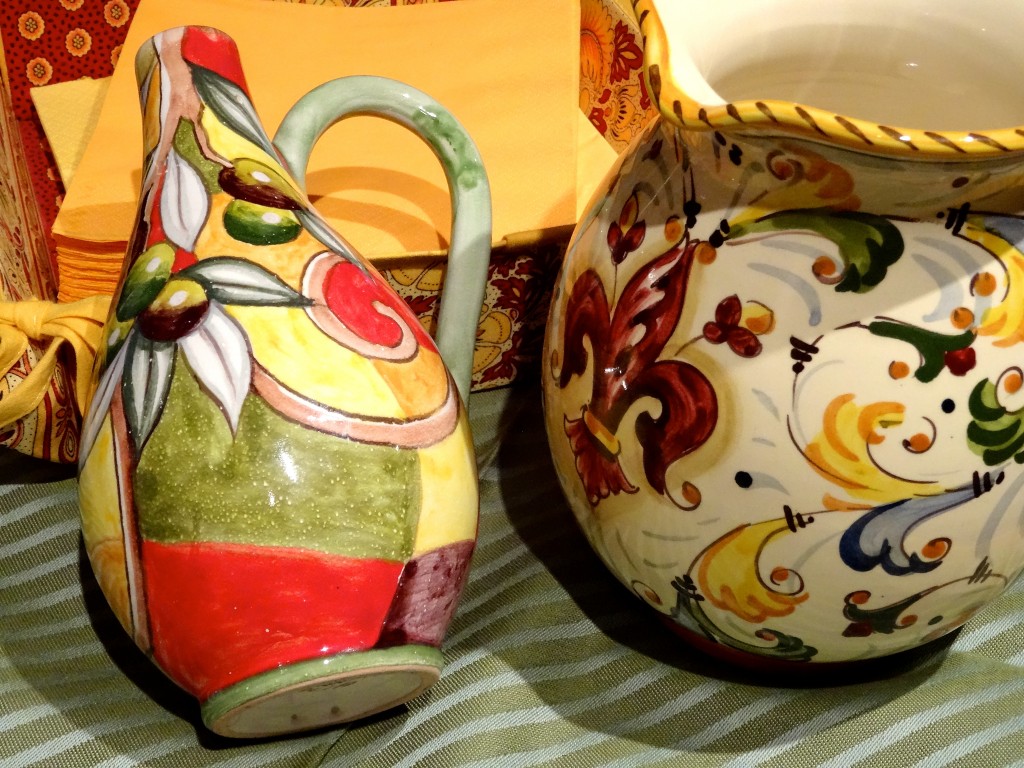 Salvatore's son Matteo is a joy. He's the Italian version of my own son – funny, bright, full of life. Matteo's big news today: he has tumbled head over heels for a lovely young woman from Salerno, whom he met on Facebook. Her name is Carolina and she makes gorgeous earrings and necklaces. The "tree of life" is her motif.
I'm not telling a tale out of school here. Matteo is pleased for me to write about their story. Their love affair is six months old. They're separated by a four-hour train ride and the fares are expensive ($65-75 RT). So Matteo has come up with a BRILLIANT IDEA (he has many of them).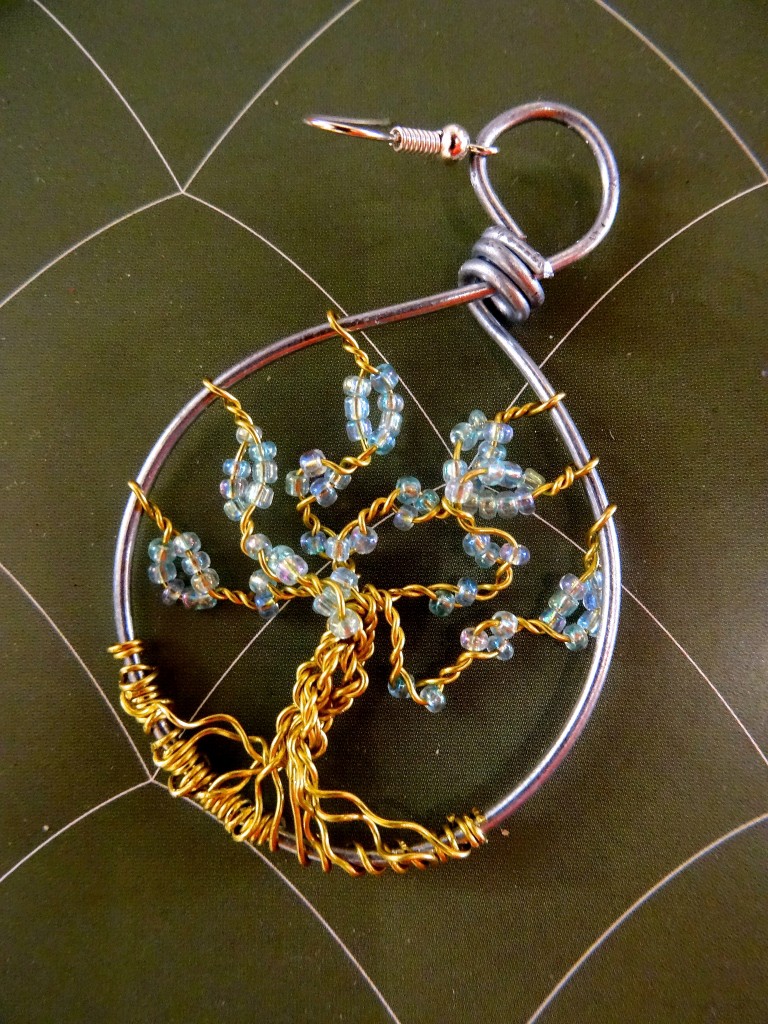 He's launching a page on ETSY, the online artisan marketplace, called Ticket for Two, where he will be selling Carolina's jewelry. They're using their earnings to buy train tickets so they can visit each other.
I'm happily contributing to the cause. I bought a pair of Carolina's earrings today. Not only are they exquisite, but when I wear them I vicariously feel like I'm in love. I'm a hopeless romantic, as some of you already know. 😉
If you are, too, and would like to help these two young lovers, email Matteo (lagaleriaformedarte@gmail.com) and tell him Rebecca sent you. The Mirendas have a shopping site for their ceramics as well: www.lagalleriaformedarte.it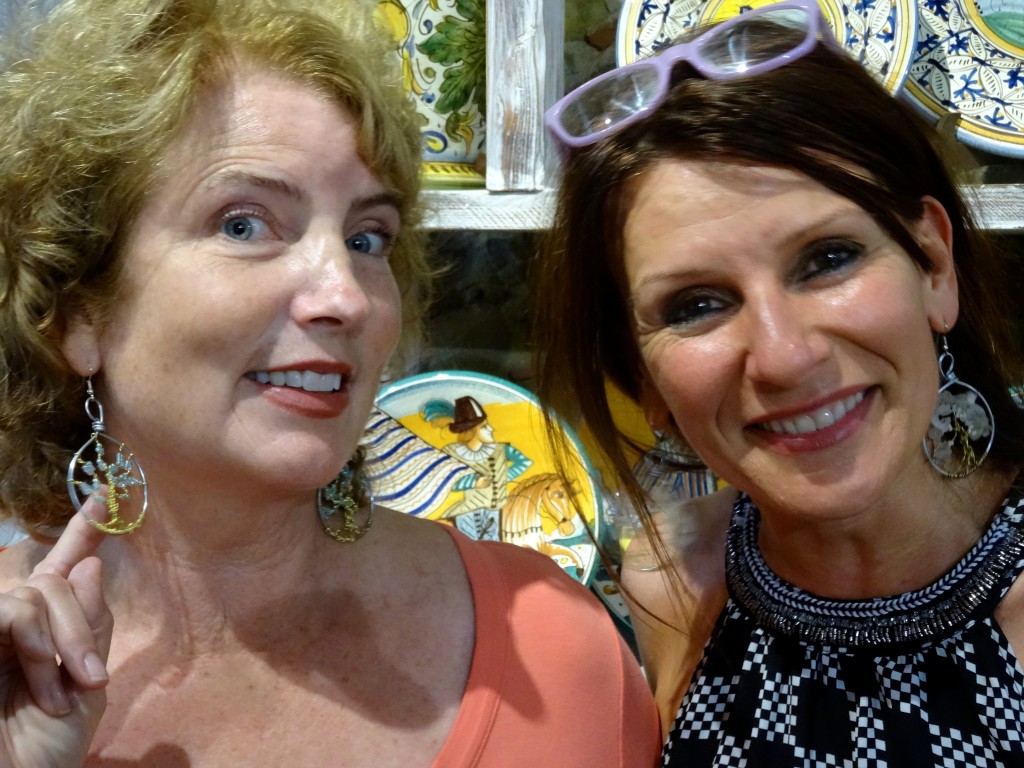 Matteo's mom and I modeling the merchandise. >>>(We're rooting for these two!)
Such a great day…ceramics, burlesque and amore! (And by the way, Montelupo has some wonderful gelato shops, too.)