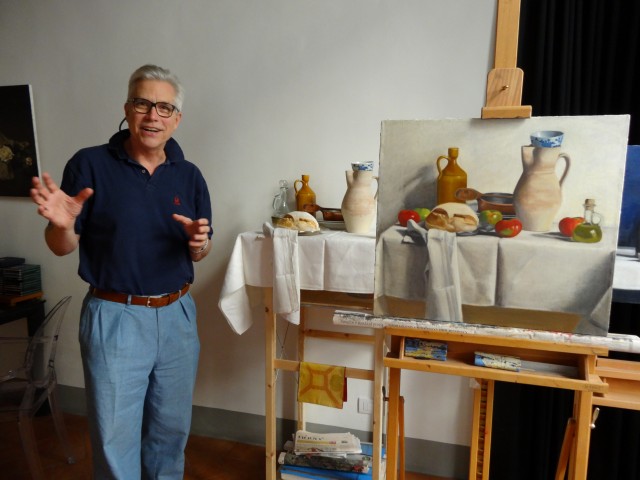 In my wanderings around Florence, I've been seeking out the Renaissance City's modern-day masters.
One is artist Gary Adcock – an American, ironically – who is the founder-director of the Florence Art Studio, where anyone who aspires to become a painter can make their dream happen.
"Realizing dreams and goals has always been a part of my life," Gary says. After being a successful architect for nearly thirty years – traveling and passionately studying art and architecture all over the world – he decided to come to Florence to study at an art academy and become a painter. "I believe that with clear intention, passion and perseverance, anything you can dream, you can do."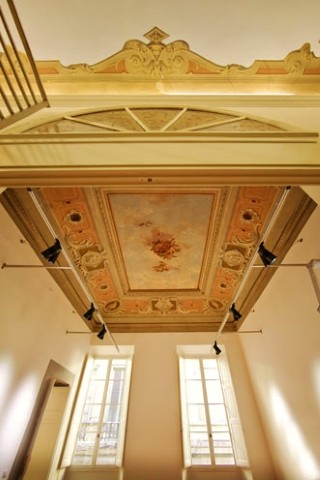 Gary's dreams are big. After completing his academic training, Gary began teaching in 2004. He opened The Florence Art Studio in 2010, following an extensive renovation of the historic Palazzo Martini-Bernardi at Via Ghibellina 121 (across the street from Palazzo Borghese where Napoleon used to visit his sister Pauline, who married a Borghese prince).
The renovation included the restoration of centuries-old frescoes that adorn the high ceilings of FAS's three studios, lit by large north-facing windows and equipped with computer-controlled LED fixtures that can simulate daylight (without infared or UV radiation, making the workspace safe for both artists and the art). In addition, FAS has a small library, gallery, workroom and a kitchen/service area. And on the premises is a bathtub that Pauline once used. 😉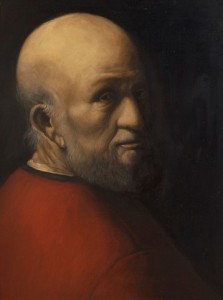 The painting courses are customized to the needs and skill-level of participants and range from one week to a month or more.
"Since I started my art training relatively late in life, the sacrifices I have had to make and the challenges I have had to face in learning have helped me become a sympathetic teacher," Gary says. "Each student is treated as a unique individual with specific needs and my teaching methods respond accordingly."
For more about the program, visit the The Florence Art Studio website.
And you'll love shopping for art supplies in Florence…
At a lovely FAS reception one evening, I had the pleasure of meeting Alessandro Zecchi whose art supply store, at Via dello Studio 19R, is world-renown for reproducing paints and materials used by Renaissance artists.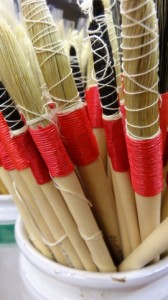 On a recent tour of the Zecchi store, Alessandro showed me an Italian-made brush with red string wrapped around the wooden handle. "This is the same type of brush Michelangelo used," he told me. (The red string is used instead of metal, which is easily corroded by lime.)
At Zecchi, there are brushes made of squirrel fur, sable and hog hair. You'll find parchment skins, papyrus sheets handmade in Sicily, feather quill pens, and silver-point styluses like those used by Leonardo da Vinci.
One of the most exotic items in the shop is lapis lazuli pigment extracted from stones mined in Afghanistan – the same mines mentioned in the writings of Marco Polo. "Even with the war on there, it's possible to get the stones on the black market," Alessandro says. "They come from near the border, in the north, in a valley called Badakhshan. They go out easily – through China, Russia or Pakistan."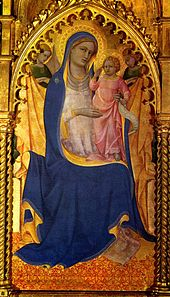 In the Renaissance, lapis lazuli was used to paint the robe – the "mantle" – of the Virgin Mary. Today, as was true then, it is the most precious and expensive of all pigments.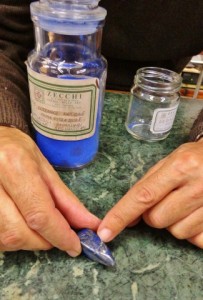 Alessandro showed me a lapis lazuli stone. The trick is separating the blue pigment from the pyrite, he says. "It's a difficult process. We have it done for us here in Florence by craftsmen who have a secret recipe."
Many of the old "recipes" used by Zecchi for their art restoration products come from a 14th-century handbook, by Tuscan artist Cennino Cennini, called Il Libro dell'Arte, a comprehensive guide to the supplies and techniques of Renaissance artists. From this ancient recipe book, Zecchi has replicated the colors of egg tempera paints used in the 1300-1400s.
Even if you're not an artist, the Zecchi store is worth a visit – if just to hold a Michelangelo paintbrush or a Leonardo stylus.
Photo credits: FAS – studio interiors, fresco detail and painting (a study by Gary Adcock of a portion of "The Three Ages of Man" by Giorgione)