I love doing my holiday shopping in Florence at the annual Christmas Bazaar, held by the philanthropic nonprofit American International League of Florence. Founded in 1975, the League has raised more than €400,000 – well over a half million dollars – for local charities over the years.
The "reindeer" pulling this charitable sleigh are lovely women, mostly with American, British and Irish accents. They typically wear red antlers – at this year's bazaar, one wore flashing LED earrings given to her by a Canadian friend.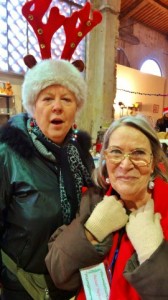 "Where are you from?" I asked the reindeer wearing earrings.
"Ireland," she replied, with more-than-a-trace of her native accent. "But I've lived in Florence for 50 years."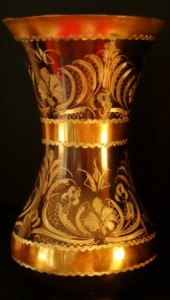 The tables were loaded with a jumble of treasures, some gently used – and some much-loved once, I sensed. Some have come from world travels – many Americans and Brits in Florence have been in the diplomatic service. For a mere €3, I purchased a tiny copper vase and imagined the story of its travels.
There are lots a handmade Christmas decorations, baked goods, toys, books and clothes (there's a frenzied search at the racks for garments with Italian designer labels).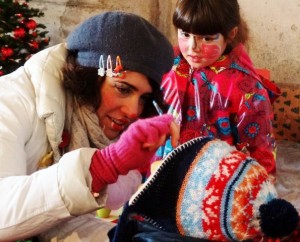 Sweet elves come to the bazaar. Some paint faces…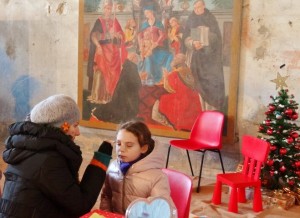 with Baby Jesus looking on. >>>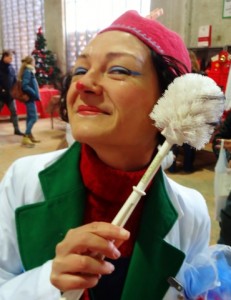 One elf had a sack of interesting items, including a toilet bowl brush.
"Is that your magic wand?" I asked her.
"No, it's my hair brush," she replied, showing me her curling technique. "Would you like me to do your hair?"
"Maybe later," I said as I took a BIG step backward. 😉
General Electric has a large operation in Florence and generously supports the Bazaar. GE employees help out with the food service (the grilled burgers are good!) and the heavy lifting involved with staging this labor-intensive event.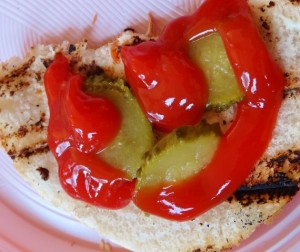 I sat with friends under the arcade of the historic grand hall where the bazaar takes place. The building was home to the Royal Stables, in the 1860s, when Florence was temporarily the capital city and Italy had a king.
It was a beautiful wintery afternoon – a little nippy, but a sunny day. I savored my burger – especially the ketchup and pickles that looked so Christmas-y together.
An Italian friend of mine, who wolfed down his burger, clearly was content…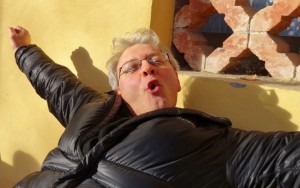 This year's Babbo Natale (the Italian Santa Claus) – a GE employee from South Carolina – was a big hit with all the kids, except for one little girl named Olivia, who kept her distance. She's the granddaughter of my American friend Jean – and when I met Olivia at Thanksgiving, I made friends with her by singing her favorite song, "Itsy-Bitsy Spider."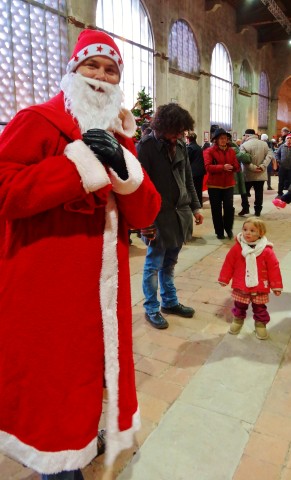 Despite all sorts of coaxing, Olivia, almost 2, wouldn't go near Babbo, who had crouched down at her eye-level about ten feet from her.
I whispered to Babbo, "Do you know 'Itsy-Bitsy Spider'?"
"I sure do," Babbo said.
I wish I had a video of Olivia's face as Babbo and I sang our 'Itsy-Bitsy' duet. You could almost read her mind as she looked from me to Babbo, thinking: Well, maybe this strange guy in the red suit isn't so bad.
She kept her safe distance. But as she turned to leave with her dad, she pointed at Babbo…and then blew him a little kiss. As if to say, See you next year – maybe I'll come closer when I'm almost 3.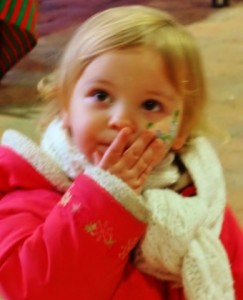 I bought a few ornaments to put on my as-yet-to-be-purchased Italian Christmas tree.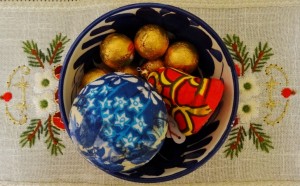 Heading home with my sack of goodies in hand, I paused outside the old stables for a moment, inspired by these trees decorated by Madre Natura herself…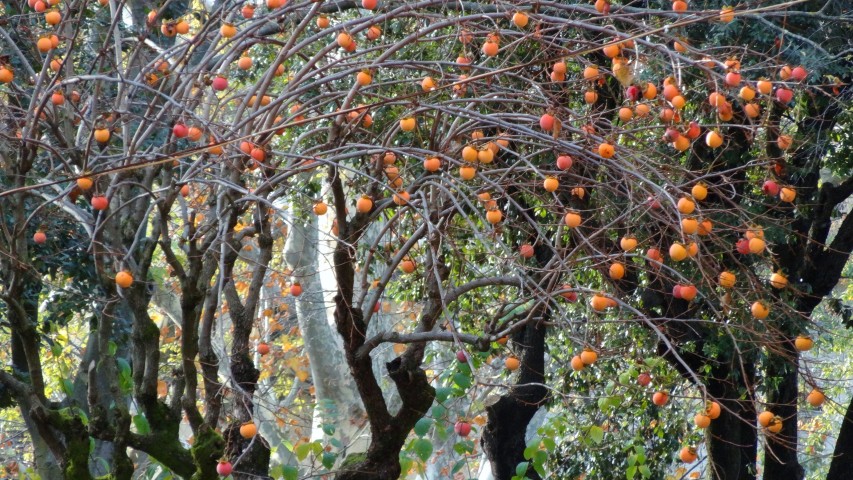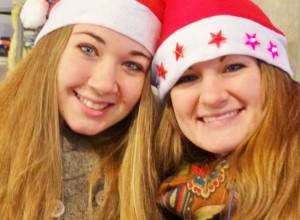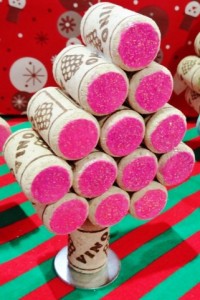 A very Italian Christmas tree

  >>>