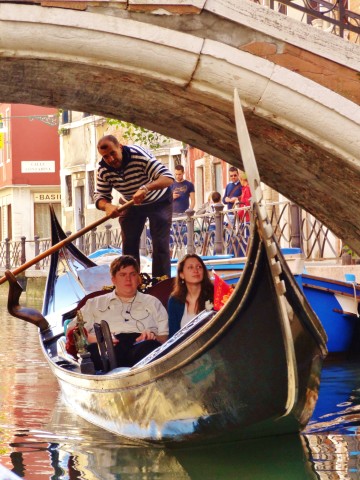 It's called acqua alta (high water) when the lagoon around Venice rises and floods the city. A seasonal phenomenon caused by wind and high tides, it usually occurs between November and January. This year, the season arrived early with a vengeance – clearly, the gods of climate change need to be appeased.
But Venetians are undaunted. For years, they've relied on a siren alert system that gives residents and merchants a 12-hour advance warning.  Now, in the modern age, they get text messages that predict the time and depth of the flooding. Sandbags and pedestrian platforms are at the ready. Thigh-high waders are standard issue. The flooding usually doesn't last long – the water recedes in several hours with the tide.
I arrived in Venice a week after the first acqua alta of the season and fled several days later, on the eve of the second. My arrival day was gorgeous and sunny – with no hint of what was to come.
As I stepped off the train, I channeled the spirit of Katharine Hepburn in David Lean's romantic classic Summertime, filmed in Venice in the early 1950s. However, unlike Kate with her pile of matching luggage, I had only a small roller bag.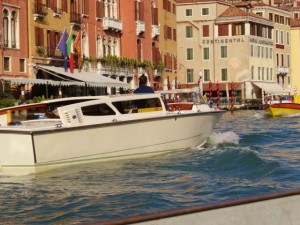 It's when you walk outside the train station in Venice that you remember that taxis and buses don't exist in this floating city – at least, not ones with wheels. The station sits on the Grand Canal, the main traffic artery, where gondolas, motorboats and large passenger ferries called vaporetti churn their own tide.
Before I got to the water-taxi queue at the dock in front of the station, I was intercepted by a friendly Italian guy who not only offered me a discounted fare but offered to valet my bag. Sounded like a good deal to me.  I followed him through the crowd, to another dock, where his buddy was waiting.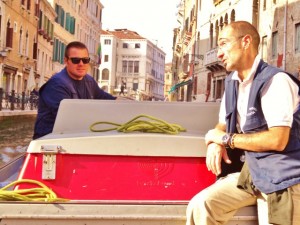 I suppressed a giggle. The typical water taxi in Venice is a sleek motorboat with a covered cabin and leather upholstered seats. My taxi looked more like a fishing boat. In fact, I'm pretty sure it had been a fishing boat earlier that morning. The co-pilots helped me board. I took a seat on a weathered, red plank – and off we went.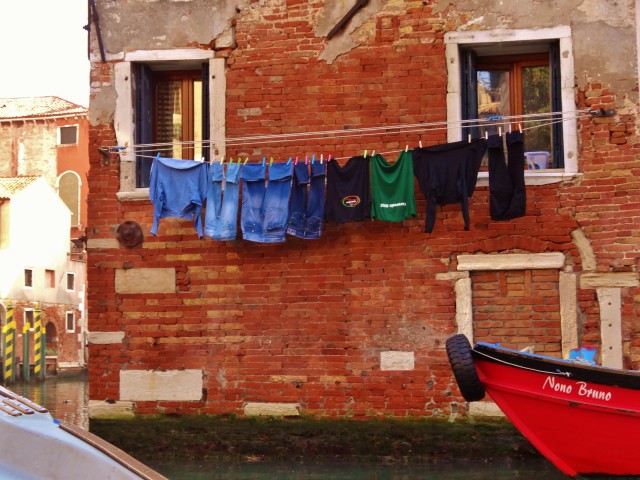 I immediately suspected these guys weren't licensed for commercial transportation. We traveled the back canals and, in a high-speed maneuver, crossed the Grand Canal and took a sharp right turn – narrowly avoiding a collision with a gondola.
"Oy-eee!" the gondolier shouted as we rounded the corner. He waved wildly and pointed: There was gondola gridlock ahead.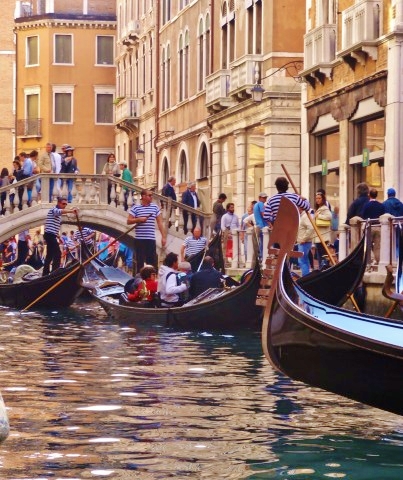 I watched in amazement as the gondoliers deftly steered their boats clear of each other, standing on one leg as they pushed off a wall with the other.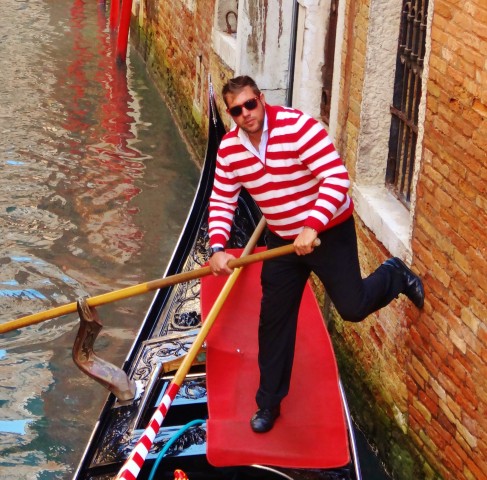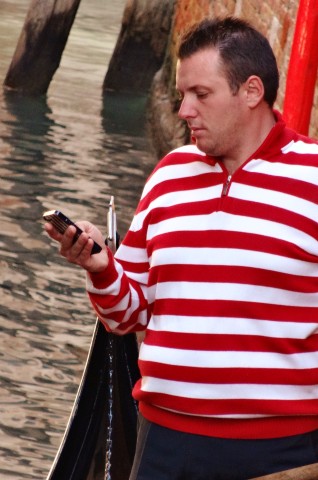 In the modern age, gondoliers are adept at paddling, steering, and pushing off walls, while texting and chatting on their cell phones.
I arrived safely at my hotel. As promised, my Italian fisherman gallantly rolled my bag to the front door.
On the evening of my departure, with rain lashing and the lagoon rising, the hotel's front-desk clerk called for a proper water taxi to take me to the station. I sat in a heated cabin on a leather-upholstered seat, glad for cover and comfort on a stormy night.
By 10:30 the next morning, at the peak of the acqua alta, the low-lying parts of the city would be submerged under 30 to 40 centimeters (about 12 to 16 inches) of water.  A mere puddle compared to the near-record acqua alta that flooded Venice last week: the water was 149 centimeters (4 feet, 9 inches) deep in Piazza San Marco, where these tourists made the best of it…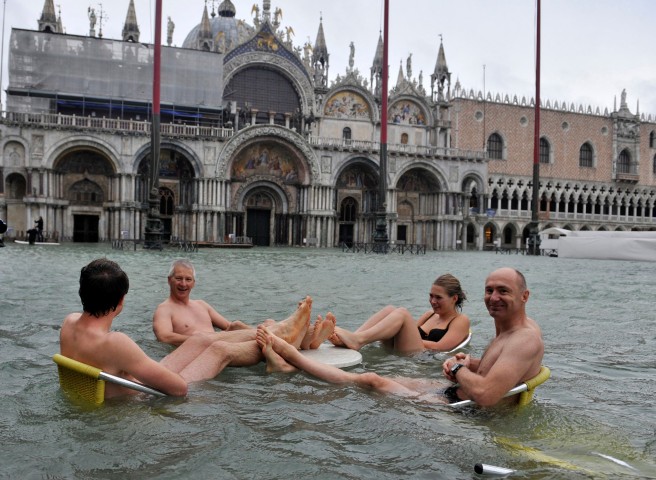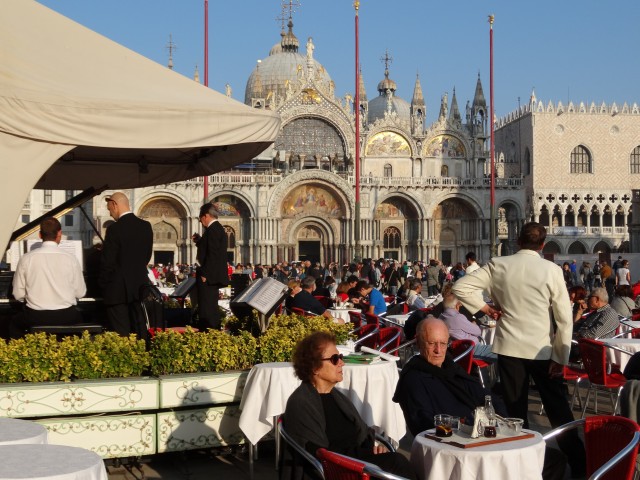 View of the piazza two weeks earlier >>>
Photo credit: Acqua alta sunbathers – by Luigi Costantini