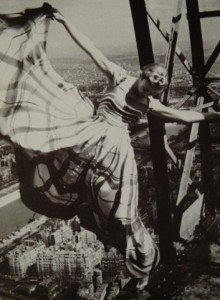 As a single woman traveling solo, I've had few romantic encounters.
I don't seek male attention – it just happens. In a cafe or on a train or while spinning a postcard rack in a bookstore. Or while hanging off the Eiffel Tower.
<<< This is my Inner Adventuress tossing caution and skirt to the wind.
The most romantic encounter of my life occurred in Paris. I'm convinced there's something in the air there…
The hint of romance is everywhere you turn.

As you stand at a street corner >>>>>>>>>>>>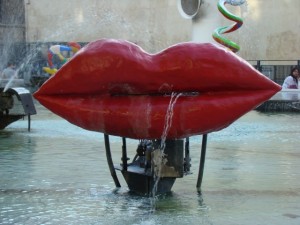 <<< or pass by a fountain.
Parisian men are shameless flirts. They blow kisses at you from open windows. They approach you on the street, wondering if you're lost or if you'd like to join them for a drink. They always ask the same two questions: Are you married? Are you alone? The answer to the first question doesn't matter. But if you say yes to the second question, the chase is on.
It's all in good fun, if you're up for the game of it.
But you never know…you might just have a romantic encounter that makes the world stop spinning for a moment.
Because in Paris, love is in the air…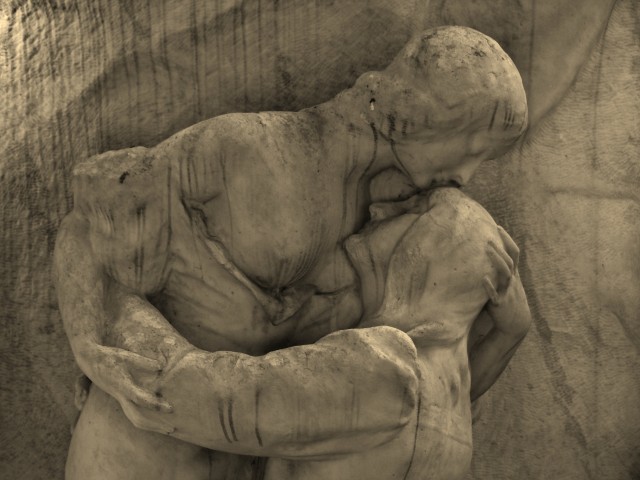 ♥ Happy Valentine's Day, everyone. ♥
PHOTO CREDIT: (top left) Erwin Blumenfeld – Sur la tour Eiffel, Paris 1938