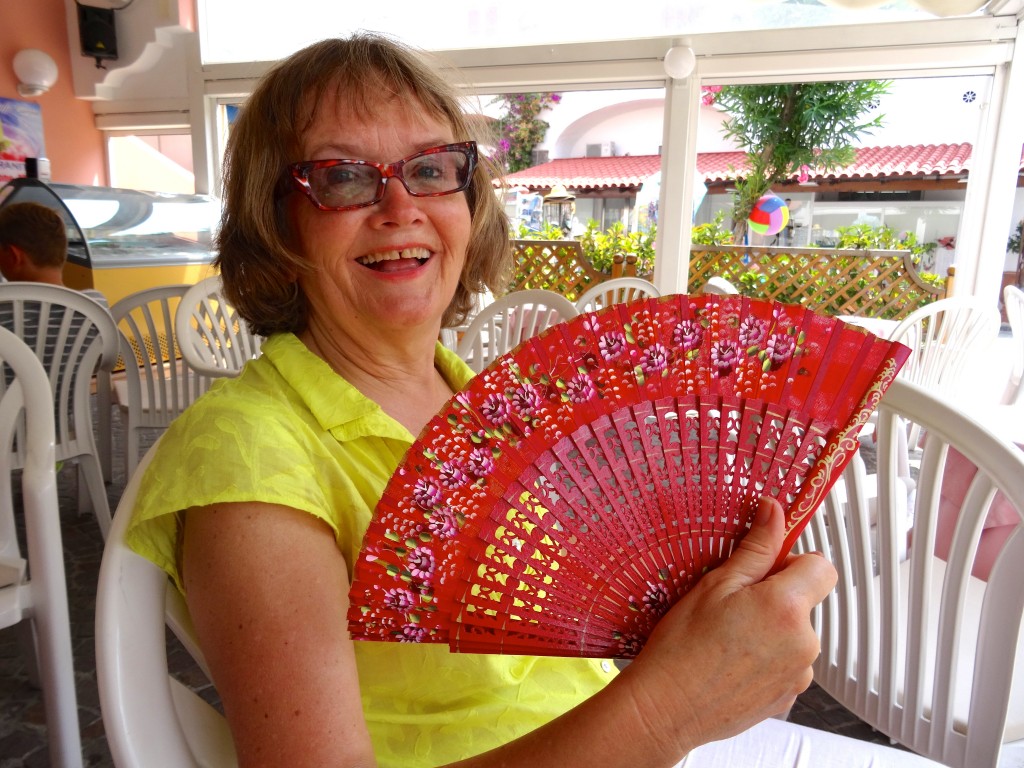 You know you've had a wonderful summer vacation when just looking at your photos, a few weeks later, sends you into gales of laughter. I was bent double one night as I uploaded pix to send to my dear travel buddy, the women you've read so much about on this blog in recent weeks — Australia's esteemed and beloved Dame Washalot, Sue Farrelly.
As you know by now, my meticulously turned-out Aussie friend — who never travels without a clothesline, stain remover and an iron — joined me in Provence a month ago for an epic adventure that took us to the lavender fields of the Luberon, the charming Sardinian fishing village of Bosa and the thermal waters of the island of Ischia. It deeply forged a friendship that started six years ago during a chance encounter at Lake Como.
What makes Sue and me such good travel mates is our shared sense of adventure and humor. No matter what — no matter how lost we are, how tired we are, or how hot we are (a big issue in this summer's record-breaking heatwave in southern Europe) — we always find something to laugh about.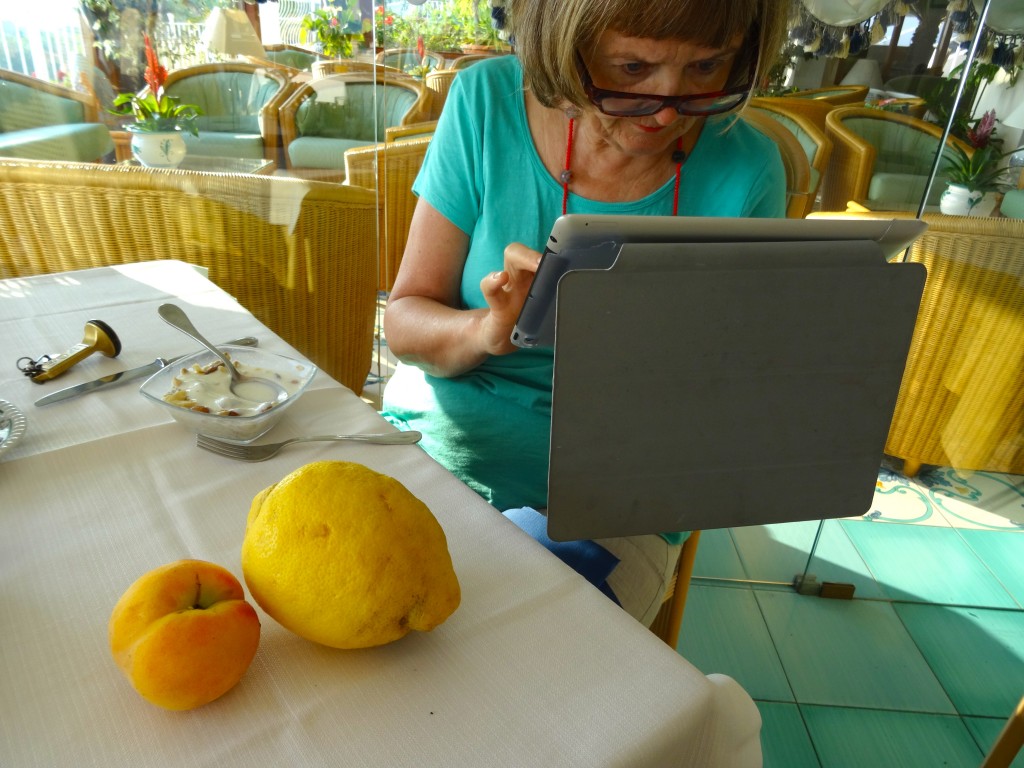 We were feeling the delirium of a travel day as we sat on a ferry from Naples to the island of Ischia. Sue, who slips into oblivion with her SIM card-equipped iPad, looked up from the screen and said to me, "We're getting a late start. Weren't we supposed to leave 10 minutes ago?"
"We did leave 10 minutes ago," I said, giggling as I pointed out the window at the port of Naples, disappearing in the distance.
That's when I pulled out my journal and started a new chapter: Laughs with Sue.
It's easy to slip into brain fog on a long travel day. Sometimes you just forget whether you're coming or going. That's when a travel buddy comes in handy. Sue and I were at the airport of our destination on one leg of the trip. We had ducked into the ladies' room to freshen up before meeting our pre-booked taxi driver at the curb. I watched Sue go through her mental checklist of items not to be left behind. Her hands moved from her hat, to her backpack, to her handbag — and then she walked out the door.
"Yoo-hoo, Su-u-e," I called after her.
She poked her head around the corner. "Yes?"
"You forgot one little thing," I said, pointing at the suitcase she had left behind.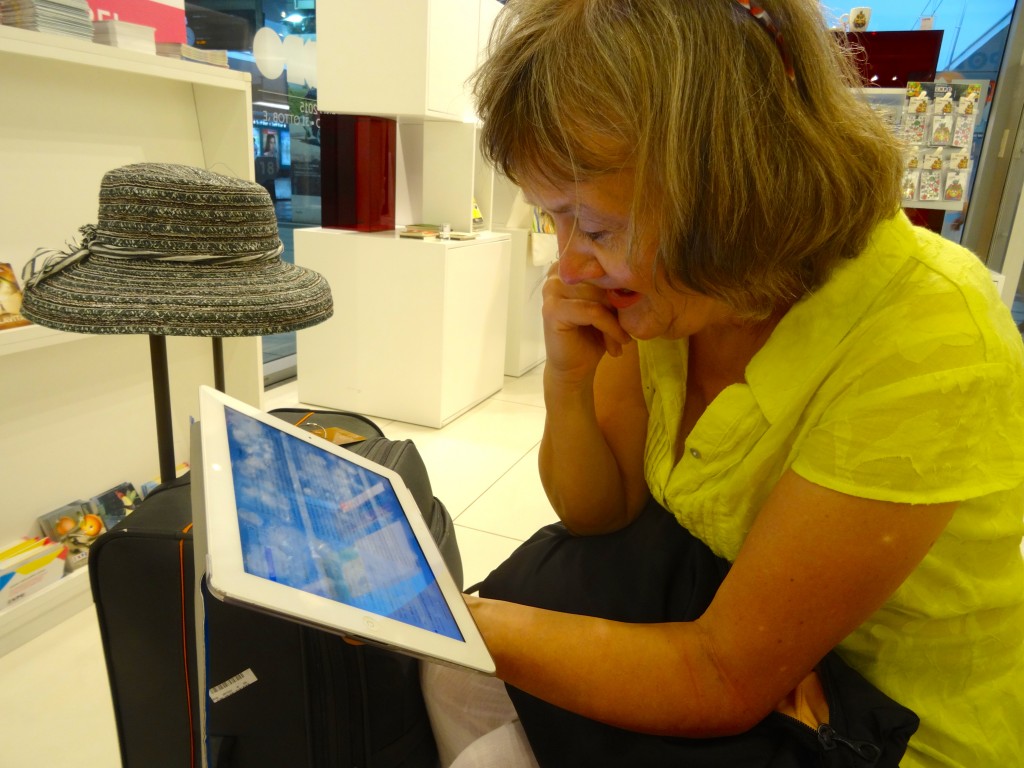 Sue's brown suitcase, named Pierre (Cardin), and my red suitcase, named Ruby, became good friends on this summer's trip. They each performed heroically. Ruby devoured a market basket and a Kashmir art rug without a hiccup or me needing to unzip her expansion panel. Pierre served stoically as a hat rack, as seen here. >>>
One day as we were planning our day's itinerary, Sue began scrolling on her phone. I thought she was checking the ferry timetable, only to discover that she was scrolling through photos of her travel outfits.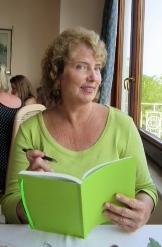 "See, this is the blue dress I wore in London," she said, showing me a fetching frock in blue.
"You have an album of travel outfits?" I asked in reverent amazement. Sadly, I don't have a travel-frock album, but I have a journal to match every outfit, as Sue <<< documented here. 😉
Caring for our travel wardrobe on the road is a high priority with Dame Washalot. Truly, a day doesn't go by without Sue rinsing out her linens and delicates at the bathroom sink. She noted a stain on one of my tops and demonstrated how to use her "magic" stain-remover spray, with the help of "a little agitation."
In this Lucy-Ethel duo, I'd win the prize for klutzy physical comedy — like the morning at the breakfast "bio" buffet when I accidentally poured the entire pitcher of soy milk (I didn't notice that it had a capped lid, with no spout) all over the table and floor, with deep soy puddles in the tubs of "bio" jam. Then there was the evening I knocked a few little flower pots off the patio wall of a trattoria, as I was taking a photo. I put them back on the wall and as I turned, my skirt caught them, knocking them over once again. As I picked up one pot, the plant came out of it — sending me into shrieks of laughter. Soon afterward, a couple from California at the next table gifted us with what was left of their bottle of wine. I'm sure some guests where thinking, Don't you think she's had enough to drink? (I hadn't had a drop prior to tipping the pots, just so you know.)
We had a cab driver splitting his sides one night as Sue, ever the executive producer (she produces award-winning musicals in Australia), instructed him to turn down the driveway to a hotel that wasn't ours. "Bet he loves getting directions from a tourista," I said to her. More squeals of laughter. As we disembarked, the driver said to me, in Italian, wiping tears from his eyes, "You have a beautiful laugh." Una bellissima risata.
It was a holiday filled with beautiful laughter. As the train sped toward Rome, where Sue would leave me to begin her return trip to Australia, we both looked sadly at the clock above the train compartment door.
"Only a half hour more," Sue said.
I felt like we were school girls, at the end of the year, who wouldn't see each other again until September. Except that our next rendez-vous is a year away.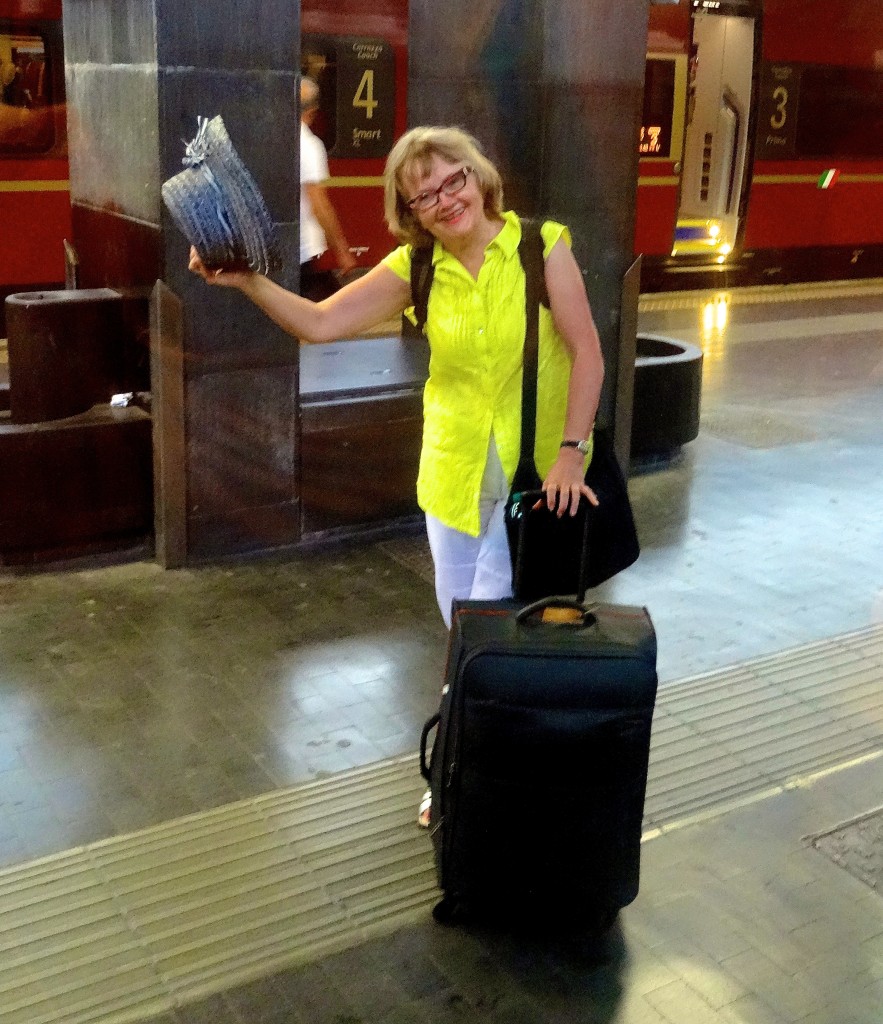 When the train rolled into the Rome station, Pierre gave Ruby an affectionate bump as Sue wheeled him to the door. We off-loaded him to the platform, and then Sue and I had a big long hug.
"If laughter is the best medicine," she said, "we're going to be in good health for a long time."
I sure hope so. I'm looking forward to many more adventures with Dame Laughalot.
I took this photo of her, tipping her hat in theatrical style, as the train pulled away. The photo is slightly blurry – and so were my eyes. As she disappeared from sight, I missed her already.