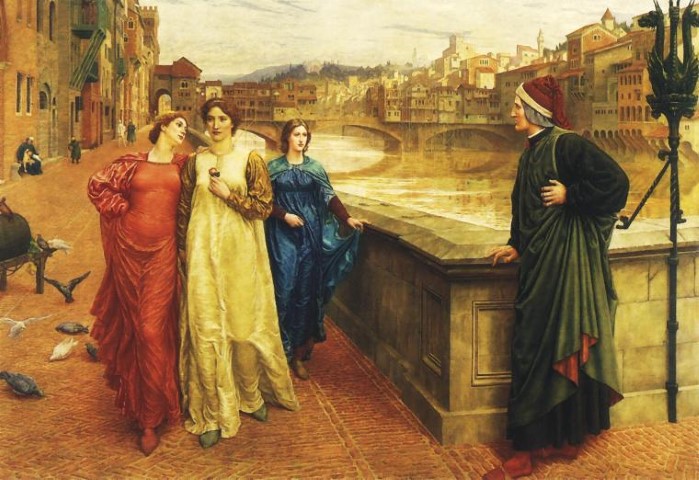 In the lore of Florence, two characters are center stage: medieval poet Dante Alighieri and his beloved muse Beatrice. It's said they met only twice, yet she inspired him to write reams. (In this 1883 painting by Henry Holiday, Beatrice is in creamy white, in demure contrast to her tarty friend in red.) She married another man and died at the age of 24, but her memory burned bright in Dante's heart.
They supposedly met at or near a little church in Florence – tucked away on a side street, across from what is now the Dante museum. Tour groups travel that street and sometimes noisily barge into the chiesa, but only the most reverent linger.
Those who visit this church are lovers, mostly – those in love or those who hope for love. Sometimes they come as couples. Many visitors are women. They come together – girlfriends, sisters, mothers and daughters. Sometimes a woman comes alone. The women alone tend to stay a long time. This little church is a place I've visited often.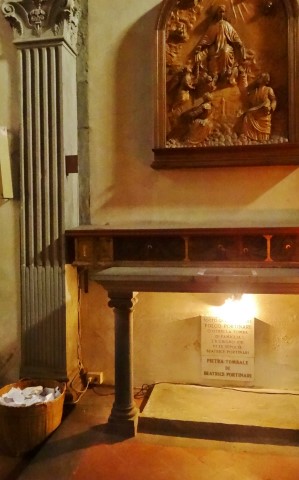 There's an altar in the church, over a tomb where Beatrice is supposedly buried in the Portinari family crypt. (No one is sure she's really buried there, but that's not the point. It's a shrine nonetheless.)
Next to the altar is a basket that contains messages to Beatrice. Most people don't even notice it. It's filled with notes and letters – some torn from notebooks and travel journals. Some are lovely, written on little notecards made of Italian paper. They're full of love, hope and heart-felt prayers.
One day, sitting on a pew next to Beatrice's basket, I saw a note scrawled on the back of a Florence map: Milo and Rodrigo – Love forever. Married this year. Happiness.
Another, written on a paper napkin, said: Dear Beatrice, I would like to have a boyfriend.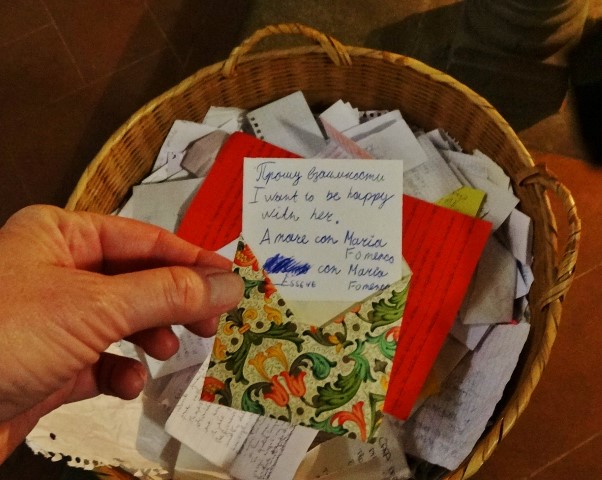 On a recent visit to the chiesa, I, too, put a note in Beatrice's basket. I wrote it both in English and Italian – my first attempt at writing about amore in another language.