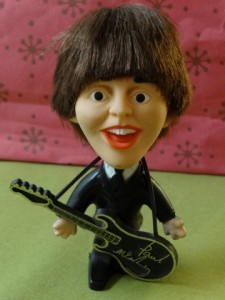 As New Year's resolutions loom large, so do the storage bins at Target – have you noticed? Come January, storage bin makers bank on the resolutions we make to clean closets and get organized.
But before you stock up on bins, ask yourself two questions: Will I remember what's in that plastic tub a year from now? Will I care?
I've become hard-hearted when it comes to saving STUFF.
When I sold my lovely home in 2008, I had stacks of STUFF. Closets, cupboards and cabinets filled with STUFF. I had lived in that house for 22 years. When you haven't moved in more than 20 years – even 10 – there's a lot of STUFF to deal with.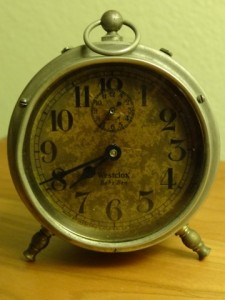 By the time I moved to Italy the following year, I had gotten rid of more than half of everything I owned. I can't tell you how good that felt.
I admit there were moments during my purge when I felt my heart catch in my throat.
Before I left for Italy, I decided to scale down from two storage units to one. That meant getting rid of most of my furniture. The heart-catching moment was when I saw four chairs on a dolly about to be loaded on a truck headed for a charity consignment shop. Those four chairs represented chapters of my life: the rocking chair that my parents had rocked me to sleep in as a baby and where I had rocked my own son to sleep; the oak press-back chair I sat on as a young girl while doing my homework at my desk (which was already on the truck); a bentwood Amish rocker I had purchased on a trip to Pennsylvania; and a French-made reclining patio chair where I used to relax in my garden.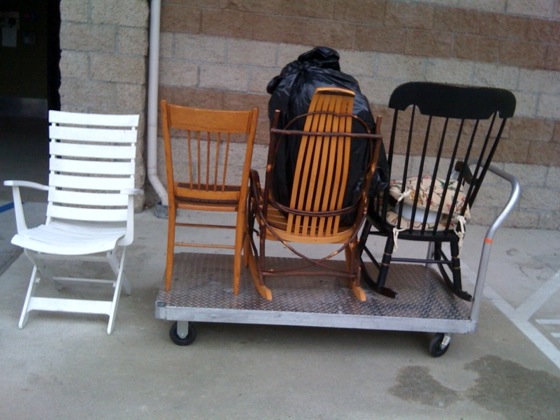 After I took this cell-phone photo of the four chairs, I walked over to the rocker from my childhood and gave it one last gentle push.
Let go, move on, I told myself. It's just STUFF.
In all this purging, I sensed the risk of donor's regret, of realizing in a year that I'd tossed out a precious keepsake – like my Paul McCartney doll. So I filled a tote bag with small treasures – each with a memory of a special person, place or phase of my life. Inside:
my beloved Paul
a 1910 Baby Ben alarm clock
three hand-painted cigales from Provence
a silver teaspoon set from New Zealand
an elegant Persian pencil box
a blue-glass vase that belonged to my mother's mother
a blown-glass paperweight that belonged to my father's mother
my son's furry best friend from childhood – a pink Walrus named "Wally"
I should mention that Wally escaped the tote bag before it went into storage and showed up in one of my duffel bags when I arrived in Italy. He's now writing his own book. 😉