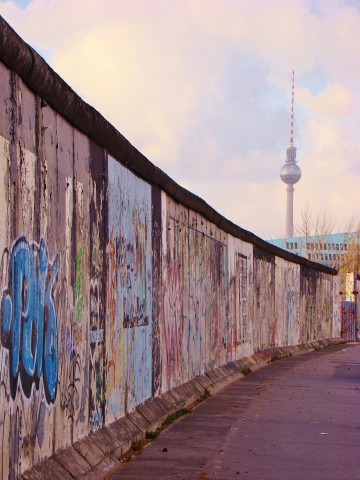 In 2008, a couple of weeks before the U.S. presidential election, I mailed my absentee ballot from Berlin, Germany, where I was visiting a close friend.
It was a surreal experience, walking to the post office at Alexanderplatz, Berlin's famous square, in what had been the eastern Soviet-controlled sector of the city during the Cold War.
I flashed back to my grade school days, remembering an article in Weekly Reader (so sad to hear of WR's recent demise) about a long wall that had been built here. It separated families. If you got too close to it, you might get shot. Even so, some tried to climb over it. Some tried to tunnel under it. Some hid in the trunks of cars – even underneath cars – trying to sneak past border checkpoints. At age 8, I couldn't quite comprehend it.
As I handed over my ballot at the Alexanderplatz post office, I was glad that the German woman behind the counter spoke a little English.
"It's important that this arrives in time," I told her, hoping she'd understand me.
She looked at the address and smiled. "I will take care of it," she assured me.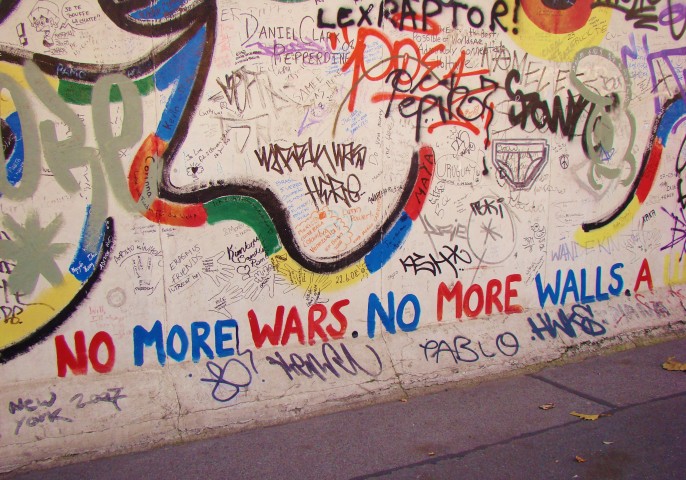 A few days after I cast my vote, I went to see a section of the Berlin Wall that stands as both a memorial and a political mural. Called the East Side Gallery, it stretches a half mile along the River Spree. I walked along the east-facing side of the wall in what had been No Man's Land. Ahead, in the distance, I could see the Fernsehturm, the television tower built in the late 1960s by the East German government as an imposing symbol of strength. On my way to the post office, I had walked past the tower. Unbelievably, at its base, there's a Starbucks.
Fast forward to 2012: Two weeks ago, I voted again from abroad. This time, I mailed my write-in ballot (my official federal ballot has not yet arrived) at the train station in Florence, Italy. The station, built in the early 1930s, is an iconic architectural landmark of Italian modernism – its design won a competition endorsed by Benito Mussolini, Italy's fascist leader in the years leading up to World War II.
Next to Platform No. 6, there's a plaque in memory of the many Jews sent by train from Italy to Nazi death camps during the war. I wonder how many travelers who pass through this station – an estimated 59 million each year – have noticed it.
Recently, on a visit to a tiny hilltop village in the Tuscan countryside, I was surprised to see, painted on the side of a building, a Mussolini slogan: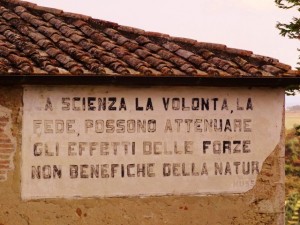 Science, will, faith can mitigate the effects of non-beneficial forces of nature.
I thought it ironic that, though his words remain on the wall, Mussolini's name has nearly crumbled away – the effects of the "non-beneficial" forces of nature, it seems.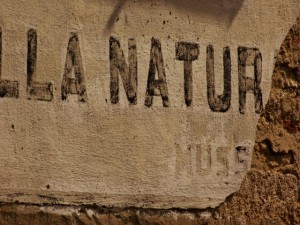 Mussolini's fading presence in this quiet village, with its authentically vintage telegraph sign still intact, stands as a sharp reminder of what transpired in this now peaceful place.
It's difficult to imagine armies advancing and retreating through these bucolic hills and vineyards. But I give you this…a photo taken on July 3, 1944 as Allied tanks arrived in the Tuscan town of Cortona – more famous these days as the setting of Frances Mayes'  poetic ode to Tuscany, Under the Tuscan Sun.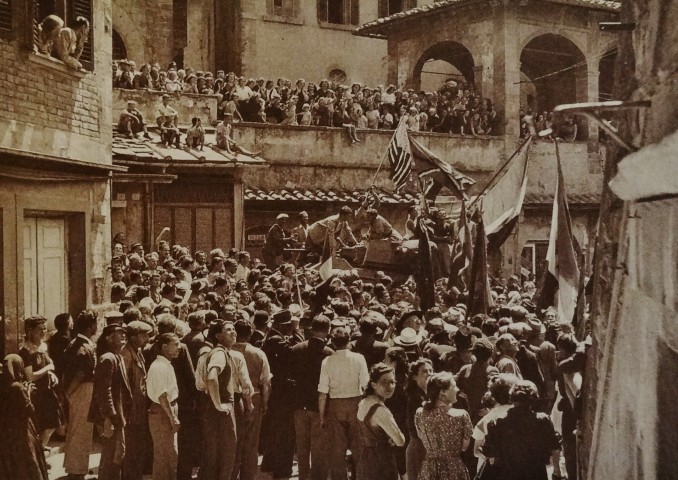 In many towns and cities in Italy, you'll find a street named for the day the Allied Forces arrived. In Florence, it's Viale XI Agosto – commemorating August 11, 1944.
As I sat with with friends around a table in that tiny Tuscan village where Mussolini lingers – savoring a luncheon feast of meats, cheeses, bread and fruit – I knew I'd long remember the bounty and beauty of that day. We each had traveled great distances to enjoy this moment of la dolce vita together. But our life journeys were even more remarkable – certainly shaped by will and faith as we each pursued our dreams, but all born of great sacrifice by those who have fought for freedom through the ages.
I was dismayed to hear today, in a TV news report, of the staggering number of Americans who have decided not to vote in this election. Have we not learned lessons of recent history about the importance of every vote?
When you don't exercise your right to vote, in essence you snuff out a candle. Your own. When that light goes out, you lose your voice, your power to make a difference – and if you're not a student of history, you won't even notice the darkness nipping at your heels. Until it's too late.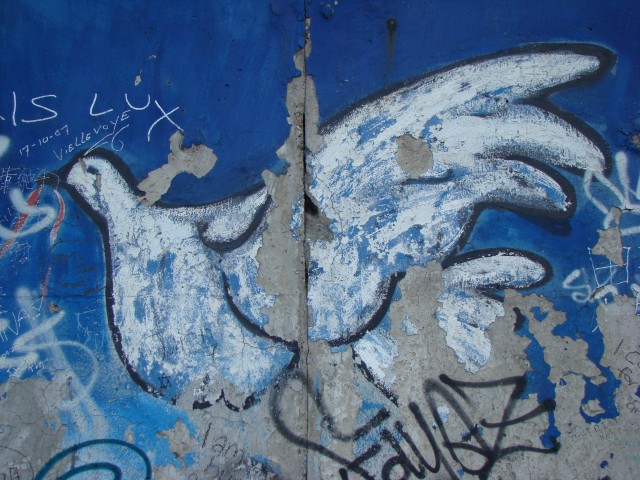 Dove of peace on the Berlin Wall