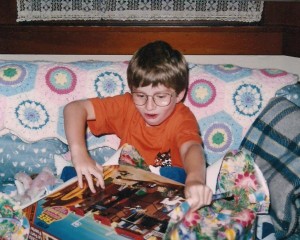 Tomorrow, my son Colin graduates from college. It doesn't seem possible.
Being Colin's mom is the sweetest joy I've ever known. I've loved watching him grow into the wonderful young man he has become, from the 4-year-old who loved nothing more than dumping a bucket of blocks on the floor, exclaiming, "Mom, let's build a dinosaur!"
Anything that comes with 1,000 pieces and a 40-page instruction manual makes my sweat glands rupture, which is exactly what happened the first time a giant T-Rex slowly rose from our coffee table. When we finished (after several challenging hours), I was tempted to spray-glue the thing together so we'd never have to experience that mind-bending activity again.
But eventually, T-Rex was reduced to chunks of blocks that went back in the box, which I stashed in the back of the closet – way back.
A few months later, Colin said, "Mom, let's build the dinosaur again!"
I quietly groaned as I heard 1,000 blocks hit the floor in the next room. About 20 minutes later, I went to face the 40-page manual. I found Colin sitting on his little chair by the coffee table, where T-Rex's feet were firmly planted and his hefty thighs were taking shape. Colin was already on page 10.
Astonished, I asked, "Colin, how did you do that?"
My adorable 4-year-old looked at me and shrugged. "I just used the mind that's in my head."
It was then that I knew that the mind inside his head was nothing like mine.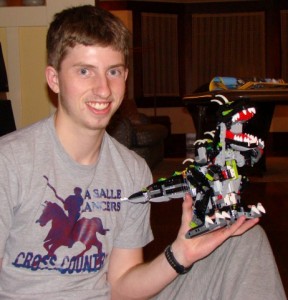 Little did I know that T-Rex would launch a boy on a thrilling odyssey that eventually would take him into the realms of Newtonian physics, thermal dynamics, polynomial equations…and beyond.
Tomorrow, Colin graduates with a degree in mechanical engineering from UC Berkeley, where he'll begin his graduate work in the fall.
Here's my adorable son, all grown up, with a robotic T-Rex that roars >>>>>>>>>>>>>>
Colin, not only am I proud of you, but I'm so happy you're doing what you love. Toss your cap high and go after your dreams.