Not a True Story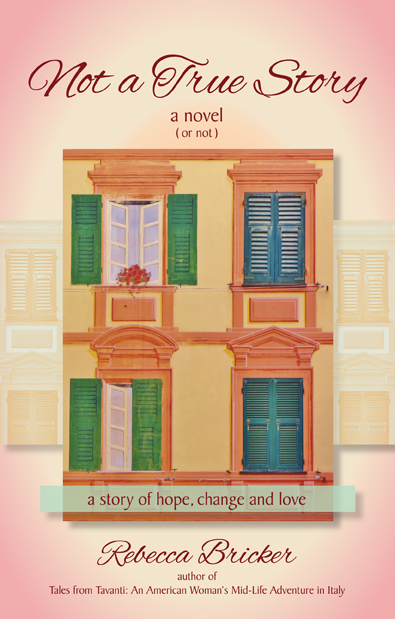 The story of Jenna begins on a train ride from Florence to Rome. She's 58, divorced, with a son in college. She has no permanent address. She's been traveling much of her life and—like many middle-aged women—has come to Italy to find la dolce vita and renewal.
And perhaps, a lover. Why not?
For starters, there's a masseur at a Tuscan villa-hotel, who…well, you'll see. (This story has some racy bits—just so you know.)
As Jenna writes about her travels and shares her stories, she comes to realize how stuck and alone many women feel. The question they ask of her: How do you find the path to the life you want?
I think of Not a True Story as a "novel (or not)." Parts of the story spring from my life. (Writers tend to write what they know.) Some of it is pure fiction and a good bit of it is somewhere in between.
It's not important to know what's real and what's not in this story. The underlying truth of Not a True Story is known to every woman who has dealt with heartache in the face of divorce, an empty nest, illness, the failing health of parents, the death of loved ones—and the longing to find love again.
It's NOT a sad story in the end. As the story unfolds, Jenna grapples with these issues, knowing that time is marching on. In her solo travels at mid-life, she experiences a cathartic reckoning that transcends loss, missed opportunity and unmet expectations—and discovers a love that bloomed in her old backyard.
My hope is that book groups will read Not a True Story. I've included a discussion guide at the end and am happy to join in the conversation on Skype. Please feel free to contact me.
There's a lot in this book for women to talk about. We've all lived parts of this story.