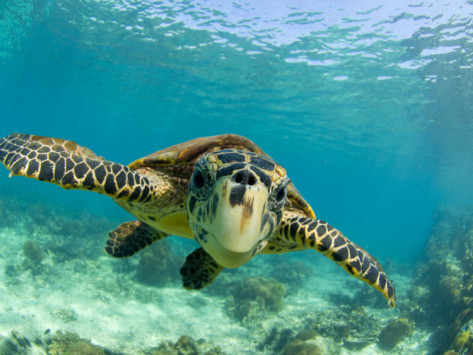 When I talk to women about traveling solo, the issue of safety always comes up.
In my solo travels over the years, I've made a few wrong turns – literally and otherwise. Nothing horrendous. But I've had moments where I've said to myself, "Take a lesson here."
Whether I'm halfway around the world or a block from home, I rely on an inner alert system – triggered by a feeling I experienced once while swimming at the edge of a cove.
On a solo visit to Maui several years ago, I found a cove inhabited by sea turtles, near where I was staying. Every morning, I donned my snorkel gear and swam out into the cove to observe these lovely creatures.
At first, I kept a safe distance. But sea turtles are curious and engaging, and I soon had a 400-pound playmate. The first time he swam up to me, I nearly freaked out. We were almost nose to nose. I frantically back-pedaled away from him, but he kept coming closer, no doubt wondering who this odd creature was with the face mask and breathing tube. And then I realized he wanted to play. I popped my head above the water and he did the same. This went on for about ten minutes before he grew tired of the game.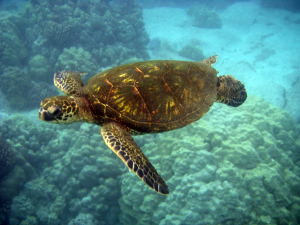 As he began to swim away, he looked back at me as if to say "C'mon!" So I followed, but could barely keep up with him. His flippers were like wings, flapping gracefully, but powerfully.
We swam together all the way to where the cove met the sea. And suddenly, I sensed a change. The water was colder, the current stronger. He swam out into the ocean, but I pulled up. As I wistfully watched him bob in the surf, I knew I must turn back.
When I travel alone, I sometimes find myself at the edge of the cove – at that thin line between safety and risk. It's a line you can easily cross, especially if you're caught up in the adventure of the moment. Suddenly you turn a corner (literally or otherwise) and realize you might be out of your depth.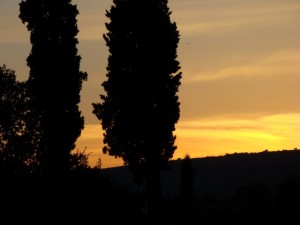 I got lost one night on my way back from dinner in a Provence village. The B&B where I was staying was only a mile from town. But I had turned down the wrong road – and, as I later learned, there are 12 roads leading from the village that look pretty much alike in the dark. Fortunately, I had the cell number of the B&B owner, who was out to dinner with friends. He stayed on the phone with me, directing me remotely through a labyrinth of country lanes, until I was safely back at the B&B. The next morning at breakfast, I heard that one family had spent an hour trying to find their way back from the village. At least they'd had each other for comfort.
An obvious lesson from that experience is that it's good to travel with a GPS device (which I didn't have) and a phone, assuming you can reach someone who can help you in an emergency. But I also learned a lesson about traveling smarter.
After that experience, I decided to enjoy my evenings at the B&B so that I didn't have to drive on unfamiliar roads at night. Each evening, I'd make a picnic supper of goodies I had picked up at the market that day –   a baguette, tapenade, pâté, goat cheese, lavender-flavored honey, a juicy melon. I'd uncork a bottle of wine and watch the sun set. I always kept a few glasses at the ready. My little garden patio (pictured here >) became a popular gathering place for fellow guests at day's end.
Staying in the cove doesn't mean you miss out on all the fun. The day after my turtle friend swam out to sea, I returned to the cove for my morning swim. And who do you think was waiting for me? In fact, he was there every morning, ready to play.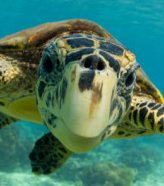 Sea turtle photo credits: (top/bottom) Inaki Relanzon, (middle) www.seaturtlenet.com