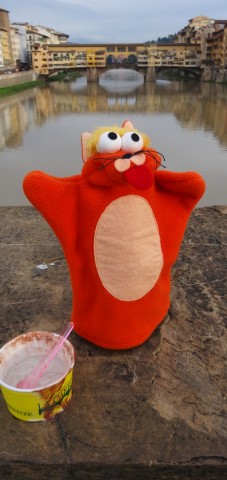 Today, as the Muppets marched in Washington, D.C. – to tell everyone about the importance of keeping federal funding for public television – I set out with my Italian puppet Russo, here in our neighborhood in Florence, to show support for Russo's American cousins.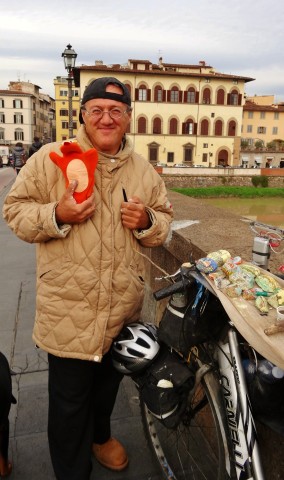 We walked along the Arno River and crossed a bridge where an Italian man named Signor Donnino was painting pretty pictures on rocks he had gathered. Russo and I watched him paint a picture of a famous old bridge called the Ponte Vecchio. Signor Donnino and Russo quickly became friends.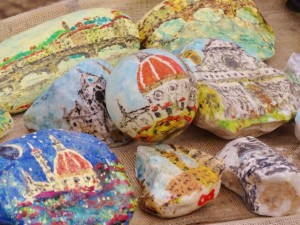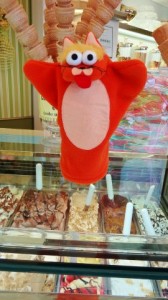 Russo and I marched on to our favorite gelato shop – La Carraia Gelateria – at the other side of the bridge. Russo was so excited that he jumped up on the counter. We got our favorite flavors: mint chocolate chip and chocolate orange. Russo LOVES gelato.
We crossed over another bridge and met a little American girl named Lauren from Houston. She and Russo quickly became friends. I asked her if she'd like to hold him. She eagerly nodded and carefully put her hand inside his fuzzy tummy. Russo giggled. He LOVES to be tickled.
I told Lauren's mom about the Million Puppet March in Washington and why Big Bird and his friends are worried that shows like Sesame Street might go off the air – or become part of commercial television. Lauren's mom told me how much Lauren LOVES Mister Rogers. I smiled, remembering all the mornings my son (now 23) and I started our day in Mister Rogers' Neighborhood. Russo and I said good-bye to Lauren and her mom and promised to keep in touch.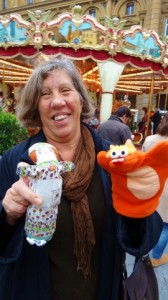 Then Russo and I went to the carousel in Piazza della Repubblica where we met our friend Jean. She brought a puppet friend of hers named Judy, who was made a long time ago for a very little hand. Judy was happy to meet Russo. You guessed it – they quickly became friends.
Jean, Judy, Russo and I marched on to the puppet workshop that I discovered on a side street in Florence several weeks ago. It's where Russo used to live. He was happy to come live with me and likes to travel with me in my purse, but we enjoy going back to the shop to visit his puppet friends.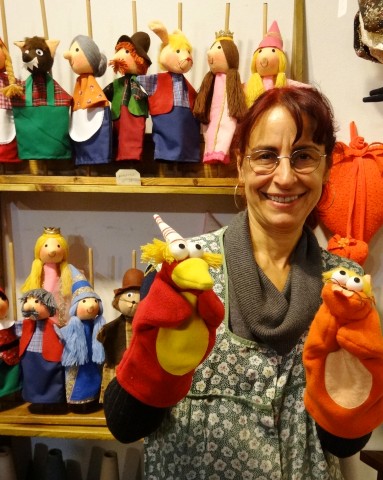 Letizia, the puppet maker, was happy to see Russo today. And he was happy to see his chums – Woodpecker (who looks a little bit like Big Bird except that he's red, not yellow), Pig and Elephant, Pinocchio (a local boy from Florence) and his maker Gepetto, and lots of fairy-tale puppets who remind me of the ones at the castle in Mister Rogers' Land of Make Believe.
Letizia has been making puppets for 30 years and knows all about the Muppets of Sesame Street. While we watched, she put the finishing touches on a mouse, as she made his eyes, nose, whiskers and furry eyebrows. Mouse sprang to life – hopping across the counter – on Letizia's hand. The first thing he said was "formaggio!" That means cheese in Italian.
It was all great fun. I could feel Jim Henson, Sesame Street's Muppet Master, smiling down on us, in that little puppet shop in Florence.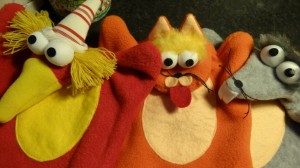 Russo, Woodpecker and Mouse came home with me today. We opened my e-mail box and found a message from Lauren's mom saying how much they enjoyed meeting Russo. She sent us this photo of Lauren and Russo near Florence's famous old bridge.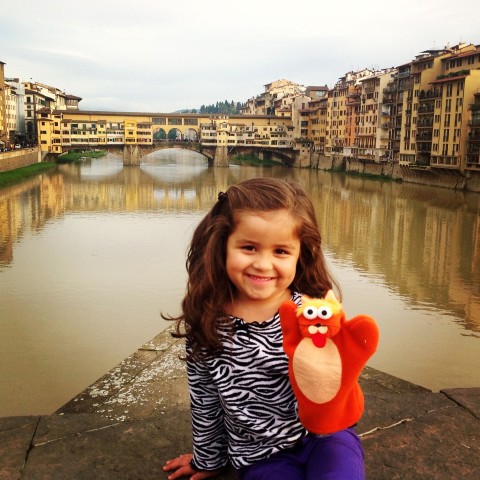 It started as a One Puppet March through Florence today. But by the end of the afternoon, Russo and I had made many new friends in our neighborhood.
I'd like to say thank you – to the Muppets, Jim Henson, Mister Rogers and ALL of the many good folks at PBS – for opening young (and older) hearts and minds to the big world around us. MARCH ON!
p.s. If you'd like to visit Russo's puppet friends in Florence, stop by the shop:
Letizia Fiorini ~Via del Parione 60R (near Ponte Carraia) ~ tel. 055 216504               
Say ciao to Letizia from Russo and Rebecca.