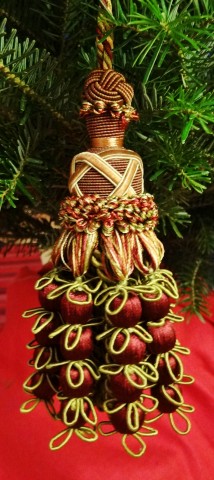 I have a beautiful little Christmas tree this year. It's a live tree, about as tall as I am, from Tuscany's Casentino Valley.
For the past month or so, I've been collecting ornaments for this tree.
The collecting began at Passamaneria Valmar, a Florence shop known for its elegant curtain and drawer tassels, trims, ribbons, decorative cushions, velvet-covered trays, fabric-swathed side tables, tablecloths and runners. (Passamaneria means trimmings.) I was amazed by the intricate work of the tassels and imagined how beautiful they would look on a Christmas tree.
I asked the owners if they could make something for the top of my tree. The project went to Monica, who has worked at Valmar for 30 years – since she was 15. I had the pleasure of watching Monica do her magic one day, in Valmar's workshop above the store.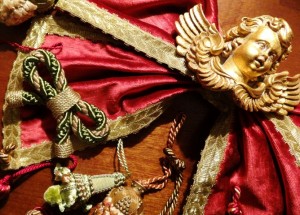 This is the beautiful angel she made for me… >>>
Letizia Fiorini, the Florence puppet maker who has appeared on this blog, created an owl ( <<< nestled here in Valmar ribbon).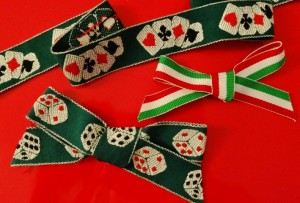 An old Florence haberdashery Quercioli & Lucherini (at Via Porta Rossa 45/r) provided trims – with playing cards, dice and the red, green and white stripes of the Italian flag – for bows, in remembrance of my late mother-in-law, Lily, who was a war bride from Trieste. She loved cards and casinos.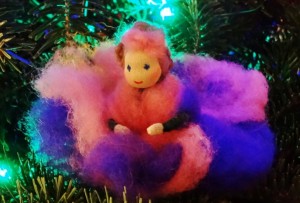 At a charity Christmas mercato (market) in Florence, I purchased a flower fairy made at a local women's prison.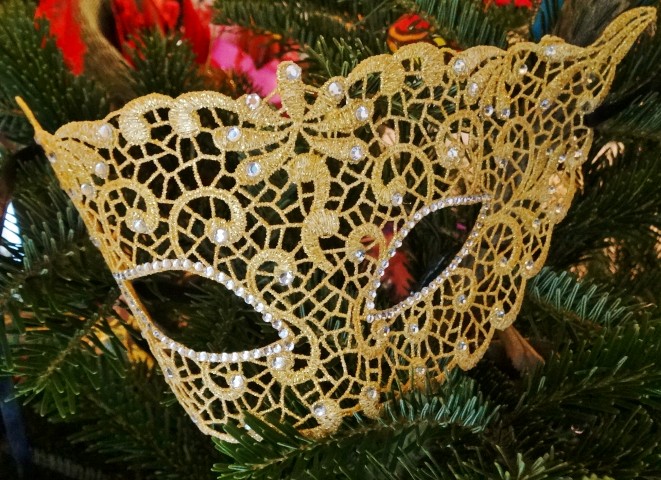 A carnivale mask and a bookmark decorated with Murano glass beads are souvenirs from Venice. A small doily that looks like a snowflake comes from the Venetian island of Burano, known for its lace.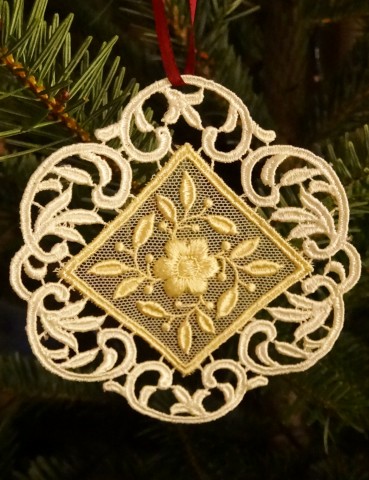 And as the final touch, a fleur-de-lis – the emblem of Florence…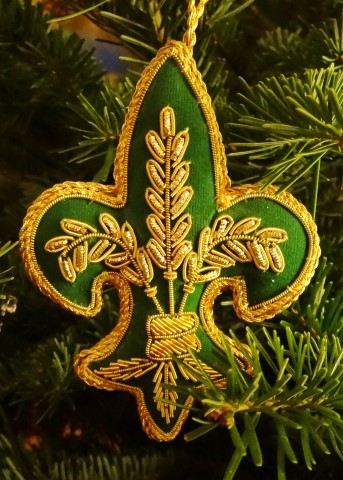 It has been five years since I've had a Christmas tree – a consequence of my vagabond journey that happily has brought me back to Italy. A few boxes of treasured ornaments, safely stored in California, await another Christmas. But this year, I start a new box of ornaments – the souvenirs of a new chapter in life.