It takes a tribe to launch a book.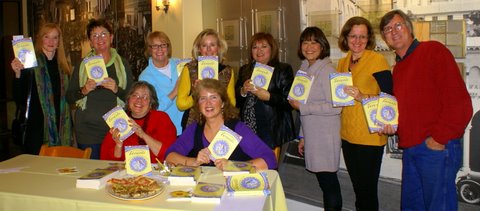 Mine showed up last Sunday night – despite rainy weather that certainly didn't dampen our spirits – ready to celebrate.
I had juiced 12 dozen (!!) limes for my signature margaritas. Marty, my dear friend and party-meister, revved the blender. Thirteen-year-old Christopher, in his smart chef's jacket, served Italian flatbread and charmed the guests. (He makes his living as an actor, NOT a waiter – I know, it's usually the other way around!) His lovely mom, Mary, who lived down the hall from me during our freshman year in college, took charge of the kitchen. Her delightful husband, Pat, was the official photographer.
I looked around the room and saw many chapters of my life.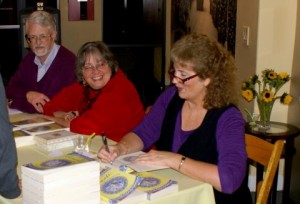 There was Nora, the only person to read the first draft of the book (before the names were changed ;)), and her husband, Matthew, who coached my son, Colin, in Little League. (Matthew was the BEST coach ever!) Nora and I forged a friendship on those bleachers. She tried many times to explain the Infield Fly Rule to me. Fortunately, we had MANY other things to talk about – movies, books and ITALY. Nora knows Italy well and traveled with me vicariously on my avventura italiana.
There were the Playgroup Moms – Gail, Debbie, Bronagh and Karen – and playgroup dads Paul and Glenn. We met when our babies were just a few months old and have stayed in touch over the years. The moms still meet for breakfasts and dinners. This summer, we got all the kids together – for the first time since they were pre-schoolers. It was a kick watching them hang out together – drinking beer! (Last time, they were trading sippy cups and juice boxes.)
There were my pool pals – Didgie, Chris, Debb and Pam. We've swum miles together – an amazing bonding experience. The stories that get shared between laps and in the locker room…I feel another book coming on:  Tales from the Cesspool.
There was Phil, a well-known film animator who did the banner for this website. When I was in Italy, he worried about my Mafia princess neighbor and her papa from Palermo. When I was feeling homesick, he'd send me wacky e-mails that always made me laugh.
There was Jay, fondly known in the old neighborhood as "Mr. Magic." Jay is a magician who entertained an enthralled crowd at Colin's fourth birthday party. Colin, now 22, is home for Thanksgiving and, like Jay, is an avid cyclist. Colin called last weekend to say, "When you see Mr. Magic, tell him I'm bringing my bike home."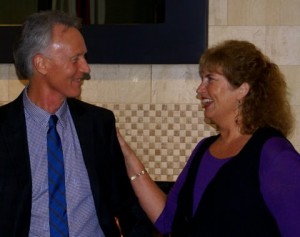 There was John, who guided me through the white-water of book publishing and through my own rapids as a memoir writer. His sharp eye and gentle heart kept me from capsizing – more than once!
There were Caroline and Jim. Caroline and I go way back, to our early career days – when she was starting her own company as a book publicist. I was a columnist for PEOPLE magazine then. We both love to travel. For years she has been saying to me, "You should write a book!" I'm glad I finally listened to her. (Her new book – a travel guide to Paris – is coming out in 2012.)
There were Roland and Candace, whose real estate expertise guided me through the sale of my house during the mortgage debacle of 2008. At the end of a painful escrow experience, Roland kept the deal from falling apart by saying to me, "Sign here and you'll be in Italy in two weeks." Great advice. Lehman Brothers failed four days later – and two days after that, I was on a plane to Rome, free and clear.
And there was Elizabeth, whom I had never met. She designed the gorgeous cover for Tales from Tavanti (using original art by a gifted artist in Atlanta whom I've also never met). In our virtual internet world, it's possible to produce a book without ever meeting your team. The irony is that Elizabeth and I live only a few blocks from each other, as it turns out. But by phone and e-mail, a beautiful cover materialized out of the ether – thanks to Elizabeth's extraordinary talent and vision.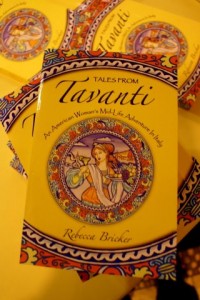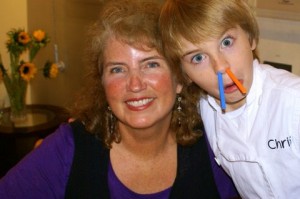 In this time of remembering what we're thankful for, I celebrate my friends and family – near and far – who've made my life so rich. I belong to a wonderful tribe.
Next week, I return to Florence for a two-week visit. Watch this page for more tales from Tavanti!
Photos: Patrick Bones