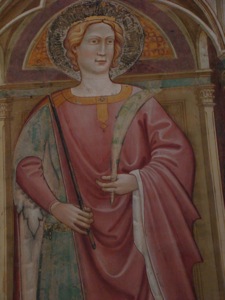 I followed the trail of St. Minias up the hill from the River Arno. According to religious lore, he was decapitated by Romans on the banks of the Arno in 250 A.D. and afterward managed to walk up the hill, carrying his head.
Frankly, I don't know how it did it.  I could barely get up the hill with my head firmly screwed on.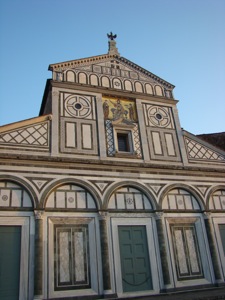 St. Minias' remains are entombed in a crypt beneath San Minato al Monte, often described as the most beautiful church in Florence, perched on a hilltop that has been regarded as sacred since pre-Roman times.
But behind the church is the creepiest cemetery I've EVER seen.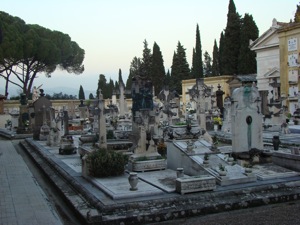 Check this out…mamma mia…
The marble ghosts of a young Italian couple, who died in the mid-1940s, dancing on their own graves.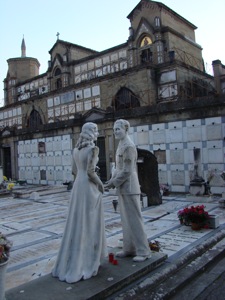 (Those are high-rise crypts towering above them.)
The pathways wend past mausoleums modeled after temples and churches. There's even one with onion domes.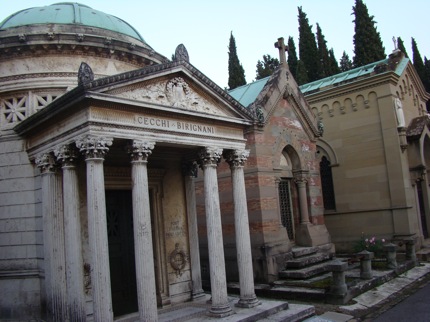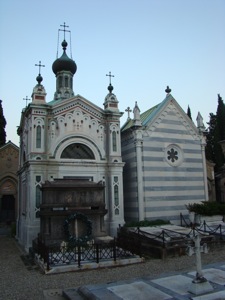 This is the cemetery where the author of Pinocchio is buried, but I never found his tombstone.

In the fading light of day, with a chilly November breeze rustling dead leaves at my feet, I turned a corner and saw this…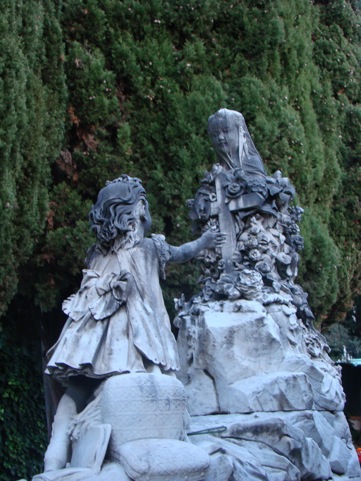 A young girl reaching beyond the grave…
…for her dead sister? Or her dead self?
Holy Jiminy Cricket!
I ran for the nearest exit, hearing something snarl at my heels…
I didn't look back, but if I had…I would have seen stone transform to BEAST…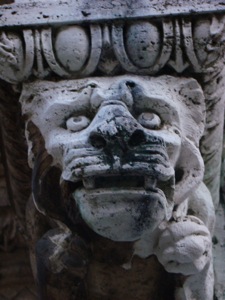 …and young lovers dancing in the lamplight.