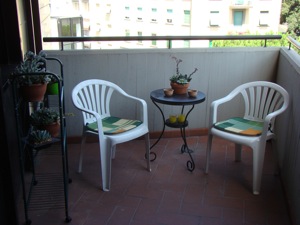 I'd lean over the railing of my apartment balcony in Florence—propped on my elbows—feeling very Italian, watching the drama of a three-act play unfold each day. The show below, on bustling Via Tavanti, never disappointed.
I'm not an early riser, so I often missed the first scenes of   Act I. By the time I'd emerge on the balcony with my first cappuccino of the day, the characters at the caffeteria across the street were already a few cups ahead of me.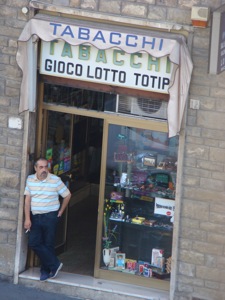 On my first day in Florence, the owner of the tobacco shop—enjoying his mid-morning cig—looked up at me and waved. I waved back. I became one of his regular customers during the year I lived on Tavanti. Not because I smoke (I don't). But I quickly learned that the tabacchi is the nerve center of Italian life. It's where you buy bus tickets, stamps, lottery tickets and phone cards. Though god forbid you'd need to re-charge a phone card between the hours of 1 and 4. Like many shops in Italy, Tavanti's tabacchi closes for afternoon siesta.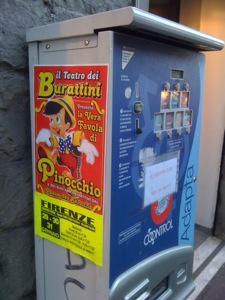 So does the farmacia. If you need a prescription filled during siesta, you're out of luck. But if, by chance, you need a condom during siesta, no worries. Condoms are dispensed in Italy from sidewalk vending machines. I especially liked the condom dispenser outside the Tavanti farmacia, with its advertisement for a local production of Pinocchio. I'd smile as I walked past, seeing the boy with the long nose as the unwitting poster boy for condoms (btw, condom = preservativo – a word that every woman traveling in Italy should know).
Act II begins after siesta, when the neighborhood heads to the corner pasticceria for gelato,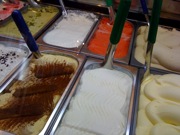 sweets, an espresso or an aperitivo.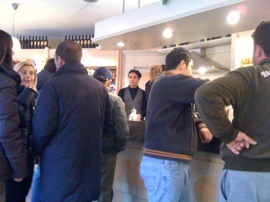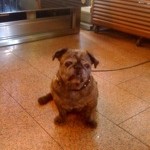 Everyone turns up – even dogs are welcome.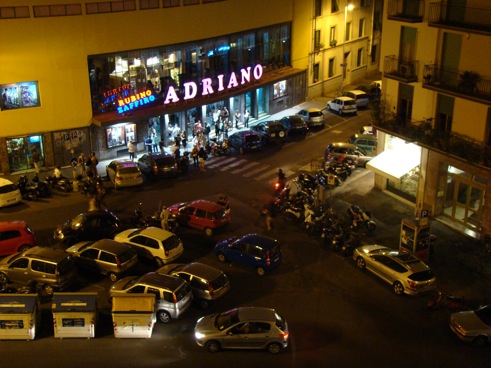 I loved Act III, watching Tavanti's nightlife from my balcony box seat. The Adriano movie theater across the way would come to life in all its neon glory. On the night I snapped this photo, Harry Potter was in town. You'll note that when it comes to parking on Via Tavanti, chaos reigns.