Travel With Me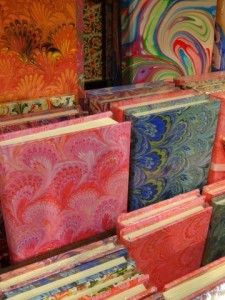 In my travels, I tend to wander off the trampled path. I especially like to search out the workshops of artisans whose craft and legacy tell the story of a place.
I've come to know many artisans and merchants in Florence and elsewhere in Tuscany who offer the very best of Italian-made merchandise and a glimpse into a world that, in some cases, dates back to the Middle Ages. And they'd love to meet you.

In Florence, I'm organizing visits to artisan studios and specialty shops. If the history of Italian majolica interests you, come with me to Tuscany's ancient ceramics center, Montelupo, and take a class with a master potter. In the ancient village of Certaldo, you can cook with a Tuscan chef and cookbook author who shares her family recipes – or watch a printmaking demonstration in an old palazzo where you also can shop for handmade tableware and paint your own tile as a souvenir.
And if you really want to immerse yourself in Tuscan life, come with friends to a beautifully renovated ancient farmhouse in Anghiari, where you can walk among sunflowers, pluck warm grapes off the vine and live your Under the Tuscan Sun fantasy.
If your travels are bringing you to Florence and Tuscany, please let me know how I can customize an itinerary for you: rb@rebeccabricker.com
~Rebecca