Montelupo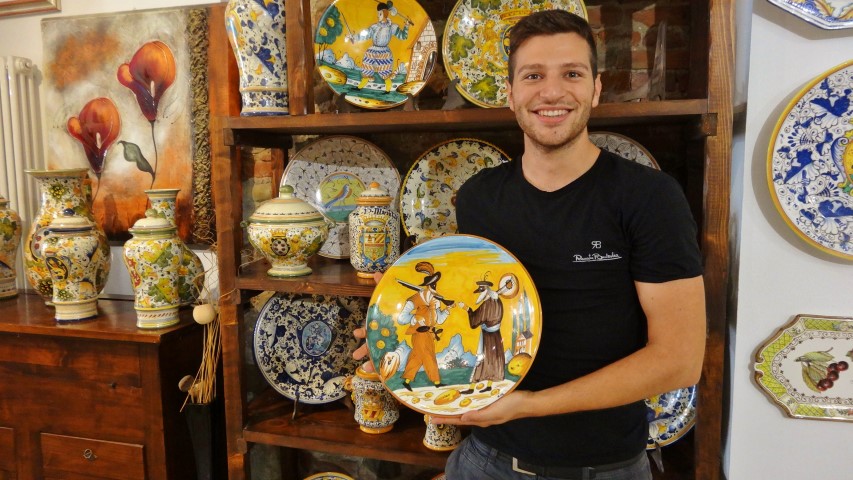 I love Italian ceramics. An ancient majolica plate inspired the cover of my book: Italian ceramists smile when they take a close look at my Renaissance maiden – instead of the traditional wine chalice, she holds a margarita. 😉
On my first visit to the Tuscan town of Montelupo, my Renaissance maiden and I were welcomed by local potters and majolica producers who tell me that tourists don't seem to know about this place.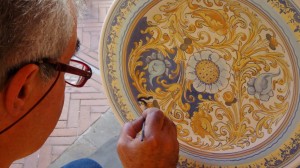 How can this be, I wondered. Since the early 1400s, Montelupo has been a major producer of majolica, which was transported by river barges to Italian shipping ports. By the 16th and 17th centuries, Montelupo pottery was being marketed in the major cities of Europe and had reached the New World – it has been traced to Cuba and Virginia!
One local producer invited me to tour his factory. The son of a master potter arranged for me to return with a friend and her young daughter for a 3-hour class at his father's magical wheel. Papa is truly a magician with clay, with a wonderful sense of humor. As my pot took shape, spinning in my wet hands, he whispered to me, "Do you feel like Demi Moore?"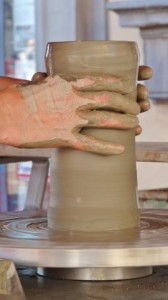 If you've ever wanted to feel like Demi in the movie Ghost or watch the alchemy of a blazing kiln – do I have something special for you! I can arrange for a factory visit, a pottery class or a tour of the local ceramics museum that houses an extraordinary collection of ancient and contemporary pieces.
Montelupo is just 20 minutes by train from Florence – a wonderful day-trip destination where you might bump into a Renaissance maiden drinking a margarita. 😉
For more information, contact me at rb@rebeccabricker.com.