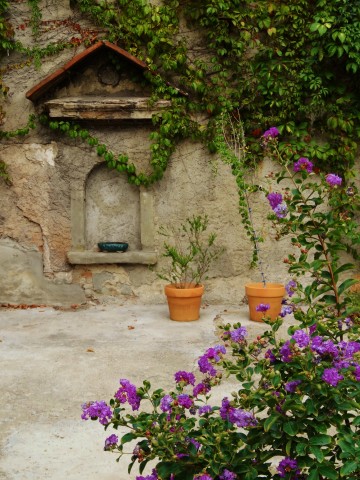 For five days I've been waiting for Russo – and today he finally arrived.
I went out to the garden, to relax after a day of unpacking. He came toward me, slinking along the garden wall, and eyed me for a minute.
"Hello," I said. "I've been waiting for you."
He stretched out under the stendino, the drying rack, where my bras dangled above him.
On the night I arrived in Florence – to begin a new adventure here – my landlady told me about Russo.
"He's the king of the cats of this area," she explained. "Be careful not to leave the garden door open when you go out. He will come inside and hide under your bed."
A red rascal named Russo hiding under my bed? How delightfully scandalous, I thought.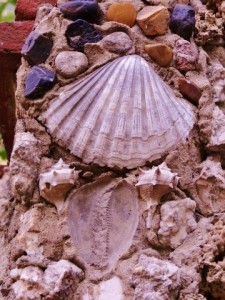 My new digs are part of what was once a 17th-century convent. The private walled garden has statuary niches – one decorated with seashells. Nuns took contemplative walks through this garden, now subdivided, enjoyed by the lucky few on this narrow street in the ancient heart of Florence.
A small statue of a lion is perched on the garden wall, next to the satellite dish for my TV. Russo tolerated my camera for a few poses, then scaled the wall with an impressive leap and pranced across the plexiglass overhang above the patio doors. He paused, unfazed by the stone version of his alter ego, then disappeared into the branches of a fig tree that arches over the wall.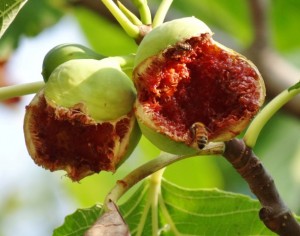 Since my first morning here, I've looked longingly at those figs, feeling the temptation and frustration of Eve. The ripening fruit is beyond my reach. Actually, the fruit isn't ripening slowly in the late summer sun. It's exploding. The skins rupture, exposing the red juicy center. The Italian word for "fig" – fico – is a close cousin to fica, the Italian word for the fruit of a woman's private garden. (You get the idea.)
I can't help but see the irony in this, as I write this allegorical tale under a rupturing fig tree in a nun's garden…with a red-rascal-of-a-cat named Russo on the prowl.
The fun begins!