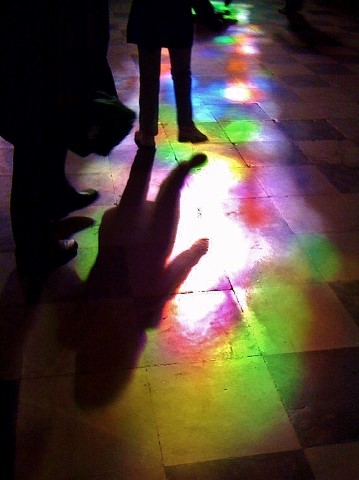 A few days ago, the father of an Italian friend asked me, "You are so filled with joy. How did you learn to be this way? Is it something your mother taught you?"
"No," I said. (No slight to my mother, but she didn't teach me about joy.) I hesitated before I answered him. He seemed to want to know the truth.
"I've had a lot of sadness in my life," I told him. He looked surprised. "My sister died a few years ago. My mother has Alzheimer's. My father has had several strokes that have changed him. I've had to deal with the aftermath of divorce."
"I'm so sorry," the man said. "Then where does the joy come from?"
"Every morning, when I put my feet on the floor, I try to step into the light."
He nodded. I think he understood.
He had a lot of questions for me, in our short visit together. "Do you ever feel homesick?"
"Yes," I said. "I miss my son, my friends." I thought about how, even in the wonderful life I'm enjoying here in Italy, loneliness sometimes nips at my heels. "But often, my loneliness is actually nostalgia – for a time of my life that I can never have again, even if I go back home."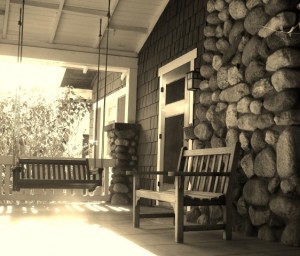 I could feel a lump swelling in my throat as I said this. I thought of the lovely home I once had in Pasadena, where my son was born. For a long time after I sold it (at the onset of the mortgage crisis in 2008), I couldn't drive down that street. And then one day, I got up my nerve. But I discovered – sitting in my car at the curb, looking at the place that had been home for 22 years – that going home again was far more painful than I had imagined.
There are times when I feel engulfed with a sense of loss. The family life I once had is gone. My sister is dead (today is her birthday). My mother doesn't know me. My father is a different man. The marriage I had hoped would last a lifetime, didn't.
So where does the joy come from?
I recently posted a link on Facebook to an interesting article called 22 Things Happy People Do Differently. Those 22 things got me thinking. Here's a recap of the list:
Don't hold grudges – they're poison.
Treat others with kindness – acts of kindness produce serotonin (a hormone that eases tension and lifts your spirits) and enable you to build stronger relationships.
See problems as challenges – a problem is an obstacle; a challenge is like a puzzle waiting to be solved. Think of challenges as an opportunity or a dare.
Express gratitude for what you already have – "The happiest people don't have the best of everything; they just make the best of everything they have." Count your blessings and

don't yearn for what you don't have

.
Dream big – you'll have a focused, positive frame of mind and will be more likely to accomplish your goals.
Don't sweat the small stuff – trivial annoyances won't matter a year from now (or even a week from now).
Speak well of others – gossiping can make you feel guilty and resentful. Try to be positive and non-judgmental.
Never make excuses – don't blame others for your failures. Own up to your mistakes and shortcomings and proactively try to make changes for the better.
Get absorbed into the present – stop and smell the gardenias (they're blooming now, btw).
Wake up at the same time every morning – it stabilizes your circadian rhythm, increases productivity and calms you.
Avoid social comparison – focus on your own progress and praise others on theirs.
Choose friends wisely – misery loves company. Surround yourself with positive energy.
Never seek approval from others – follow your heart and don't let the naysayers discourage you.
Take time to listen – talk less; listen more. You'll learn a lot. Listening also quiets the mind.
Nurture social relationships – strong, healthy relationships are important. Make time for the people you care about.
Meditate – it quiets and calms you.
Eat well – everything you eat directly affects your body's ability to produce hormones, which will dictate your moods, energy and focus.
Exercise – boosts self-esteem and your sense of accomplishment.
Live minimally – eliminate clutter. It weighs you down and makes you feel overwhelmed.
Tell the truth – lying makes you unlikeable and untrustworthy. Don't apologize for being truthful.
Establish personal control – don't let others tell you how to live your life. Choose your own destiny.
Accept what cannot be changed – accept the fact that life is not fair. Focus on what you can control and change it for the better.
I've taped this list to my bathroom mirror. I read it when I'm brushing my teeth. Sometimes I choose one thing that I need to work on as my task for the day.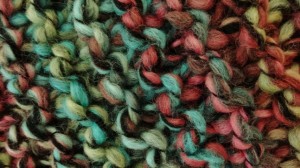 I've added a few things to the list: don't stay up too late, read good books, see inspiring movies, do something with your hands (knit, quilt, paint, sculpt, play the piano), put your records on and dance, have a little bar of dark chocolate in the cupboard and/or a carton of gelato in the freezer, make margaritas for friends, travel and experience other cultures, grow a garden (even on a tiny balcony), tell the people you love that you love them (COLIN, I LOVE YOU!) – and if the family you've known fades away, embrace a new family.
Where does joy come from? It comes from within. It's a gift we give to ourselves. Each and every day.